After two years of declines since 2012, the global market for LED capital equipment will rally this year, again with China driving the biggest demand fueled by investments by chipmakers from Taiwan and China itself, according to Semiconductor Equipment & Materials International (SEMI).

The U.S.-based industrial consortium points out that metal-organic chemical-vapor deposition (MOCVD) chambers will remain the foremost LED manufacturing equipment for epitaxy process this year while other equipment as lithographing, etching, testing, and inspecting instruments will gain growth momentum in line with the trend of LED makers squeezing out more productivity with lower cost.

SEMI points out that increased demand for solid state lighting (SSL) is the primary factor to drive the equipment market in 2014 although capital expenditure worldwide is unlikely to return to the thriving levels of 2011.

SEMI points out that attendees of LED conferences LED Taiwan 2014 and LED China Conference 2014, both held in March, said they were optimistic about the LED market due to rising LED penetration in general lighting market.

The organization notes that in the first quarter of this year Taiwan's LED chipmakers and packaging houses posted much stronger revenue growth YoY, indicative of a strong equipment market.

While the LED industry keeps an eye on the lighting market, the LED backlight segment is also doing admirably well. In the smartphone and tablet industry, demand for LED is mostly driven by bigger panel screen size, clearer picture resolutions, and better color reproduction. In the TV industry, LED demand growth will be boosted by LCD screen size as usual and increasing acceptances of Ultra HD 4K TVs, which require more LED chips than traditional LCD TVs.

SEMI estimates LED lighting adoption will grow at least 50% each of the next three years due to faster life cycle of LED luminaries than before. Currently, retrofit lamps are the biggest LED lighting market, with lighting vendors aggressively pitching LED bulbs as replacements for 40W/60W incandescent bulbs.

The organization points out that consumers are more willing to accept LED lamps then before due to bans on incandescent bulbs and growing awareness of global warming. (KL)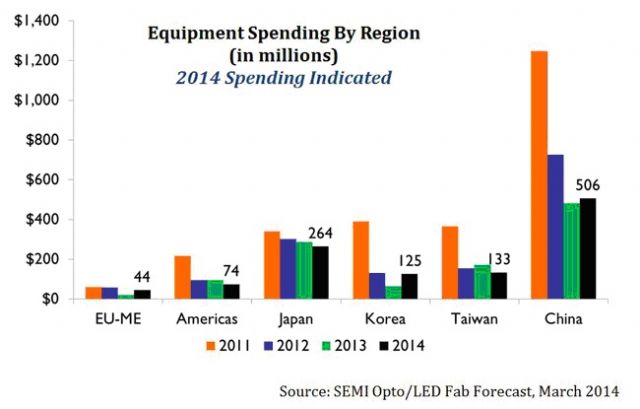 SEMI estimates LED capex to rally in 2014.