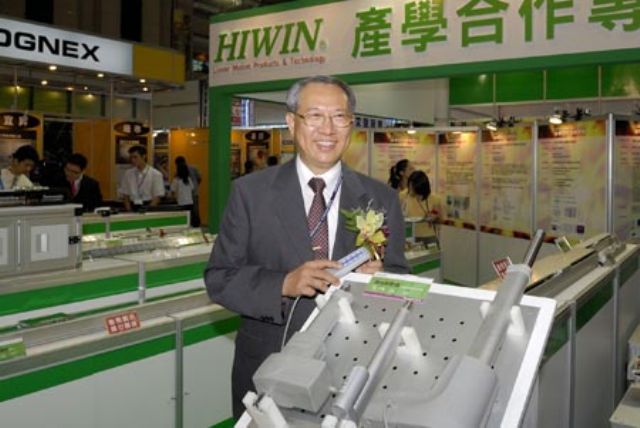 Hiwin leads Taiwan's machine tool makers in 2013 earnings. (Photo of company chairman and chief executive officer, Eric Chuo, courtesy of Hiwin)
Hiwin Technologies Corp., a Taiwan-based maker of precision components for machinery, has announced NT$2 billion (US$67.3 million)  in after-tax net income, or NT$7.96 per dilute share, last year, making it the most profitable machine-tool maker on the island, with the earnings up 0.62% from 2012, to which the company ascribes partly the NT$200 million (US$6.6 million) from foreign exchange trades.
The company's board of directors has decided to issue shareholders NT$2.7 of cash dividend and NT$0.3 of stock dividend per share, making it the most generous among the island's machine-tool industry.
It had consolidated revenue of NT$12.4 billion (US$415.7 million) last year, up 0.92% year on year. In the first two months this year, the company had consolidated revenue of NT$1.9 billion (US$64.3 million), surging 24.7% YoY.
Industry executives project the company's revenue and earnings for Q1, 2014 to likely increase YoY, with consolidated revenue for this year to likely gain at least 20% from last year based on the company's aggressive expansion plan.
They say in recent years Hiwin has vigorously expanded into industrial robots, putting out articulated robotic arms, horizontally moving arms, wafer-dealing arms, and LED-manufacturing arms. The company says that such shipments will surge to hundreds of systems monthly beginning July this year from  single-digit volume.
With intelligent automation emerging as a world trend in manufacturing, the company will begin accelerating its intelligent-robot project this year with the aim of doubling sales from last year, which may help the company's consolidated revenue to reach the US$1 billion goal soon.
In addition, the company will speed global investment projects this year. Following a plan recently approved by its board of directors to open a factory in Suzhou, China, the company's executives recently said the company may  open another factory in Changshu, China to drive growth.
In the second quarter, company plans to begin constructing a factory each in Taiwan and Germany. The expansions enable the company to purse the goal of becoming the world's No.1 manufacturer of transmission control systems and components for precision machinery. (KL)
Earnings & Dividend of Taiwan's Machine Tool Makers for 2013
| | | | |
| --- | --- | --- | --- |
| Stock code | Company | EPS | Dividend |
| 2049 | Hiwin | NT$7.96 | NT$2.7 in cash, NT$0.3 in stock |
| 1530 | Awea | NT$2.57 | NT$1.5 in cash |
| 1540 | Roundtop | NT$1.48 | NT$1.3 in cash |
| 1583 | Goodway | NT$4.05 | NT$2 in cash |
| 4510 | Kao Fong | NT$1.05 | NT$0.6 in cash, NT$0.4 in stock |
| 4513 | Falcon | -NT$0.6 | 0 |
| 4526 | Tongtai | NT$1.23 | NT$1.1 in cash, |
| 4533 | Shieh Yih | NT$1.4 | NT$0.3 in cash |
| 6609 | Taiwan Takisawa | NT$2.9 | NT$1.5 in cash |
Sources: the companies