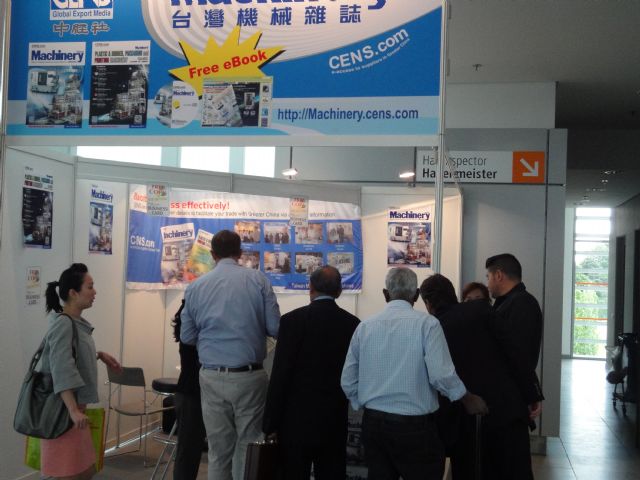 The CENS booth at Interpack 2011 was crowded by buyers interested in Taiwan's high-profile machinery.
As one of best-known promoters of Taiwan-made machinery exports, CENS (China Economic News Service) will be present again at Interpack 2014, scheduled for May 8-14 at Messe Düsseldorf in Germany, providing its latest industry magazines and buyer services designed to bridge Taiwan's high-quality machinery suppliers with global buyers.
Organized every three years by Messe Düsseldorf GmbH, Interpack is the world's biggest trade fair for packaging and related machinery industries, as well as the most influential platform for the exchange of advanced packaging technologies and solutions.
At its previous edition in 2011, Interpack drew over 2,700 exhibitors from 59 countries and some 166,000 visitors and professional buyers, 60% from abroad, consolidating its leading status among trade fairs of its kind. Exhibitors judged the show a complete success, and 97 % of the visitors surveyed gave it top grades.
This year's Interpack will occupy 174,000 square meters of space, and in February the organizer reported that all the available space in the 19 exhibition halls of Messe Düsseldorf had already been fully booked by some 2,700 exhibitors from different sectors, including food and beverages, confectionery and baked goods, pharmaceuticals and cosmetics, non-food consumer goods, industrial goods, and related services.
Concomitant Events
In addition to the wide range of exhibits by suppliers worldwide, the upcoming Interpack will also feature a number of interesting concurrent events.
One of these events, the special INNOVATIONPARC PACKAGING (IPP) 2014 show, will be staged under the "Save Food" motto in an outdoor area of 2,500 square meters between Hall 2 and 3, where it will present various practical approaches to food processing, packaging design, packaging materials, and machine construction.
Another concurrent show will be METAL PACKAGING PLAZA in Hall 11, which will address increasing concerns about the development of metal packaging. This special exhibition, organized by VMV (the German Metal Packaging Association) and Empac (the European Metal Packaging Association), will host about 40 exhibitors, including for the first time ThyssenKrupp Rasselstein and ArcelorMittal under the umbrella of APEAL, the Association of European Producers of Steel for Packaging. It will offer an information platform with a forum, bar-lounge, and meeting points.
To increase its influence in the packaging sector, the organizer will tack on an inaugural concurrent show this year, Packaging Components, running from May 8 to 10. A total of 72 exhibitors will showcase various products and technologies including pneumatic and electric drives, material handling technologies including robotic grippers, measurement and control systems, forming shoulders, sensors, automation technologies, industrial software, and communication solutions.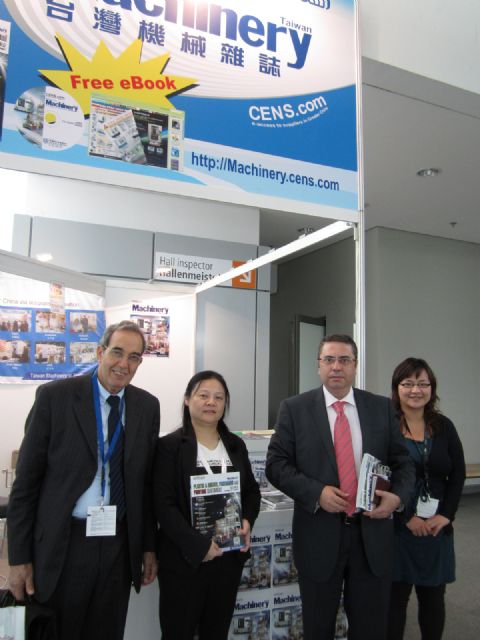 Foreign buyers gave high accolades to CENS publications
With more than 40 years of experience at promoting Taiwan-made machinery in the global market, CENS will occupy booth ENB/01 at Interpack 2014, from which it will circulate its publications, including
Taiwan Machinery
,
Plastic & Rubber, Packaging and Printing Machinery Special,
and
Show Express in German,
as well as e-book CDs.
Taiwan Machinery
has been well recognized by professional buyers at other trade fairs as a very useful buyer guide containing information on a large number of Taiwan's high-profile suppliers of machinery and machine tools, and providing in-depth reports about what Taiwanese companies have achieved in meeting the needs of buyers everywhere.
CENS will also promote its real-time business matchmaking service at the show, to make sure that eager buyers' inquiries are answered within the shortest possible time. (SC)