Taiwan-based automaker China Motor Corp. (CMC), the local assembler of Mitsubishis and  developer and maker of its own line of GreenTrans electric scooters, recently announced tying up with the Macau Parking Co., Ltd. and an e-scooter distributor association in Macau to jointly sell e-scooters to the government.

CMC will also offer comprehensive training courses for e-scooter sales representatives, repair and maintenance technicians, and after-sales services to the partners in Macau to build an all-round e-scooter sales program in the region.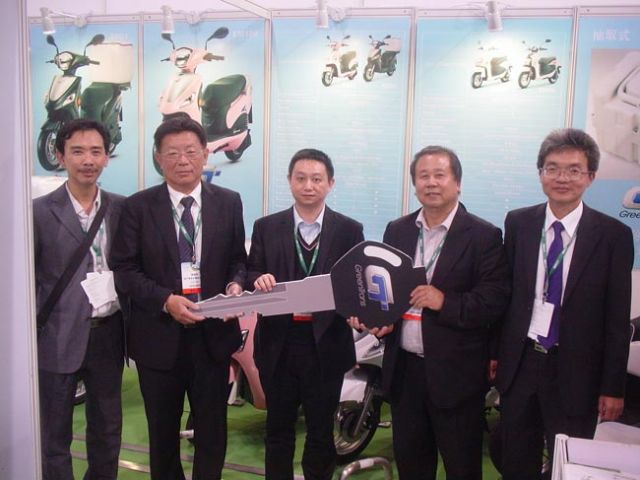 H.T. Liu (second from right) delivers the first five GreenTrans e-moving Super e-scooters to Macau Parking. (photo from CMC)
In Taiwan, CMC's GreenTrans line has been the largest e-scooter brand over the past four years since the firm ventured into the business. To date, CMC has sold more than 18,000 e-scooters on the island, taking about 70% market share. With experiences and know-how in e-scooter, CMC has been trying to export e-scooters and its successful business model in Taiwan to global partners.
In late March, H.T. Liu, CMC's president, led a delegation of senior managers of its e-scooter business to an international environment-protection forum. During the visit, Liu signed an agreement with the local e-scooter distributor association, promising to offer related training courses to employees of the Macau powered two-wheeler (PTW) industry.
After the forum, Liu also participated in a ceremony to deliver the first five e-moving Super e-scooters to Macau Parking. Senior CMC managers said that Macau Parking had bought four e-moving e-scooters for test rides, and the company is quite satisfied with the model and decided to replace all its e-scooters with the e-moving Supers.
Macau Parking has promised to continue purchasing GreenTrans e-scooters and will cooperate with Macau's power company to gradually set up e-scooter charging stations, CMC said.
Liu said that the Macau government has announced plans to pour 100 million Pataca (about US$12.5 million) in constructing e-scooter charging infrastructure, with the government expected to subsidize future e-scooter buyers.
Liu stressed that CMC's successful business model in Taiwan is the best platform on which to export its e-scooters.
CMC's E-scooter Sales Volume (2010-2014)

Year

2010

2011

2012

2013

2014

Volume

3,600

6,000

6,000

7,000

10,000*

*: Company target Source: CMC.