Active automotive safety systems have become standard equipment on an increasing number of new cars, and their penetration is expected to continue rising as more and more national governments issue new regulations to protect driver and pedestrian safety.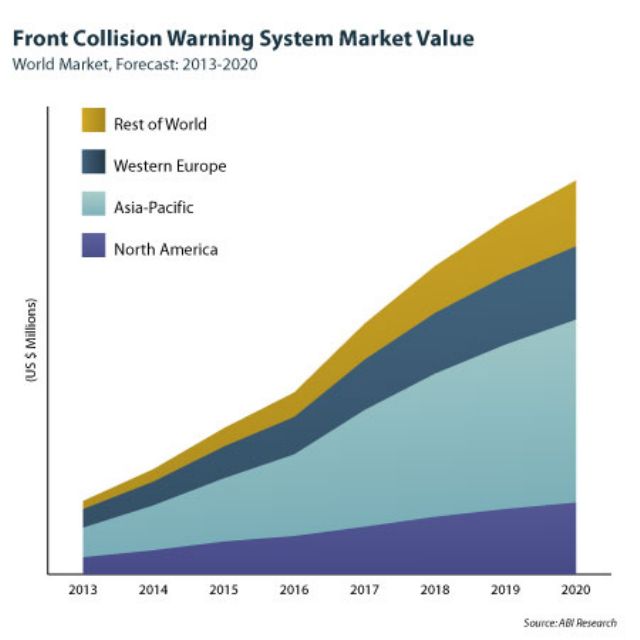 Collision Warning & Mitigation System Market Value (2013-2020)
ABI Research, a market intelligence company, recently forecast that the global market for collision warning and mitigation systems would reach US$29.5 billion annually by 2020, with the Asia-Pacific region accounting for most of the market value.
"During the past 12 to 18 months, there has been a marked increase in awareness of the potential of advanced driver assistance systems such as Collision Warning and Mitigation Systems (CWM systems) among car OEMs, driven mainly by the decision of ratings agencies such as EuroNCAP to include 'active' systems in their latest test specifications," comments Dominique Bonte, VP and practice director of ABI Research.
Insurance claims data suggest that CWM systems can reduce rear-end crashes by a quarter or more and lead to a significant reduction in injuries. Brands such as Audi, BMW, Mercedes-Benz, and Volvo have been offering CWM systems for several years, and they are now being offered for the first time by an increasing number of mass-market OEMs such as Hyundai, Nissan, Mitsubishi, PSN, Renault, Skoda, and Volkswagen on selected 2014/15 models.
CWM systems are becoming increasingly sophisticated, with some being able to detect pedestrians and bicycles even in poor visibility conditions and at night. However, tests carried out in both Europe and the United States demonstrate that substantial differences in performance often exist between the CWM systems offered by various OEMs, due mainly to the type and number of sensors employed.
For automakers that score well on CRM tests, this is clearly a marketing opportunity to be exploited to the hilt. For the others it is a wake-up call, particularly for those vehicle manufacturers that do not offer such systems at the present time.