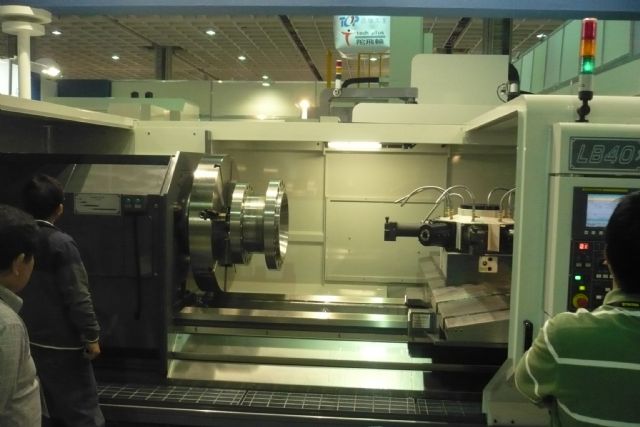 Taiwan's machinery exports up 9.1% YoY in Q1, 2014.
In the first quarter of 2014, Taiwan shipped US$4.6 billion worth of machines, up 9.1% year on year, according to the Taiwan Association of Machinery Industry (TAMI), which represents over 2,000 machinery makers across the island.
The export revenue included the US$1.8 billion generated in March, up 7.89% year on year.
When denominated in the New Taiwan Dollar, the March exports were NT$55.7 billion, up 14.2% year on year, while the first-quarter exports were NT$141.7 billion, surging 12.3%.
TAMI Chairman H.T. Hsu and the organization's president, C.C. Wang, all attribute the brisk exports mostly to pent-up demand from Europe and America, whose economies are gradually emerging from global recession.
Based on the bright first-quarter exports, Hsu  projects the island's machinery industry to generate 10% higher revenue in both production and exports this year from last year, with production revenue likely to reach NT$1 trillion (US$33.3 billion).
Nonetheless, he also worries about the competition between Taiwan and South Korea. Since August last year, South Korea has outperformed Taiwan in machine-tool exports to the United States with higher revenue. In the first two months of this year, Taiwan's exports of machine tools to the United States dropped 19% year on year.
Without free trade agreement (FTA) with its major trade partners, Taiwan now pays 4-5% of tariff on machine-tool exports to the United States and around 2.7% to the Europe Union. South Korea's machine tools go to major markets duty-free.
By the end of this year, South Korea is expected to sign an FTA with China, the world's No.2 economy, by the end of this year, further eroding Taiwan's competitiveness in the global machine-tool market.
TAMI urges the legislature to pass the service trade agreement the island has signed with China as soon as possible to facilitate Taiwan's negotiations with the mainland over commodity trade agreement, which allows over 600 types of Taiwan-made machine tools to go to China duty-free. (KL)
Taiwan's Machinery Exports (Jan.-Mar. 2014)
                                                   Unit:US$10,000
Ranking

Destination

Revenue

YoY Change (%)

1

Mainland China

117,963

0.1

2

U.S.A

82,649

21.3

3

Japan

32,032

18.3

4

Vietnam

16,420

29.2

5

Thailand

16,217

-18.6

6

Indonesia

14,694

-1.7

7

Germany

14,411

20.9

8

South Korea

12,386

15.8

9

The Philippines

9,896

54

10

Malaysia

9,764

6.3

11

Holland

9,500

23.4

12

Singapore

9,496

9.4

13

Turkey

9,162

20.9

14

India

9,078

-17.8

15

England

6,920

19.8

16

Russia

5,865

7.5

17

Brazil

4,752

2.7

18

Mexico

4,621

-1.4



Others

83,446



Total

469,270

9.1

Source: TAMI, Customs Office