By STEVE CHUANG

Boasting the entire spectrum of individual components to integrated production lines, smart systems and automation technologies by some 5,000 exhibitors from all over the world, Hannover Messe 2014, held April 7-11 in Hannover, Germany, again proved to be a major driver of global industrial development that is moving towards more efficient, eco-friendlier and smarter production.

Organized annually by Deutsche Messe AG, the show is renowned as the world's most influential trade fair for industrial technologies, as well as the best business platform.

This year's Hannover Messe drew over 180,000 visitors and buyers,—more than one out of every four visitors from abroad—including 57% from other European nations and 20% from South, East and Central Asia, according to the organizer, to match the strong performance of the 2012 edition. Another feature regarding the turnout involved the high percentage of industry professionals and top buyers and decision-makers among attendees.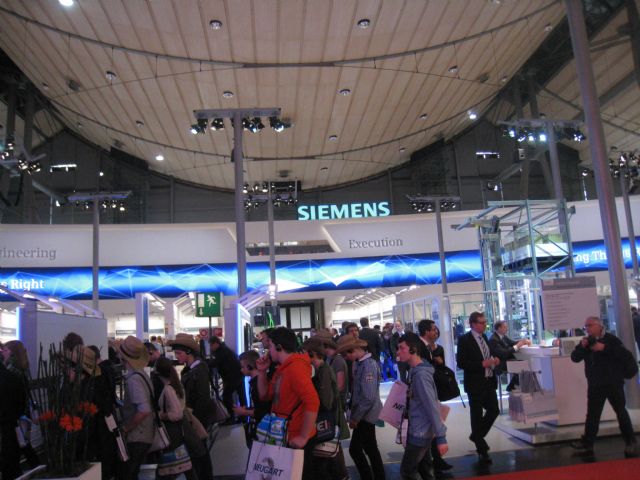 Hannover Messe 2014 drew over 180,000 visitors and some 5,000 exhibitors from all over the world.
The show was characterized with the theme "Integrated Industry – Next Steps" to underscore the ongoing industrial trends towards enhanced flexibility of production processes and smart self-organizing factory of the future, which are essential to synchronize, coordinate and integrate innovative technologies.
Further underpinning the theme, exhibits at the show were divided into seven categories in different halls, including Industrial Automation, Energy, MobiliTec, Digital Factory, Industrial Supply, IndustrialGreeTec and Research & Technology, mostly focused on intelligent, self-organizing factories and the transformation of energy systems.
Live demonstrations of fully operational production plants on display provided visitors with a look at how products will be made in the future, while the Industry 4.0 tours arranged by the organizer helped visitors create experiences in the newest smart solutions, how they are integrated into existing manufacturing plants and what they offer in terms of enhanced flexibility and efficiency was also among the show's features.
Dr. Dietmar Harting, Chairman of the Hannover Messe Exhibitor Committee, commented, "Hannover Messe is where digitized, integrated industry is putting down roots, before growing into a mighty tree. This is the starting point for driving industrial advancement in countries around the world. For us exhibitors, Integrated Industry is going to remain a key priority for some time to come."
Trend-setting Technologies
Since persistently growing concerns over environmental sustainability are driving development of renewable energy, decentralized energy supply systems and intelligent distribution systems worldwide to replace conventional energy supply, exhibitors presenting technologies and solutions for the ongoing energy transition captured intense attention from visitors at the show.
A stand-out example was a product from SAG GmbH, winner of this year's HERMES AWARD, for making it possible to progressively convert existing distribution networks into smart grids. Innovative energy storage technologies were another core topic at the fair, mostly developed to store energy that is not immediately required but for use in periods of peak demand.
"The energy of the future is not just green; it is smart as well. In the future, the smart grids that carry energy and the end devices that consume it will communicate with each other, unlocking colossal potential for energy savings," said Dr. Jochen Köckler, Member of the Managing Board at Deutsche Messe.
With robots increasingly applied in industrial production to enhance efficiency and precision as a growing trend, exhibitors of this kind remained a big hit with visitors at this year's Hannover Messe, particularly those who won the 2014 ROBOTICS AWARD for excellence in applied robotics, including KEBA AG of Austria and Germany's FANUC Deutschland GmbH, Robert Bosch GmbH, and Continental Reifen Deutschland GmbH.
Parallel Events
Hannover Messe is not just a successful business platform, but also a global driver for industrial technology developments, mostly due to supplemental forums and events.
The Global Business & Markets took place at the Hall 13 to feature a conference program and an Investment Lounge for attendees interested in exports and investment opportunities worldwide, while the Industrial Subcontracting, Production Engineering and Services was arranged to include three different highlights, Lightweight Construction Solutions Area in Hall 6; Supplier Convention in Hall 4, a cross-sector lecture and discussion forum; and Material Forum in Hall 6 for discussing on problems relating to material production and application.
As development of smart cities is on the rise worldwide, the Metropolitan Solution in the Hall 16, a concurrent show under the Hannover Messe umbrella, was an impressive platform for visitors interested in the future of urban development, where the latest sustainable urban development concepts, technologies, and a wide range of best-practice solutions for urban infrastructures, such as energy, mobility and climate, water and environmental protection, were demonstrated.
With Taiwan noted for well-honed technologies for both traditional and tech manufacturing to enjoy high regard in the world, CENS, the island's largest export media, sent its representative to circulate buyer guides, including
Taiwan Industrial Supplies
, in efforts to bridge Taiwanese industrial manufacturers with buyers worldwide.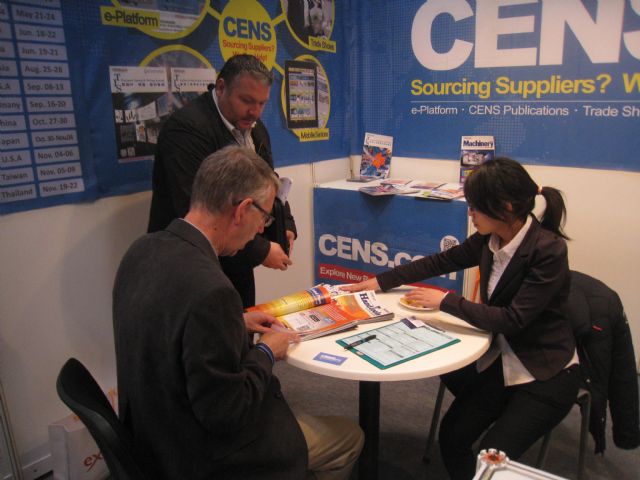 CENS helps buyers with inquiries at Hannover Messe 2014.
Making global buyers' sourcing even more efficient and easier, CENS's real-time business matchmaking services and online buyer guides, such as CENS Global Pass, were also proven to be a useful tool for those in need of reliable access to Taiwan's industrial sectors.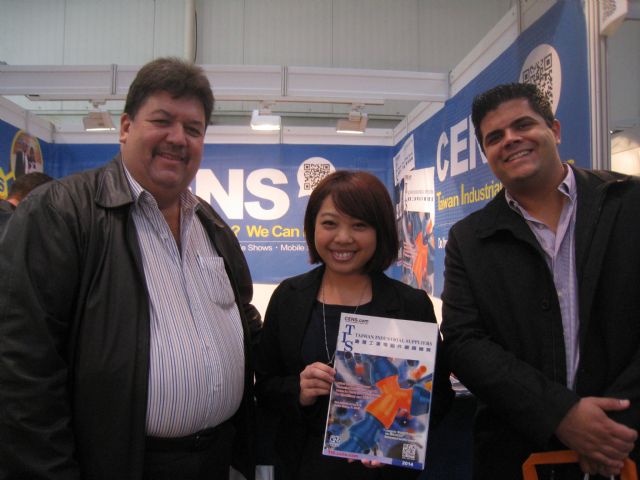 Buyers praise CENS's Taiwan Industrial Suppliers magazine.