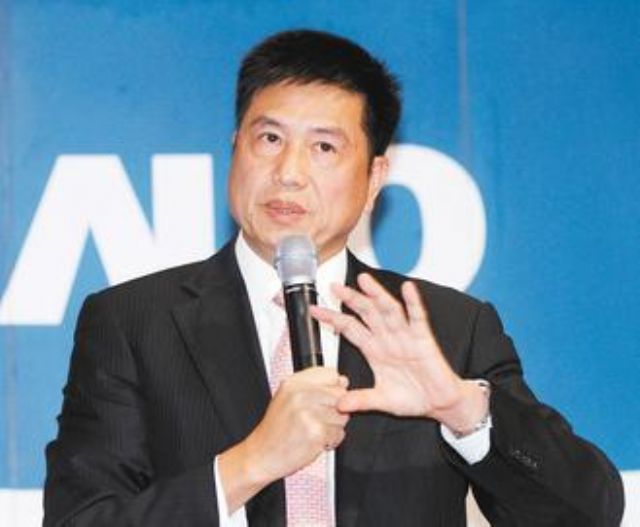 AUO's president Paul Peng.
With production capacity being added continuously, China is expected to eclipse Taiwan to become the world's second-largest producer of thin film transistor-liquid crystal display (TFT-LCD) panels, said Paul Peng, president of AU Optronics Corp. (AUO), a major panel supplier in Taiwan, during a recent  interview by a Chinese media. Chent adeed that China will double tariff rate on imported TFT-LCD panels, posing another threat to Taiwanese panel makers.
Coping with the rapid advance of Chinese panel suppliers, Peng noted, AUO has been trying to upgrade product quality, and partner with Chinese TV vendors to enhance  competitiveness. He said that the possibly doubling import tariff rate might temporarily provide short-term protection to Chinese panel makers, but also possibly weaken Chinese players' global competitiveness in the future.
According to Peng, the total number of 8.5th-generation (8.5G) panel production lines in China will increase to eight to nine by 2015, hence replacing Taiwan as the world's No. 2 TFT-LCD producer trailing South Korea. He admitted that slowing global demand and financial concerns have stopped Taiwanese panel makers from expanding capacity in the past three years, without halting technical upgrading and R&D.
Currently, Peng said, AUO accounts for about 15% of the global TFT-LCD supply, and his company has been thinking up new ways to add value to products. Some new product development directions include 4K2K (or UHD--Ultra High Definition), curved, narrow-bezel, wider color rendering etc. TV panels. AUO has invested capital gained from equipment appreciation in in technological innovation, he said, but will also expand capacity in timely fashion.
Peng disclosed that the economic cooperation talks between Taiwan and China have been trying to include TFT-LCD panels for  preferential tariff terms. The president explained that some 130 million TVs are produced in China yearly, including some 40 million units for domestic sales and 90 million for exports. AUO has been trying to expand  partnerships with Chinese TV vendors, because tariffs levied on AUO's panels exported to China are refundable if the TVs made in China are for exports.
To effectively cope with intensifying competition from Chinese rivals, different parties have been trying to mediate the tie-up between the top-two panel suppliers in Taiwan, AUO and Innolux Display Corp.
Peng said that the merger can hardly achieve mutually-beneficial effect, so there is no real incentive to motivate any of the two parties.
The Ministry of Economic Affairs (MOEA), Terry Guo, chairman of the Hon Hai Group (also the parent group of Innolux), Kingpo-Compal Group chairman Rock Hsu etc. are looking forward to the merger to upgrade Taiwanese panel industry's global competitiveness.
Industry sources warned that China becoming the world's No. 2 panel producer will undermine the competitiveness of the top-two panel suppliers in Taiwan, also admitting that both AUO and Innolux share customers, product mixture and production-line type, so the outcome would be unpredictable with the merger.