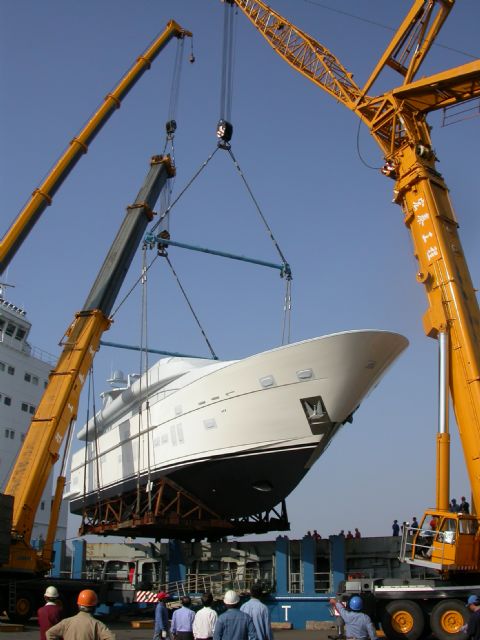 Taiwan outpaces Germany as world's sixth-largest yacht builder by length in the 80-feet-and-longer segment in 2013.
With the inaugural Taiwan International Boat Show (TIBS), held May 8-11 in Kaohsiung City, southern Taiwan, to further boost the local yacht industry's global profile, the island may also accelerate transformation from a yacht production base into an exhibition and recreation hub in Asia.
Organized by Taiwan External Trade Development Council (TAITRA), a semi-official export promoter, in associate with Taiwan Yacht Industry Association (TYIA), the first TIBS hosted 168 exhibitors across 861 booths in the Kaohsiung Exhibition Center to present 60 yachts and sailboats indoors and at 20 adjacent docks, as well as a full slate of related parts and components.
An emerging venue with potential for the global yacht industry, the show drew over 10,000 visitors on the first day, including buyers from such heavyweight enterprises as Sea Ray Boats, a subsidiary under the world's largest yacht builder, Brunswick Group; Malibu, a U.S.-based motor yacht supplier; Rodman Polyships, a veteran vessel builder in Spain; Isara Yachts of the U.K.; and Suzuki, Yamaha and Toyota of Japan.
At the opening ceremony, TAITRA Chairman Wang Chih-kang said that Taiwan is globally reputed for world-caliber yacht production, with local manufacturers capably satisfying demanding buyers with excellent customized production through well-honed craftsmanship. With the global economy steadily recovering to spur more need for yachts, Wang added, Taiwan is expected to be Asia's second-largest yacht maker this year, when the local industry's output is forecast to surge 32% to about US$200 million, compared to US$152 million last year.
John Lu, TYIA chairman, stated that over the past 40 years, Taiwan has supplied the world over 30,000 yachts, however, mostly on a contract manufacturing basis. To reshape the island's position as a contract maker, Lu said he aspires to muster forces from the industry and government to construct a sustainable, thorough supply chain locally that covers designing, development and manufacturing to exhibition, sale and recreation.
Lu said gleefully that the opening of the TIBS 2014 has set a very significant milestone for the industry, and the exhibition, along with the government loosening regulations on domestic maritime activities, will help accelerate Taiwan's upgrade from a yacht production base to an exhibition and recreation hub in Asia.
Kaohsiung City Mayor, Chen Chu, noted that presently nearly 80% of Taiwan's yachts are made in Kaohsiung, and 90% are delivered to customers through Kaohsiung Port, meaning that the city is of significance in nurturing the industry. Chen added, Taiwan ranked as the world's sixth-largest yacht maker by length in the 80-feet-and-above segment last year. (SC)