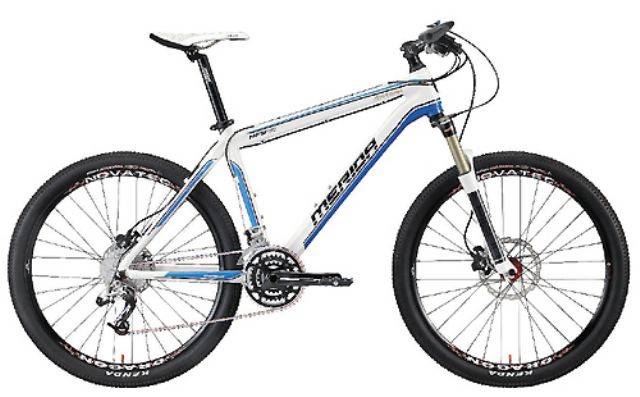 A high-end bicycle made by Merida of Taiwan.
Merida Industry Co., Ltd., a major bicycle maker in Taiwan, recently announced that its board has approved distribution of stock dividend of NT$6.5 (US$0.22), including NT$6 (US$0.2) in cash and NT$0.5 (US$0.02) in stock, a record high in company history.
The bicycle maker said that it weathered market vagaries in 2013 and achieved sales growth, leading to record earnings per share (EPS) of NT$10.21 (US$0.34) last year, a 25% increase from 2012.
In the first quarter of 2014, Merida registered consolidated revenue of NT$5.67 billion (US$189.03 million), up 7.44% or year-on-year (YoY), for net earnings of NT$743 million (US$24.77 million) and EPS of NT$2.54 (US$0.09), a record quarterly high in company history. Merdia also reported April consolidated revenue of NT$2.1 billion (US$68.2 million), up 16.6% YoY, with  cumulative consolidated revenue in the first four months of NT$7.72 billion (US$257.3 million), a 9.7% YoY increase. In the first four months, Merida shipped about 742,7000  bicycles, a 3.8% YoY increase.
Giant Manufacturing Co., Ltd., a major bicycle maker in Taiwan and Merida's major rival, had April consolidated revenue of NT$5.55 billion (US$185 million), up 15.3% YoY; and first-four-month consolidated revenue of NT$19.74 billion (US$658 million), up 9.2% YoY.
Merida recently inaugurated its fourth bicycle assembly plant in Nantong, Jiangsu Province of China. Investing US$99.8 million in constructing the factory in the Nantong Economic and Technological Development Area (NETDA), Merida has set a new investment record in company history, with the facility to push annual capacity to a planned two million units.
Michael Tseng, chairman of Merida, says his company aims to achieve 30% to 50% sales growth in China every year, and targets to become the top brand of multi-speed bicycles in the big market.
Merida's new Nantong factory is expected to first achieve annual shipment goal of some 250,000 units. In 2013, Merida sold about 1.09 million own-brand bicycles in China, aiming to challenge 1.3 million to 1.4 million units this year.
In addition, Merida plans to pour additional NT$200 million (US$6.7 million) to further expand production capacity of electric bicycles--by setting up a dedicated production line and facility at the company's scheduled new factory in Changhua, central Taiwan, which is expected to be completed by the end of 2015 to produce mainly high-end e-bikes to meet rapidly rising global demand.