The global personal computer (PC) market has been falling due to the rapidly rising demand for tablet PCs and other mobile devices.

The Asia/Pacific (excluding Japan) PC market declined 8% sequentially, or quarter-on-quarter (QoQ), and 11% year-on-year (YoY), in Q1,  2014 to reach 23.8 million units, according to IDC. The shipments were marginally lower than the global intelligence company's initial forecasts.

In India, an ongoing large education project was postponed due to the upcoming elections, shaving off about half a million units from the commercial PC segment. In Thailand, political unrest continued to have an adverse impact on the economy, while in Indonesia, government funds were diverted in the run-up to the elections, resulting in lower commercial spending in PCs there this quarter, IDC said.

"However, as these markets stabilize after the elections, IDC expects commercial activity to resume in the second half as a result of pent-up demand," said Handoko Andi, Research Manager for Client Devices at IDC Asia/Pacific. "On the consumer side, ongoing distractions from smartphones and tablets as well as cautious channel intake impacted most markets in the region, especially in South East Asia."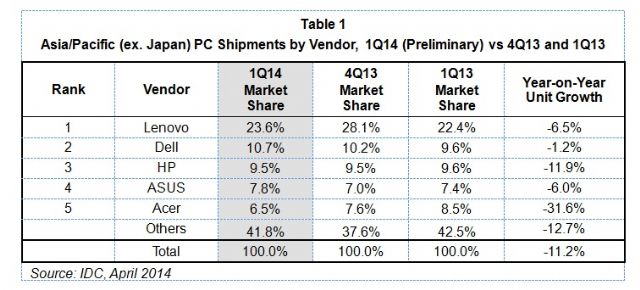 Asia-Pacific PC shipments by vendor in Q1, 2014.
Top Vendors
Lenovo retained the top spot despite a sequential decline in many markets in the region including China, where the vendor, due to Chinese New Year festivities, did fewer commercial shipments than usual.
Dell retained the second spot and continued to be ahead of HP for a second consecutive quarter, as the latter was impacted in key markets like China and India.
Taiwanese vendor ASUS replaced its same-nation counterpart Acer at the fourth spot. China contributed the most to ASUS' share gain in the region as the vendor had a healthy channel inventory and did well in the consumer space with attractive entry-level product lines.