Producers keep ahead of intensifying competition with well-honed techniques and know-how
By STEVE CHUANG

Taiwanese suppliers of plastic processing machinery and related components captured the buyer spotlight at ChinaPlas 2014 (The 28th International Exhibition on Plastics and Rubber Industries) with products materializing their well-honed techniques and rich know-how and further consolidating Taiwan's decades-long central role in the global machinery supply chain.

ChinaPlas was held April 23-24 at the Shanghai New International Expo Centre. The show featured more than 3,200 machines and a full slate of raw materials and related components and parts, demonstrated by some 3,000 local and foreign exhibitors. The event drew over 130,000 visitors and buyers from around the world.

ChinaPlas is Asia's largest fair for the plastics and rubber industries and the second biggest such event globally after the triennial K Fair in Germany by size. The Taiwan Pavilion at Hall 6 this year bustled with professional buyers interested in high-performance machines and high-quality parts and components demonstrated by a delegation of Taiwanese exhibitors organized by the Taiwan Association of Machinery Industry (TAMI). Through live or video demonstrations, their products gained high favor for their attractive balance of price and performance.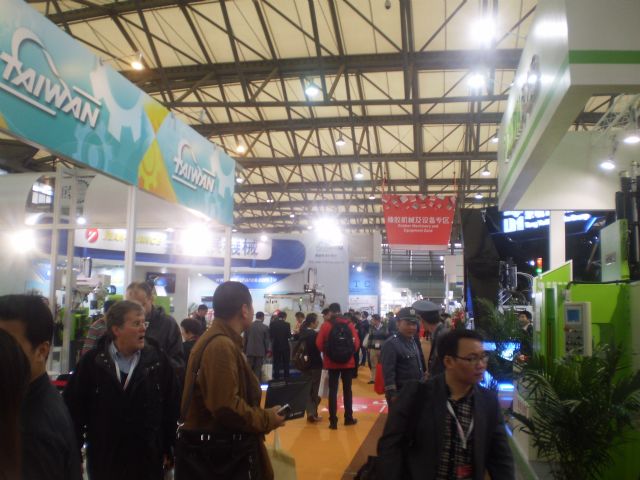 The Taiwan Pavilion at ChinaPlas 2014 was packed with international buyers sourcing high-performance plastic processing machinery.
CENS interviewed some of the exhibitors at the fairground to learn about their top machines and products and views on the development of Taiwan's machinery industry. Several exhibitors noted that the industry climate was a mix of optimistic outlook and growing rivalry from emerging competitors.
High-performance Gearboxes for Twin Screw Extruders by Sun Lung
Gearboxes showcased by Sun Lung Gear Works Co., Ltd. were among the Taiwan Pavilion's biggest attractions to foreign buyers at ChinaPlas 2014. Sun Lung Gear Works is Taiwan's No.1 manufacturer and brand vendor of gearboxes for machinery and its products are regarded by professional buyers worldwide for their industry-leading performance and quality.
Among Sun Lung's newest product on display was a gearbox for counter-rotating twin screw extruder for making PVC pipes. The model features superior blending of plastics to ensure higher and more stable output than competing models, according to David Lo, sales and marketing manager for the company. Lo also claimed that the gearbox delivers unparalleled precision, achieved by his company's exceptional grinding and machining techniques for helical bevel gears.
"This jointly developed gearbox debuted at ChinaPlas 2014 and is primarily targeted at the China's massive market for PVC pipes," said Lo. He added that local demand for such gearboxes can exceed several thousands of units a month, hence making his company optimistic about sales of the new product there.
Sun Lung also promoted its SLTW series Co-rotating Twin Screw Extruder Gearbox at the trade fair. This model has a thrust bearing housing connector and pressure flange to absorb the axial loading of the extruder to achieve high torque and steady output capacity under heavy loading force. The gearbox also has forced lubrication along with a built-in cooling system.
The gears are all made of high-grade alloy steel and undergo CNC precision grinding to reduce noise and meet DIN3/AGMA standards. The gear profiles are modified and carburized to ensure high alignment precision and make the gearbox highly energy-efficient.
"There are few suppliers of co-rotating twin screw extruder gearboxes in China since these are considered higher-end products," said Lo. He explained that Sun Lung demonstrated the product at ChinaPlas 2014 to build sales in the market. The company's revenue from China last year were eight times more than those in 2012, when it first entered the marketplace there.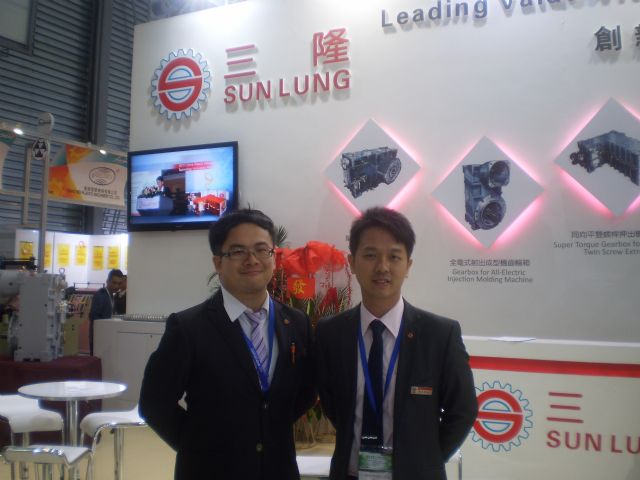 Sun Lung sales and marketing manager David Lo (right) and his sales coordinator, William Chen.
As to Sun Lung's future development, Lo stressed that his company is going to put heavier emphasis on developing gearboxes for fully electric injection molding machines. To keep ahead of emerging rivals, the manager commented, Taiwanese suppliers need to closely track market trends and upgrade their technology. Backed by strong competitive advantages and steadily growing brand recognitions worldwide, Sun Lung is confident it can adapt to trends and meet the intense competition with emerging rivals, according to Lo.
Well-Established Supplier
Since its establishment in 1960 in Tainan City, southern Taiwan, Sun Lung has specialized in making gearboxes for plastic extruders, injection molding machines, recycling equipment and blown molding and film machines. The company is known as the best supplier of its kind in Taiwan. It is also a member of the American Gear Manufacturers Association (AGMA) and TAMI.
The company's product lineup centers on high-precision gears and gear reducers, coupled with plastic extrusion machines, injection molding machines, blow molding machines, pipe, sheet and composite profile extrusion machines, and gearboxes specifically for recycling machines. All of these products met ISO 9001:2008 standards and are certificated by the CE Mark.
Sun Lung commands over 70% of the Taiwanese market for gearboxes used in plastic machines. It also leads domestic peers in cumulative global sales, with over 37,500 units shipped since 2004. The company has exported its products to over 50 different countries and enjoys a good reputation among professional buyers.
Despite a flat revenue growth in the first quarter of this year, Lo said, Sun Lung is optimistic about the outlook for the rest of the year, partly due to growing acceptance of its branded gearboxes by professional buyers in both developed and emerging countries, and partly thanks to participation in ChinaPlas 2014, during which the manager met with a large number of potential buyers.
FSL-TX Series 800 Rewind Slitter Rewinder by HCI
Despite its poor location in Hall E6, HCI Converting Equipment Co., Ltd., a specialist of converting equipment and slitting & cutting equipment, still received a steady flow of professional buyers impressed by its FSL-TX series 800 Rewind Slitter Rewinder.
According to Terence Chen, deputy marketing manager, this machine is developed specifically for slitting products up to 800mm in outer diameter, with maximum slitting speed of 400 meters per minute, achieved partly by a solid unwinding stand along with an all new rewinding shaft structure.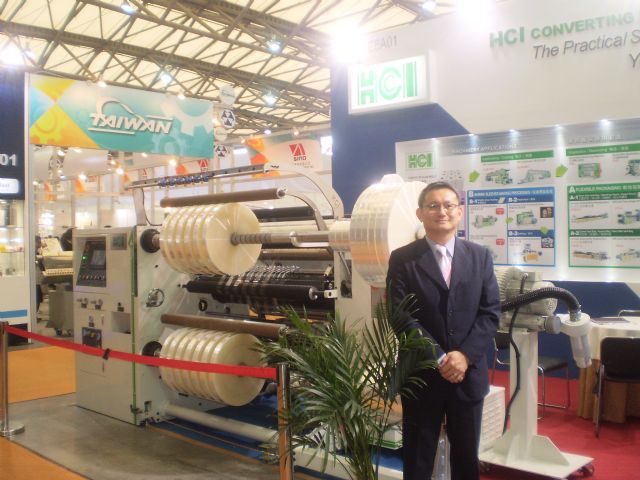 Terence Chen, HCI's deputy marketing manager, introduces the FSL-TX series 800 Rewind Slitter Rewinder.
The rewinder, Chen said, features a shaft-less unwind stand design for rolls over one ton in weight; a three-motor winding system; ball-type differential winding technology; laser core positioning system; and improved PLC (programmable logic control) system with a color LCD touchscreen. The machine is also equipped with two sets of pneumatic lay-on rollers to guarantee full contact between the lay-on roller and slit roll; and optioned with an automatic load pusher device and turret type unloading stand to greatly reduce the time and labor needed for unloading slitted rolls.
"The machine is suitable for slitting and rewinding all kinds of flexible packaging films, industrial webs, electronic materials and film rolls of uneven thickness," said Chen. "The trend towards industrial automation has prompted us to mainly target the European market."
Chen admitted that Chinese suppliers have actually attained "leaps" in hardware development over the past years, compared to Taiwanese firms, which have been developing gradually and rationally. However, Chen emphasized, "Taiwanese makers have better techniques and richer experience to develop machines with higher performance, stability and quality."
A 43-Year Veteran of Converting Equipment
HCI, established in 1982 in Taichung City, central Taiwan, has been developing and manufacturing converting equipment for flexible packaging and semiconductor and optoelectronic industries for over 43 years.
The company's product lineup encompasses slitting machines, rewinding machines, laminating machines, bag making machines and whole-plant equipment. The company subjects its products to rigorous quality inspection and performance tests before shipment. Extensive technological support and timely after-sales service have further helped the company to build a solid name in Europe, North America, Japan, Germany and Southeast Asia.
Chen said that his company increased revenue by nearly 20% in 2013, mostly thanks to growing orders from new customers in Europe: a market HCI has spent five years penetrating. Highly automated operations, market-oriented design and excellent quality and durability are among the main factors that have made the firm's machines increasingly sought-after by European buyers.
Chen said that this year his company will actively explore the North American market, while also consolidating footholds in newly penetrated markets. The company will also continue its focus on R&D to sustainably develop at a steady pace."
Highly Integrated T-Shirt Bag Making Line by Jandi's Industrial
At ChinaPlas 2014, Jandi's Industrial Co., Ltd., a plastic processing machine supplier, unveiled its highly integrated T-shirt bag making line, highlighting the importance of R&D to the success of Taiwanese suppliers in staying competitive in the increasingly challenging global market.
Jerry Huang, general manager of the company, claimed that the line, dubbed JIT-SD, is world's first perfectly integrated with inflation, printing, bag making and recycling units. The 4-in-1 design significantly boosts production efficiency and quality consistency, while reducing manpower needed for quality control and management as the cutting-edge feature of the model.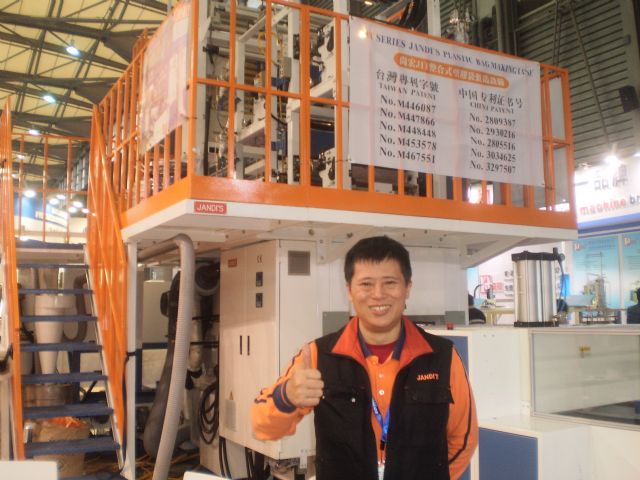 Jerry Huang, Jandi's general manager, claims that the JIT-SD T-shirt Bag Making Line is the world's first 4-in-1 model with an ICT system.
Conventional machines that separate the inflation, printing and bag making processes typically require 10 to 12 hours to turn out the first bag. The JIT-SD, by comparison, seamlessly integrates those processes to significantly shorten the cycle time to only 15 minutes, according to Huang. Moreover, by adding a recycling unit to the back end of production line, the machine allows direct recycling of waste plastics to prevent materials from degrading, boosting cost efficiency and reducing power consumption and manpower required for operating individual recycling units.
"Since its debut at K Fair last year, this model has earned accolades from buyers for its engineering concept," said Huang. "The model demonstrated at ChinaPlas is a beefed-up version with an integrated ICT (information and communication technology) system allowing remote monitoring of production date and enhancing management efficiency." The machine is protected by 10 patents, five each in Taiwan and China, for its revolutionary mechanical design for process integration.
To survive the intensifying competition from emerging rivals, Huang advised Taiwanese makers to build and strengthen core competencies to differentiate their products in the market. "Jandi's Industrial leads the way by integrating different machines and processes seamlessly into a line. Such integration calls for extensive know-how and consummate techniques," the general manager said. "We have shipped the machine overseas and aim to retain its lead over emerging rivals for two to three years."
High-flying Maker of Plastic Machinery
Founded in 1991 in Taiwan's central county of Chiayi, Jandi's Industrial is one of Taiwan's fast-rising plastic machinery manufacturers.
Jandi's Industrial supplies a wide range of plastic machines, including plastic film inflation machines, two and three-layer co-extrusion film machines, plastic recycling machines, bag-making machines, and printing machines. The company exports these products to more than 80 nations worldwide and has earned favor among global buyers for its high quality and performance.
Jandi's Industrial has formed long-term technical cooperation ties with renowned firms in Canada, Germany, Italy, Japan, Russia and Ukraine. Its machines have also been CE Mark certified by Denmark's DNV.
With the JIT-SD, Huang said, "We are confident that Jandi's Industrial will attain higher revenue growth this year than last year, and establish a more distinct profile in the global market."
CT-TLC3 Series 3-Layer Co-extrusion Blown Film Line by Matila
Among the many multi-layer blown film machines demonstrated at ChinaPlas 2014, the latest CT-TLC3 series 3-layer co-extrusion blown film line developed by Matila Industrial Co., Ltd., a world-caliber Taiwanese supplier of this kind, drew intense attention among buyers thanks to its excellent performance and stability realized through use of high-quality components and accessories.
Company president Jimmy Shen said that the machine has a high-pressure spiral type die head for precision co-extrusion and a dual lip air ring for high cooling efficiency. Other notable features include an IBC (internal bubble cooling) system incorporated with an electronic motor for accurate open/close and up/down movements; nip rollers driven by a high-quality pneumatic cylinder for smooth operation; precision inverter control of the take-up speed; and a back-to-back winder with SM type surface friction mechanics for speedier production.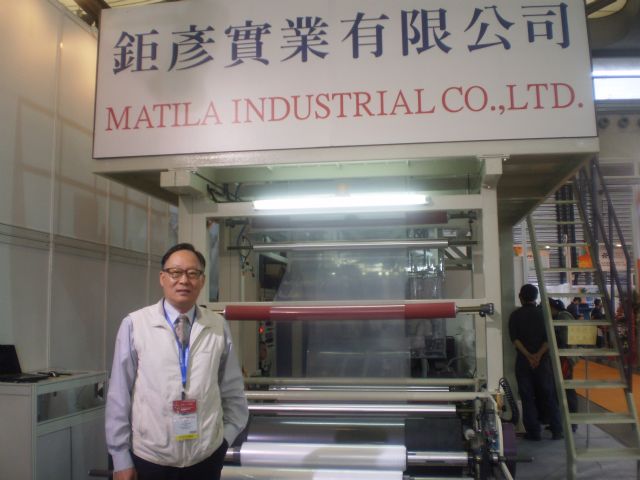 Matila president Jimmy Shen says that the CT-TLC3 series 3-layer co-extrusion blown film line features high energy efficiency and productivity.
The line can handle HDPE, MDPE, LDPE and LLDPE films and metallocene ranging in widths from 1,000 to 1,350mm and thicknesses from 0.02 to 0.15mm. Driven by three extrusion units, the machine has a maximum extrusion speed of 220 kilograms per hour, and film output of 60-220 kilograms depending on the material used and film specification.
Energy efficiency is a strong note of the CT-TLC3. Shen indicated that the blown film machine is equipped with the high-torque, direct-driven gearbox made by Flender of the Germany-based Siemens Group with inverter-control AC motor. This configuration reduces the extruder's power consumption by 13-15% compared to conventional belt-driven models. The unit model also comes with an SSR+PID (solid status relay + proportional integral derivative) temperature controller to cut power consumption by 30%.
On the rapid development of China's machinery industry, Shen commented that "There are actually a few bellwether companies in the country that have caught up technologically with Taiwanese suppliers. However, the technology gap among local players in Taiwan is narrower than that in China." Shen expressed confidence that his company could continue to keep ahead of the competition through sustained commitment to R&D.
Shen said that Matila is trying to integrate its current line of machine models it to turn out new products, as well as take advantage of know-how and experience to simplify production processes and enhance energy efficiency, performance and stability. "Just like the automotive industry, Taiwanese machinery makers should keep improving technology and turn out premium products for buyers," the president said.
A High-profile Supplier of Multilayer Blown Film Machines
Founded in 1988 in New Taipei City, northern Taiwan, Matila is today a high-profile supplier of multilayer blown film machines and related individual units, as well as whole plant plastic bag making equipment.
The company develops higher-end machines, including twin screw extruders, with an aim to build a wide-ranging lineup to provide customers with the convenience of one-stop shopping for plastic film and bag machines.
The company markets most of its products under the Matila brand. It also offers various optional complementary devices. The company has exported its machines to over 40 countries, including Poland, Mexico, Russia, Ecuador, Lithuania, Latvia, Romania, Greece, Turkey, Lebanon and Saudi Arabia.
After sluggish growth in 2013, Shen reported that his company has seen orders recover strongly since the first quarter of this year. To maintain growth momentum, he said, "We have been boosting promotion and reinforcing relationships with customers, while continuing to focus on R&D. We expect our performance this year to be better than last year."
VN-HM Series HDPE Mini Type Inflation Machine by Venus Plastic
The ongoing trend towards smaller products was apparent among the machines on display at Hall E6, including the VN-HM Series HDPE Mini Type Inflation Machine exhibited by Venus Plastic Machinery Co., Ltd.
Antonio Chen, the company's manager, pointed out that the VN-HM series, though just two meters high and long, but match the performance and productivity of larger models. The machine has a 45mm diameter screw precision and advanced components capable of handling a maximum extrusion speed of 40 kilograms per hour, output of 32-35 kilograms an hour, and lay-flat width of 250-450mm.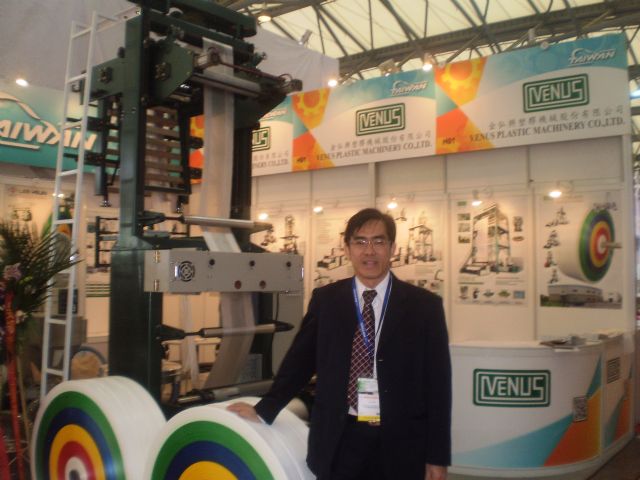 Venus Plastic manager Antonio Chen says that the VN-HM Series HDPE Mini Type Inflation Machine is a product of the company's consummate engineering techniques.
Chen indicated that this machine can be a money maker for factory operators, mainly due to the space savings achieved by its smaller footprint and productivity comparable to that of larger models. "The VN-HM series materializes Venus Plastics' market-driven design concepts and consummate engineering skills in a highly profitable machine with superior quality," he said.
Despite the rise of emerging rivals with technologically advanced machines, Chen felt that Taiwanese suppliers can still compete well on time-tested techniques and accumulated experience. "I think technique and experience are vital to the quality and performance of a machine; and that is what emerging rivals generally lack in their effort to replace Taiwanese suppliers in the global market, no matter how fast their technology advances," Chen said. "Venus Plastic aims to develop sustainably by sharpening its techniques and technology with know-how gained over a period of decades."
Professional Maker of Extrusion Machines
Venus Plastic has been designing and manufacturing extrusion machines since its founding in 1999 in Chiayi. Today the company is a professional maker well known by international buyers.
The company's product portfolio covers HD/LD/LLDPE and EVA 3-layer co-extrusion lines, water-cooling plastic recycling machines with shredder drums, multi-layer T-die cast film extrusion lines, monofilament making machines (for ropes, nets, sewing threads, carpets, toothbrushes, floor mats, mosquito meshes, fishing lines, etc.), inflation machines and models with 2-coloring-line printers, two-color side stripe high-speed inflation machines and bag making machines, mostly designed and developed independently.
With a strong commitment to exceptional quality and performance, the company has exported machines to more than 60 countries worldwide.
Chen indicated that Venus Plastic achieved better-than-expected revenue last year, when Taiwan's machinery industry saw output value drop as a whole, thanks partly to effective market diversification, and partly due to its reputation for outstanding quality and customer service. "We are optimistic that this year will be even better based on our industry-beating performance in the first quarter."