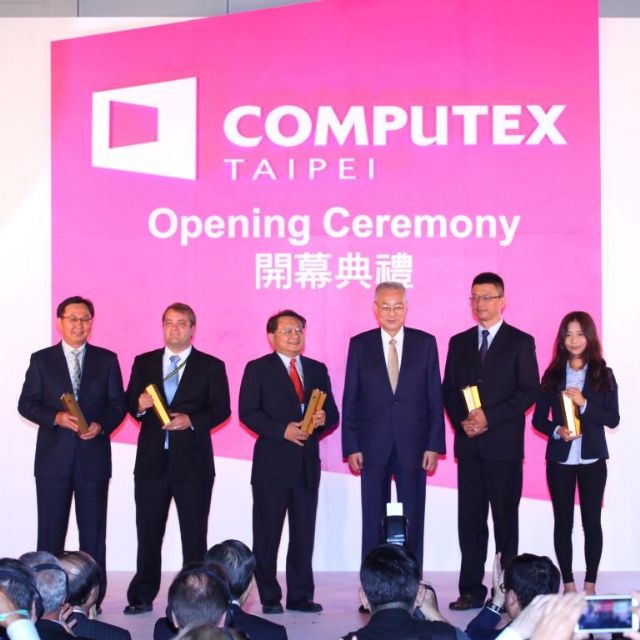 Taiwan's Vice President Wu Den-yih (the 3rd from right) and the five gold award winners of the Computex d&i gold awards.
Smart tech, touch applications, wearable tech, mobile computing, and cloud tech and services took center stage at this year's Computex Taipei, where 1,710 exhibitors from across the world promoted their latest products at 5,069 booths.
Computex, the world's second-largest information-communication technology (ICT) trade show, took place on June 3 through 7 at the Taipei World Trade Center's Hall 1, Hall 3, and Nangang Exhibition Hall, and the Taipei International Conventional Center.
Among the prominent exhibitors were Acer Inc., Asustek Computer Inc., Delta Electronics Inc., Transcend Information Inc., AMD Inc., Ford Motor Co., Intel Corp., Microsoft Corp., Panasonic Corp., and Supermicro Computer Inc. Group pavilions were organized for exhibitors from the United States, Hong Kong, South Korea, and Israel.
More than 40 new products were announced at this show, including PC maker Acer's "Build Your Own Cloud" service, an open cloud platform than can seamlessly connect PC and smart mobile devices with IoT environment, and Asustek's Transformer Book V, the world's first mobile computing device that incorporates notebook, tablet PC, and smart phone designs and can switch between the Android OS and Windows OS. Asustek also released a 3G tablet phone called the Fonepad 8.
Mediatek Inc., the world's No. 2 mobile-chip designer, was a first-time exhibitor this year. It displayed solutions for wearable, digital home, wireless, and IoT applications.
At the show, Microsoft announced the free licensing of its Windows OS for sub-9-inch smartphones and tablet PCs in a bid to boost its share of the market for mobile device OSs.
Big data, IoT, and technology disruption dominated the discussions at the technology forums held on the sidelines of the show. Prominent keynote speakers at the Summit Forum included ARM CEO Simon Segars, MediaTek CEO M.K. Tsai, Acer Founder & President Stain Shih, and Managing Director Shan Owenby of the Asia Pacific Operation of Amazon Web Services. At the Industry Forum, executives from Amazon Web Service, Cisco, Broadcom, IDC, NXP, STMicroelectronics, and Salesforce shared their insights with the audience.
This year's Computex is estimated to have drawn over 38,000 international buyers and 130,000 visitors, creating potential business estimated at over NT$100 billion (US$3.3 billion at NT$30:US$1), according to its co-organizer, the Taiwan External Trade Development Council (TAITRA).
TAITRA set up at least 1,000 procurement meetings for buyers and suppliers. Participating heavyweight buyers included Siemens AG, the Hisense Group, JD com. Inc., Baidu, Inc., Toshiba Corp., MA Laboratories, Areclik A.S., AB S.A., Pixmania, and Best Buy.
This year, the Computex d&i awards jury group chose GP Acoustics (UK) Ltd., HTC Corp. (Taiwan), Royal Philips (Holland), Taer Innovation Co. (Taiwan), Thermaltake Technology Co. (Taiwan) as winners of gold awards. A total of 74 winners were chosen from 288 competing products entered by 125 manufacturers worldwide. (KL)