By KEN LIU

The five-day Computex Taipei 2014 trade show closed on June 7 in the midst of high expectations that it will bring lucrative business opportunities to Taiwan's information and communications technology (ICT) industry this year.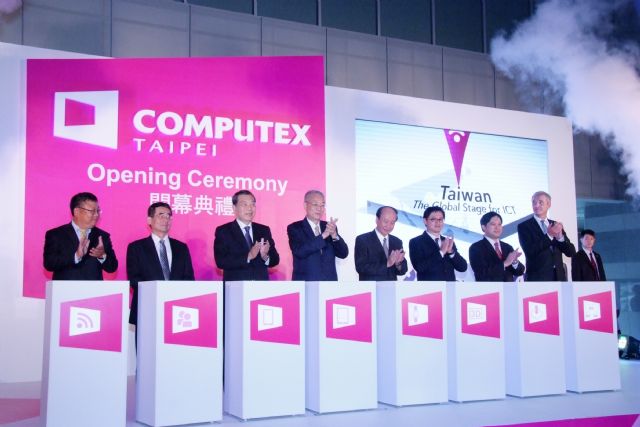 Computex Taipei 2014 was opened by celebrities including Taiwan's Vice President Wu Den-yih (fourth from left).
According to Chairman C.K. Wang of the government-backed Taiwan External Trade Development Council (TAITRA), the 2014 edition of the annual show is likely to create around US$25 billion of business for the island's ICT industry, equivalent to around 20% of the industry's US$110 billion in ICT sales in 2013.
Computex Taipei is recognized as the world's second-biggest ICT trade show, next only to the Consumer Electronics Show (CES) in Las Vegas, corresponding to Taiwan's position as the world's No. 2 supplier of information-technology products. For 14 ICT products, the island is the world's No. 1 supplier by volume.
Reaching Milestones
This year's show recorded a number of milestones, including hosting 1,710 exhibitors occupying 5,069 booths, attracting 38,600 international buyers from 166 economies, receiving 288 entries from 123 manufacturers for the Computex d&i design awards, and for the first time offering a show-guide app for Windows Phone download and integrating the show-guide app with iBeacon transmission technology.
Computex Taipei 2014 drew 38,600 international buyers.
According to TAITRA, the show's co-organizer, the 2014 exhibitor and booth numbers were record highs, the number of buyers represented a 1% increase from 2013, and the numbers of participating companies and entries at the design competition increased 21.8% and 13.4%, respectively.
This year, the top 10 buyer sources were mainland China, the United States, Japan, Hong Kong, South Korea, Singapore, Thailand, Malaysia, Germany, and Russia.
Smart tech, touch applications, wearable tech, mobile computing, Internet of Things (IOT), and cloud tech and services took center stage at this show. Fifty-nine of the exhibitors showed off wearable products, and around 20% of all the exhibitors displayed IoT-related products.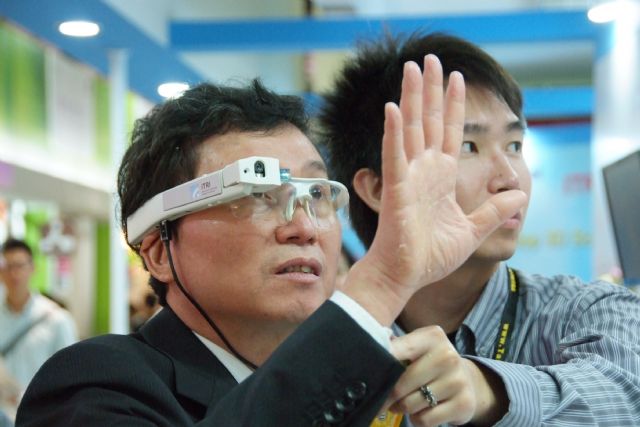 Wearable technology was one of the highlights of Computex Taipei 2014.
Acer Inc. debuted its first wearable product, the Liquid Leap watch; Mitac International Corp. released a healthcare wearable solution, the MiWell; and first-time exhibitor MediTek Inc. exhibited its Aster chip and LinkIt platform for wearable products. Other exhibitors, including driving recorder maker PAPAGO! Inc., e-paper maker E Ink Holdings Inc., and the Taiwan Textile Research Institute (TTRI), showed smart watches, smart wristbands, smart glasses, and smart clothing.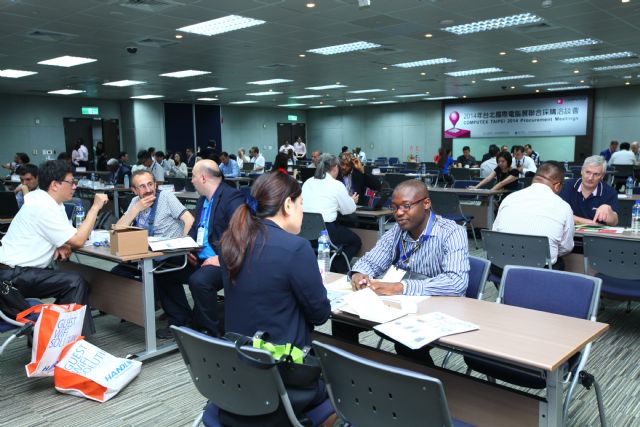 Liquid Leap is Acer's first wearable device.
During the show, MediaTek and Acer announced their cooperative development of the cloud-based IoT and wearable-device markets, with MediaTek joining Acer's "Build Your Own Cloud" service, an open cloud platform that can seamlessly connect PC and smart computing devices with IoT.
The Next Big Thing
IoT, predicted Taiwan Semiconductor Manufacturing Co. (TSMC) Chairman Morris Chang, will be the next "big thing" in light of the continuous market growth of mobile computing devices.
The Taipei Computer Association, another co-organizer of the show, pointed out that cloud-based applications, including security surveillance systems, information-security surveillance systems, high-efficient energy-saving systems, and intelligent transportation systems (ITS), are already part of the intelligent city projects that are being carried out in over 1,000 cities worldwide.
At least 45 exhibitors rolled out new products this year, including Asustek Computer Inc., Ford Motor Co., Corning Inc., XYZPrinting Cloud Service, Micro-Star International Co., and Gigabyte Technology Co.
Asustek released its Transformer Book V, the world's first mobile computing device that incorporates notebook, tablet PC, and smart phone functions and can switch between the Android and Windows operating systems. Ford promoted its vehicle-to-vehicle (V2V) communication technology, which uses a Wi-Fi-like standard to keep cars informed of what the cars around them are doing. Corning introduced the world's first antimicrobial glass, dubbed "Gorilla." XYZPrinting introduced its second-generation reasonably priced 3D printers. Micro-Star pitched its GS60 slim gaming notebook featuring 4K picture resolution display, and Gigabyte unveiled a 600 Watt WindForce and WaterForce cooling system.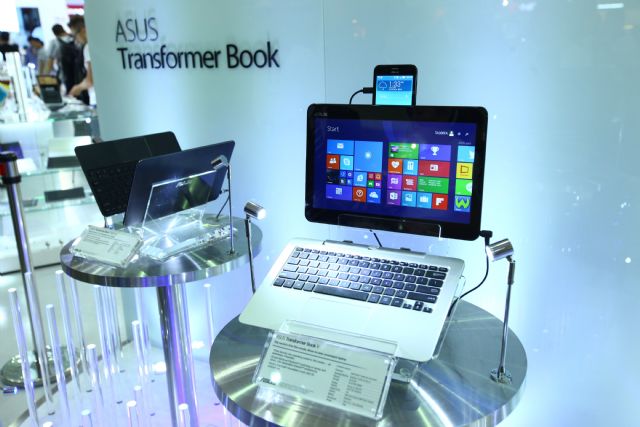 Asus' Transformer Book V features five functions.
Exhibitors from the United States, Hong Kong, South Korea, and Israel organize group pavilions at Computex.
Software-hardware integration, Big Data, IoT, and Technology Disruption were hot topics in almost all of the 120 technology forums hosted by the show's organizers. Prominent keynote speakers at the Summit Forum included ARM Chief Executive Officer (CEO) Simon Segars, MediaTek CEO M.K. Tsai, Acer Founder & President Stan Shih, and Managing Director Shan Owenby of Asia Pacific Operation at Amazon Web Services. At the Industry Forum, executives from Amazon Web Service, Cisco, Broadcom, IDC, NXP, STMicroelectronics, and Salesforce shared their observations with the audience.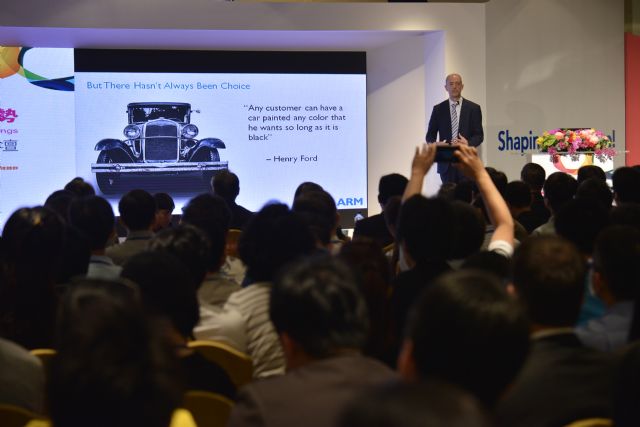 ARM's Segar has high hopes about the healthcare applications of wearable devices.
At one of the forums, MediaTek's Tsai, whose company is currently the world's No. 2 mobile-chip designer, predicted that the IoT market will balloon over the next 10 years, resulting in 20 billion to 50 billion computing devices being connected to cloud computing in 2020. ARM's Segars was optimistic about the healthcare applications of wearable devices, while Amazon's Owenby expressed the expectation that personalized applications will present the largest business opportunity for IoT.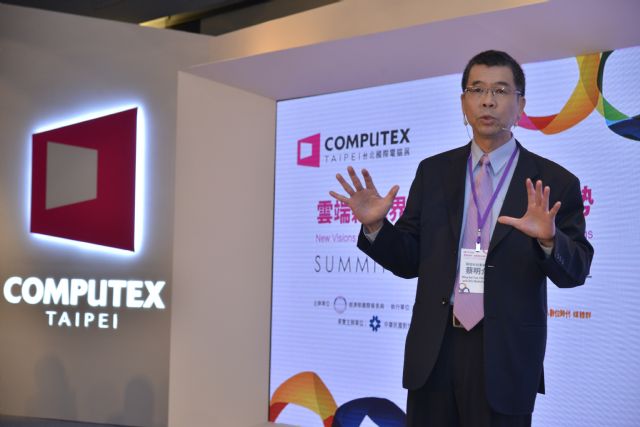 MediaTek's Tsai gave an optimistic forecast for the IoT market.
Intel and Microsoft organized forums on the sidelines of the show to release their new product roadmaps. Intel's newly-appointed president, Renée James, used her forum to unveil the silicon industry's first 14nm processors, named "Core M," for tablets and slim laptops. She predicted that the PC industry will evolve to produce a more diversified world divided by smartphones, tablets, laptops, and wearable devices, and that her company will use its close ties with Taiwan's PC supply chain to gain a bigger slice of the tablet market.
Free Licensing by Microsoft
The vice president of Microsoft's OEM Division, Nick Parker, used his forum to announce the free licensing of the Windows OS for sub-9-inch smart computing devices. Smartphone player HTC plans to release the world's first handset running on Windows Phone 8.1 OS.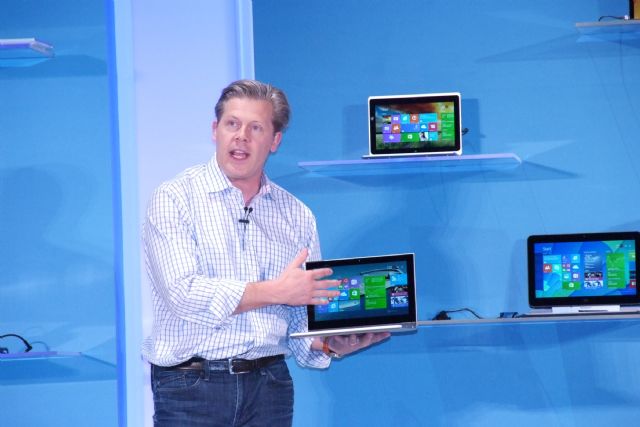 Microsoft's Nick Parker announced free licensing of Windows OS for sub-9 inch smart computing devices.
This year, the Computex d&i awards jury chose GP Acoustics (UK) Ltd., HTC Corp. (Taiwan), Royal Philips (Holland), Taer Innovation Co. (Taiwan), and Thermaltake Technology Co. (Taiwan) as the winners of gold awards. The winning products were the HTC Dot View Smartphone Cover, GP Acoustics X300A Wireless Digital Hi-Fi Speaker System, Philips Two-in-One Monitor, Taer Cylinder Cellphone Car Holder, and Thermaltake Level 10 M Hybrid Mouse. Of the 288 entries in the competition, 74 were chosen as winners.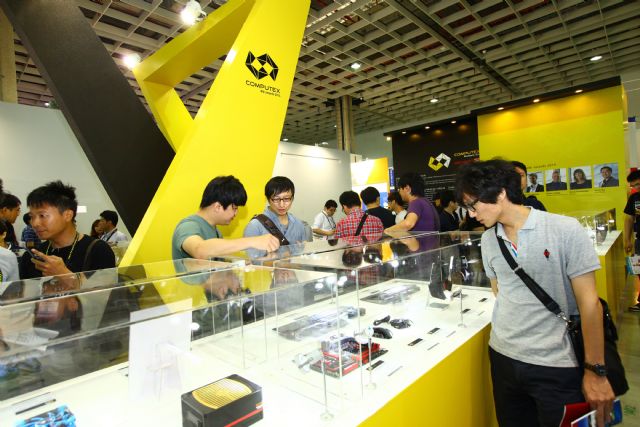 Winners of Computex d&i awards were displayed at the show.
This year, TAITRA set up 1,840 meetings between buyers and suppliers. The meetings were attended by 202 heavyweight buyers from 21 economies, including Siemens AG, the Hisense Group, JD com. Inc., Baidu, Inc., Toshiba Corp., MA Laboratories, Areclik A.S., AB S.A., Pixmania, and Best Buy.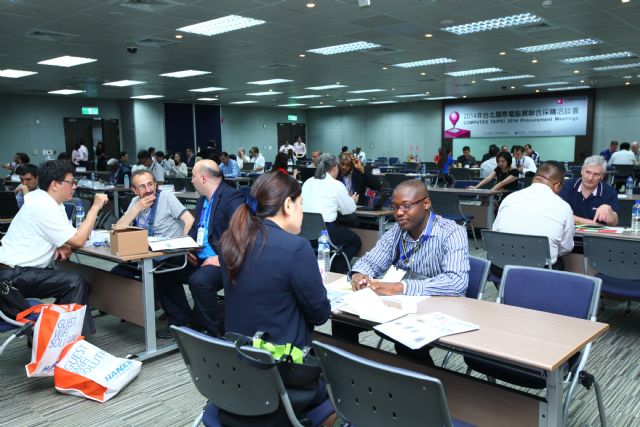 Over 1,000 purchasing meetings were held during the show.
Vice chairperson Bai Weimin of the China Video Industry Association (CVIA) announced during the show that CVIA members will purchase around US$4.5 billion worth of LCD panels from Taiwan this year, making the association one of the biggest buyers at the show.
To highlight the trendy technologies, a touch and display product section and a smart-technology application section were added to the show floor for the first time this year.
Industry executives pointed out that after 34 years of development, Computex has evolved from a pure purchasing platform into a platform for presenting new products, new technologies, and new trends in the world's ICT industry.