By JUDY LI

Giftionery Taipei 2014 and Taiwan Souvenir 2014 were held concurrently from April 24 to 27 at the Taipei World Trade Center. The twin shows drew some 700 domestic and international exhibitors, who occupied a total of 1,000 standard booths showcasing a wide variety of creative and novel products.

The four-day event attracted about 20,000 visitors; more than 1,000 of them came from overseas, mainly from mainland China, Japan, the United States, Hong Kong, and Malaysia. Domestic buyers also came in droves to check out the products on show, including representatives from Cathay Life Insurance, China Life, the Far East Group, Wowprime, China Airlines, Yuen Foong Yu Group, Coca Cola, the 7-11 convenience store chain, and books.com.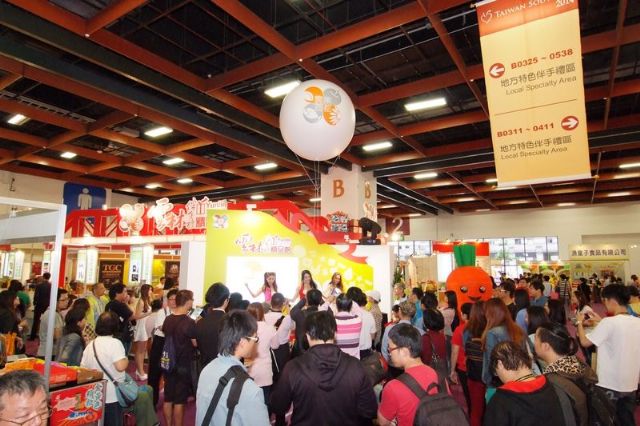 Crowds of visitors flood into Giftionery Taipei & Taiwan Souvenir.
The bloom of innovation was everywhere this year. Among the innovative items displayed at Giftionery were a 'collar camera strap' that gives photographers stylish comfort while taking photos, with a strap that reduces neck pressure by effectively distributing the weight; 'nest pot,' a 'red dot' winner with a design in ceramic that echoes the essence of old-style hot pots; and 'jewelry pen,' with agate decoration that turns a writing instrument into a fashion accessory.
In addition, there were ballpoint pens from Cross that exhibited exquisite craftsmanship with images of galloping horses in lacquer over 23-karat gold. In this Year of the Horse, Cross is offering imperial red/white lacquer fountain pens with 18-karat gold nibs decorated with a unique horse design. Some of the pen sets come with unique holders and notepads, making them perfect gifts.
Vincent Van Gogh, the Dutch impressionist painter, inspired Billy King Jewellery Co., Ltd. to create "Van Gogh in Ocean" as part of its classical Ocean jewelry collection. The Ocean collection flawlessly renders each piece into amazingly attractive yet functional necklaces and waist chains.
Polylight Design Co., Ltd. presented an easy-to-use Avert Heatstroke Meter that can detect conditions pointing to the onset of a heatstroke. The large font and simple layout of the device makes data readable at a glance, with icons and alarms indicating hazards. The meter's rich color and minimalist design makes it a pleasure to use; it won the 2013 'red dot' design award in Germany and the 2012 Good Design Award in Japan.
An exhibitor presents a uniquely-designed product.
The Huku screwdriver sets developed by King Tony Tools Co., Ltd. are compact, creative, attractive, and practical. The screwdriver set includes six different types of common screwdrivers in the body, including large, medium, and small conventional screwdrivers together with Philips screwdrivers that are suited to most home fix-up and repair jobs.
Style, Fashion, Function
Another exhibitor was Sans Souci International Inc., known for crafting jeweled stationery, perfume necklaces, agate and crystal stationery, and other OEM products. Among the products highlighting its display was the La Grand King & Elegant Queen Crown Pen Series of pearl-embellished refillable pens, designed for function, style, comfort, and eco-friendliness. Another striking Sans Souci display was a lid-on perfume bottle necklace that releases fragrance when it is worn.
Green was incorporated into the tableware market with the fresh, useful, and simple products displayed by Banbu: small round bowls made from South Pacific coconut shells, bamboo and, cork. These are renewable, environmentally friendly materials with short growth cycles.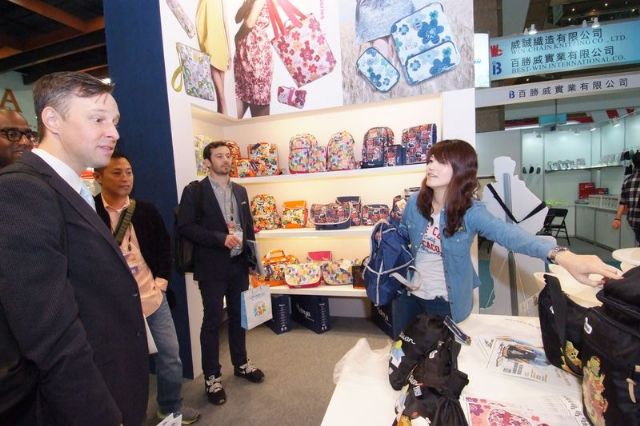 A booth showcasing various fashionable bags and knapsacks attracts foreign buyers.
Japan for the first time used a national pavilion to showcase its globally renowned design and fashion items including exquisite wooden furniture, home accessories, and the ceremony-based Kagami-biraki set. Nobuyuki Haga, president of Business Guide-Sha, Inc. of Tokyo, said, "We expect that our business ties with Taiwan will serve as a milestone helping to pave the way into mainland China."
Adjacent to the Japanese setup were the Nepal Pavilion and Bhutan Pavilion, showcasing cashmere wool scarves in various patterns and richly colored Thangka, a painting art that portrays religions deities. Exhibitors in the Cross Strait Exhibition Area spotlighted stunning artistic cloisonné items, with each piece requiring more than 108 steps to perfect.
A loyal exhibitor of many years, Su's Pottery was back in 2014 with a bigger booth than ever, and Chineseink Digital Art Co., Ltd. returned for its third straight year to carry on its drive to tap into overseas markets. Internet distributors from Singapore and mainland China also expressed a great interest in using the show as a bridgehead to overseas expansion.
Topping the exhibits at Taiwan Souvenir was a showcase of the Hakka tung blossom series of soap, handicrafts, floral-print cloth, traditional costumes, and agricultural products.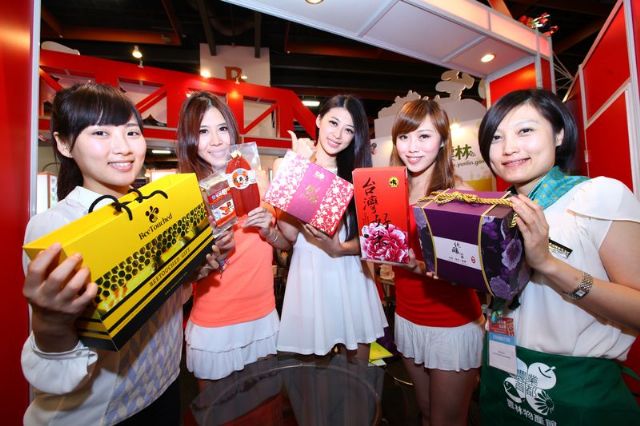 howgirls display different Taiwanese food in gift boxes.
Taiwan Mille-Feuille-style Q cakes bursting with flavor proved highly popular with visitors at the show. The Q cake is made of layers that include salted duck egg and dried shredded pork, and, to balance the flavor, has hints of sweet red bean paste from Wandan Township in Pingtung County at the southern tip of Taiwan. First-time exhibitor Yusan Tea, a guaranteed safe and delicious beverage, won instant stardom by drawing the attention of buyers from mainland China, Hong Kong, Malaysia, and Japan.
This year the twin shows featured almost 100 one-on-one procurement sessions that linked key exhibitors to top buyers. Surveys indicate that the procurement sessions generated US$5.37 million worth of business, both on-site and post-show. (JL)