At an investor conference held in mid-June, Jonney Shih, chairman of Asus, a Taiwanese brand of PCs and motherboards, outlined its  new blueprint for the future.

As ever more promising technologies, such as 3D printing, are introduced to sometimes become trend-setters in high-tech industries, Shih says that Asus will certainly enter the global market for robots as part of its future development strategy, given that diverse applications of IOT (the Internet of Things) will help to diversify applications of robots.

Shih said that it will be inevitable to stop the trend of robots installed with smart, friendly application software and access to network services, with consumer demand of such products to explode in the future, and that  robots will gradually replace PCs in daily lives.

In industries, the chairman said that robots will also be increasingly used by manufacturers to enhance productivity and operational efficiency, particularly those in Asia who must cope with the reality of doing business, to find automated production to offset rising wages.

On another front, Shih indicated that Asus will not just keep promoting conventional PCs and laptops, but also focus on smartphones. On the gradually recovering PC market, he noted that conventional PCs and laptops are proving to be irreplaceable with intrinsic value despite fierce competition from tablets. Therefore Asus continues to promote the Transformer Book series laptops, expecting to ship 4.6 million units of notebook PCs in the second quarter of this year.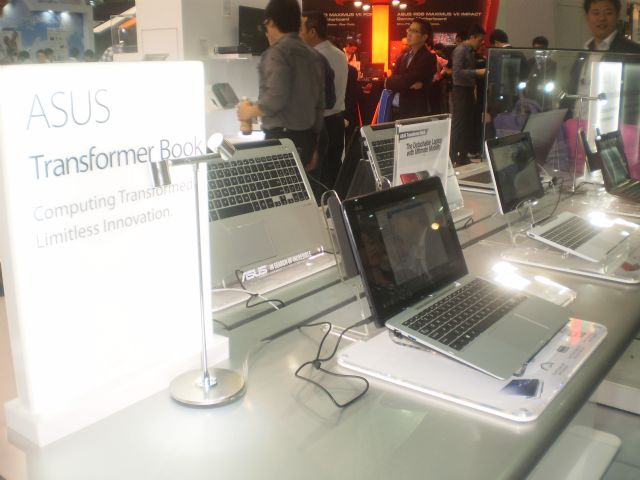 Asus's Transformer Book series laptops, displayed at Computex Taipei 2014, held June 3-7, captured ample among consumers.
In the smartphone business, Shih emphasized that Asus will launch the 4G edition of Zenphone soon after seeing single-month shipment of the smartphone model exceed one million units in June. To survive in the segment, the chairman said, the brand looks to compete not just on low prices and premium value offered to consumers, but also on innovative distribution strategies, including e-commerce. The brand's non-PC revenue is forecast to match that of PC by 2017.
Meanwhile Asustek Computer Inc., owner of Asus, reported consolidated revenue of NT$100.265 billion (US$3.342 billion) for Q1, 2014, down 16% quarter-on-quarter or 5% year-on-year; gross operating profits of NT$13.186 billion (US$439.6 million), down 12% quarterly or 5% yearly; and gross profit rate of 13.2%, up 12.6% QoQ. Net profits and EPS (earnings per share) totaled NT$4.362 billion (US$145.4 million) and NT$5.87.
As to the outlook for Q2, 2014, the firm forecast its shipments of notebook PCs, tablets, motherboards and handsets at 4.6 million, 2.8 million, 5.2 million and 1.5 million units, respectively.
Last year, the firm witnessed consolidated revenue increase 3.26% to hit a record high of NT$463.303 billion (US$15.44 billion), mostly driven by strong sales of its Transformer Book T100 in the U.S. during the fourth quarter, when revenue also beat a single-quarterly high of NT$130.72 billion (US$4.357 billion). (SC)