Terry Guo, chairman of Hon Hai Group, the parent group of Taiwan's largest thin film transistor-liquid crystal display (TFT-LCD) maker Innolux Display Corp., recently said that Innolux is now the world's third-largest player, but aims to become the No. 2.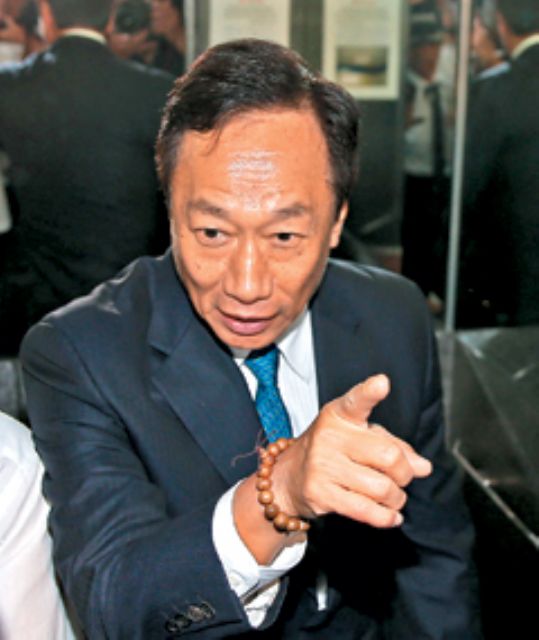 Terry Guo, chairman of Hon Hai Group, claims that Innolux aims to be the world's second-largest TFT-LCD panel supplier in a few years. (photo from UDN)
The world's top-2 suppliers of large-sized (larger than 10-inch) TFT-LCD panels are LGD and Samsung, both based in South Korea. If Innolux replaces Samsung to be the No. 2, the Taiwanese panel maker will be the second Taiwanese company to pull ahead Samsung, trailing Taiwan Semiconductor Manufacturing Co. (TSMC), the largest semiconductor company on the island, said Terry Guo, Hong Hai chairman, at the firm's shareholders meeting recently in Taiwan.
Asked about the partnership between Sharp and Hon Hai, Guo said that the deal remains a possibility. Guo has traveled to Japan several times to cement a partnership with Sharp over the last year or so, but to no avail due to disagreement over the price of Sharp shares to be acquired, according to Taiwanese media.
The chairman explained that Sharp's management once agreed to allow Hon Hai to invest in Sharp by acquiring shares at market price, but now the Japanese firm insisted on the price of 550 Japanese yen per share. Should Hon Hai really carry out this investment project, Guo said, it will be a loss to all Hon Hai's shareholders.
In Japan recently, Tetsuo Onishi, chief financial officer (CFO) of Sharp Corp., said that the Sharp-Hon Hai partnership talks on share swap  have ended, without any contact between the two sides nor suggestion to restart the negotiation.
Guo further pointed out that TFT-LCD is a "tactic material" for Hon Hai Group, and will make Innolux become the world's second-largest player over next few years.
In safeguarding its patents, Hon Hai Group recently filed a suit in the U.S. accusing Japanese companies Toshiba, Funai and Mitsubishi of infringing on Hon Hai's TFT-LCD patents.
The Taiwan-headquartered group said that the infringed patents are part of Hon Hai's global patent deployments, and these patented technologies are widely applied in LCDs for TV, monitor, notebook PC, tablet and smartphone applications.