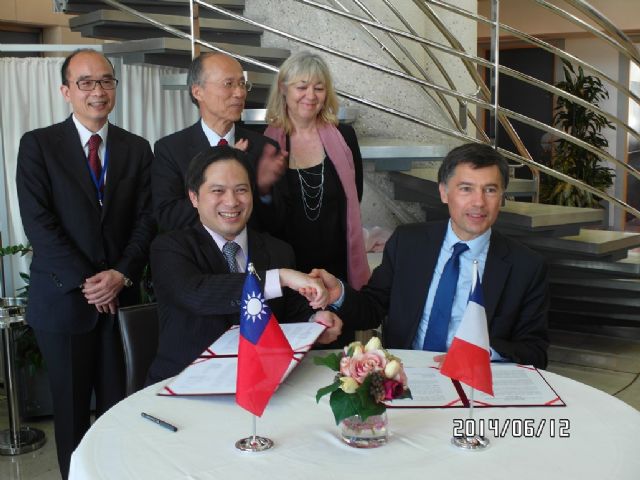 M.J. Wu (left), Director General of IDB, and Pascal Faure, Director of DGCIS, signed the meeting minutes.
A Taiwanese delegation led by M.J. Wu, Director General of Industrial Development Bureau (IDB) of the Ministry of Economic Affairs (MOEA), recently attended the 21st Taiwan-France Industrial Cooperation Consultation Meeting (ICCM) held June 12, 2014 in Paris, France.
Taiwan was represented by government officials and representatives of government-sponsored research institutes who discussed issues of electric vehicle (EV), energy, information and communications technology (ICT), textile, aerospace, design, biotechnology etc.
During this year's ICCM, Pscal Faure, Director of Industry and Service, DGCIS briefed the Taiwanese delegation on 34 ongoing industry innovation projects in France, with Wu sharing Taiwan's latest industrial-policy plans. Both Faure and Wu agreed that innovation will undoubtedly drive national development. In line with new global trends as eco-protection, digital economy, Smart life etc., both Taiwanese and French governments are focusing on integrating governmental R&D resources into industrial transformation and upgrading.
Participants at the 21st Taiwan-France Industrial Cooperation Consultation Meeting held in Paris, France, took a photo after the annual meeting. (photo from IDB)
The representatives presented respective national EV, energy and ICT industries, as well as sharing ideas and opinions about global aging and "smart" trends, including healthcare applications and 5G telecom technologies. Both parties expressed satisfaction with bilateral cooperation in the past year, as well as anticipation toward future partnerships in new fields and subjects to upgrade bilateral industries.
Wu and Faure signed the meeting minutes, while also witnessing the signing of the cooperation memorandum of understanding (MOU) between the UPTEX, the textile industry cluster of France, and Taiwan Textile Research Institute (TTRI). The two organizations will soon set up windows to  enable personnel and information exchanges, and seek future opportunities in joint R&D, technological introduction, manufacturing and marketing.
The IDB and the Chinese International Economic Cooperation Association (CIECA) jointly organized the Taiwanese delegation consisting of over 50 representatives from  government units, research institutes, state-run enterprises etc. as Taiwan Power Co., TTRI, Automotive Research & Testing Center (ARTC), Institute for Information Industry (III), Industrial Technology Research Institute (ITRI), the Committee of Communications Industry Development (CCID) and Biotechnology and Pharmaceutical Industries Promotion Office (BPIPO) under MOEA, as well as  government units and private enterprises covering renewable energy, wind power generation, digital content, and textile etc. fields.
The Taiwanese group also visited internationally famous companies and organizations as Air Liquide, EOLFI, AREVA, FUF, EDF, CAP-DIGITAL, to seek potential partnerships.
Afterwards, IDB Director General Wu also flew to Germany to visit the industrial product division of Siemens, trying to promote further cooperation in high-level application software for mechanical controllers between Siemens and Taiwanese machinery makers, which, IDB said, targets to help Taiwanese machine makers move upmarket.
Over the past two decades, the Taiwan-France ICCM has been one of the most important communication platforms between the two parties, helping to achieve achievements in mutual exchanges in EV, ICT, energy, design, textile and aerospace industries.