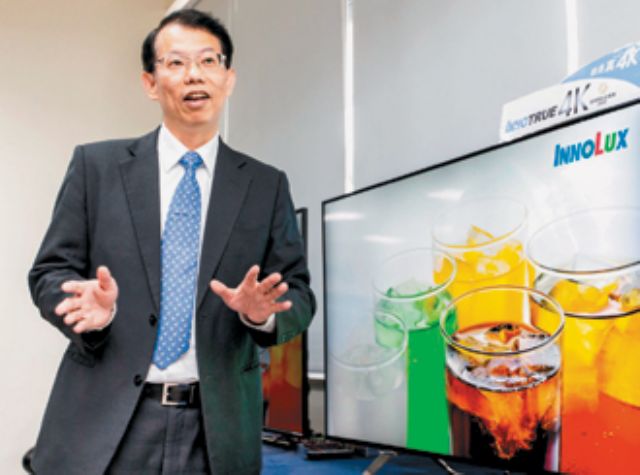 J.C. Wang, president of Innolux (photo courtesy UDN)
Thanks to increased shipments of large-sized (larger than 10-inch) products, the Innolux Display Corp., the largest maker of thin film transistor-liquid crystal display (TFT-LCD) panels in Taiwan, recently reported that its revenues soared 24% to NT$111.06 billion (US$3.7 billion) in the second quarter.
AU Optronics Corp. (AUO) and HannStar Display Corp., another two major Taiwanese TFT-LCD panel suppliers, also enjoyed better-than-expected revenue growth in the second quarter. Industry sources predicted that the revenues of local panel suppliers will continue growing during the third-quarter high season.
Innolux recently announced revenues of NT$36.56 billion (US$1.22 billion) in June, up 0.63% month-on-month (MoM); the number of large-sized panels it shipped that month fell 2.1% to 12.31 million, however, and the number of small- and medium-sized panels shipped declined by 7.1%, to 28.04 million.
Thanks to the strong demand generated by the 2014 FIFA World Cup soccer games and the sales peak produced by China's May First holiday, Innolux enjoyed a record quarter-on-quarter (QoQ) revenue growth of 24.01% in the April-June period, with shipments of large-sized panels soaring 18% to 37.14 million and small- and medium-sized panel shipments growing 11.6% to 86.9 million.
HannStar reported consolidated revenues of NT$2.04 billion (US$67.9 million) in June, down 2.02% MoM and 30.8% year-on-year (YoY). The firm delivered 33.4 million small- and medium-sized panels that month, up 3.3% MoM, along with 53,000 large-sized monitor panels, down 34.6% MoM (the company has been shrinking its production of large-sized products). The firm's second-quarter consolidated revenues amounted to NT$6.14 billion (US$204.5 million), up 9.08% QoQ; at the same time, it shipped about 188,000 large-sized panels and around 89.4 million small- and medium-sized panels.
AUO's consolidated revenues showed a decline of 2.6% MoM and 7.9% YoY in June, to NT$34.1 billion (US$1.14 billion). Its second-quarter revenue was NT$102.04 billion (US$3.4 billion), up 8.8% QoQ but down 9.2% YoY.
Another local panel supplier, Chunghwa Picture Tubes, Ltd. (CPT), also saw shipments decrease by 7.33% in the second quarter, to NT$13.87 billion (US$462.4 million).
The strong demand for panels that suppliers enjoyed in the second quarter is expected to continue through the current three-month period. While the quantity of global LCD TV panel shipments is expected to remain at last year's same level, industry insiders said, increasing panel size will consume more production capacity this year, leading to a healthier market.