Integrated Service Technology Inc. (IST) of Taiwan, a testing-service provider in Taiwan, recently reported record highs in monthly revenue in the past two months, with registered revenue of NT$168 million (US$5.6 million), up 9% month-on-month (MoM), and H1 cumulative revenue of NT$875 million (US$29.2 million), a 10% year-on-year (YoY) increase.

The tester attributes such revenue performances to effective strategies that have drawn increasing orders from customers in the smart handheld device, automotive electronics, LED etc. industries. Also the company's subsidiary Innovative Turnkey Solution Corp. also won orders for analog-IC testing, hitting record monthly revenue highs in the past two months.

Besides serving upstream IC design and semiconductor industries to specialize in developing IC product testing and analysis, failure analysis, debugging, reliability testing, material analysis, IST has also expanded to offer a full-spectrum of services for mid- and down-stream electronics companies.

The company also serves the Chinese automotive industry by offering reliability and durability tests to auto-parts makers, and is expected to win test orders from upstream parts suppliers for electronic control unit (ECU) modules and other key components.

In 2012 Philips Lighting began providing LED testing capacity to IST, and this year Philips Lumileds has certified IST's LED testing capability, which will be offered in H2.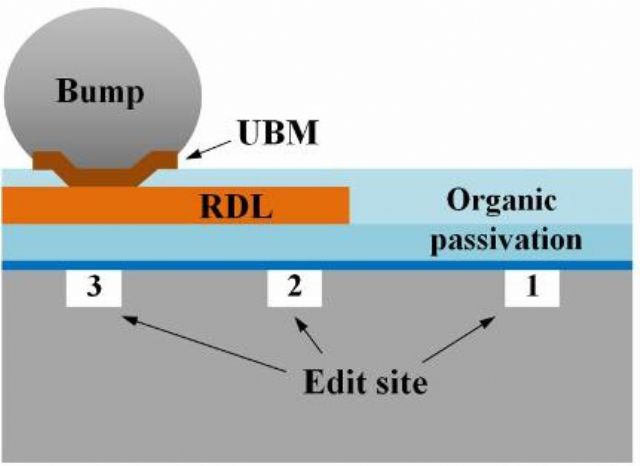 With specific preprocessing engineering methods, Focused ion beam (FIB) circuit edit any sites covered by the bump (site 3), RDL (site 2), or organic passivation (site 1) can be achieved without problems. (photo from IST)
With exclusive preprocessing engineering methods, IST has developed the second generation circuit edit solution for wafer-level chip scale package (WLCSP) to effectively shorten production time and enhance circuit edit success. The aim of WLCSP is to finish IC packaging directly on the wafer using bump as a contact before the wafer is cut. Compared to traditional wire bonding packaging, WLCSP  effectively reduces packaging size. With the rise of wearable and smart handheld devices, WLCSP features smaller and thinner packaging size to meet trends for compactness and lightweight.
With specific preprocessing engineering methods, circuits under the bump, RDL (redistribution layer), or organic passivation can be edited without problems. Compared to the first generation circuit edit method using metal conductors, the second-generation WLCSP circuit edit technology can significantly reduce editing time by 50% and double yield rate, IST said.