Microsoft Inc. of the U.S. plans to launch several new mobile devices at competitive prices by the year-end, including a tablet PC with Microsoft operating system (OS), and notebook PCs priced only US$99, and a notebook PC for US$199, according to foreign news wire. To evade underselling competition, Taiwanese PC vendors like Acer and Asus have been developing new, multifunctional notebooks.

At Microsoft's recent Worldwide Partner Conference (WPC), a gathering of top global Microsoft partners, the company's CEO Kevin Turner announced a Windows-based tablet for US$99 to go on sale in a few months. In addition to the popularly-priced model, Microsoft plans to place orders for another tablet with a subcontractor in China, which features  Windows 8.1 OS and is priced sub-US$250.

Subcontractors say that both Acer and Asus have launched many tablet models with non-Windows OS, so other vendors' new models with popular prices won't prove to be formidable competition. In the short term, they say that Android-OS tablets are expected to be mainstream products.

Industry insiders say that Microsoft has boosted confidence by selling own-brand Surface tablets, and has chosen BYD of China as the contractor of the US$99 tablets.

The sources say that currently Google's Chromebook is priced US$199 and also the  best-seller of its kind in the U.S. retail market, according to NPD's survey.

A senior executive of Topology Research Institute (TRi), a private market-research firm in Taiwan, says that Microsoft's US$199 notebook PC embodies the concept of integrated tablet and keyboard, also likely to take away some market share of Windows-OS notebook PCs.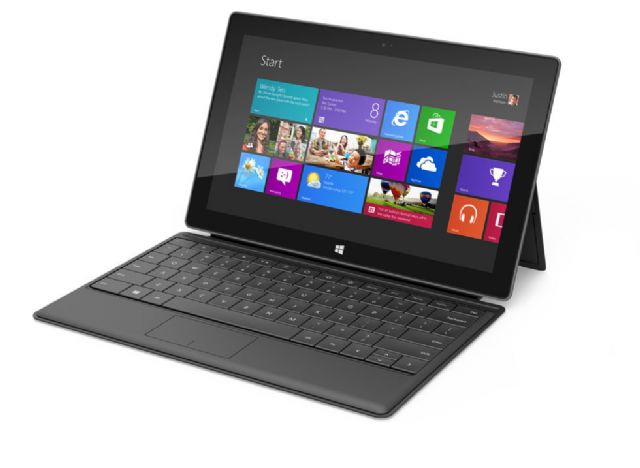 The Microsoft Surface RT, a multifunctional tablet, or notebook PC (photo from Internet)
After Microsoft announced that it would launch the US$99 tablet, the market began to be anxious that the sub-9-inch tablet segment would  become extremely competitive. To counter other OS' rising market shares, Microsoft has offered discounts to tablet vendors as Asus, Acer, Lenovo, HP etc., as well as free Windows OS to sub-9-inch tablets.
However, some Taiwanese vendors says that  only non-Windows terminal devices can feasibly be priced sub-US$129, due simply not only the OS licensing fee, but overall cost including that of CPU, touch panel etc. Many vendors see falling tablet prices as a slippery slope to eventually render the business pointless or a money-loser.
Multi-function notebook PCs that simultaneously have convenience, mobility and performance of tablet and notebook PCs, as a result, have created new opportunities with clearer market positioning, drawing more and more vendors to develop 12-inch-and-bigger models to evade underselling.
Global Tablet OS Market (2013-2017)
OS

2013 Market Share

2017 Market Share

Compound Annual Growth Rate

Android

48.8%

46.0%

14.8%

iOS

46.0%

43.5%

15.0%

Windows

2.8%

7.4%

48.8%

Windows RT

1.9%

2.75

27.95

Others

0.6%

0.4%

7.5%

Source: IDC