The prices for large-sized (larger than 10-inch) thin film transistor-liquid crystal display (TFT-LCD) panels have risen in the past four months since April, and will continue to surge in July, including on average US$1 to US$3 for TV panels and US$0.2 to US$1 for information technology (IT) panels, according to WitsView Technology Corp.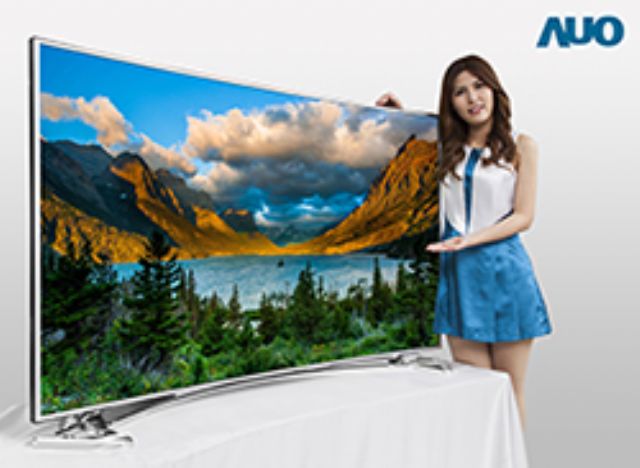 Market research firm WitsView forecasts large-sized panel prices to continue rising in July. (photo of a 4K curved TV panel developed by AUO)
C.H. Liu, senior research manager at the Taiwanese LCD market research firm, says that strong demand is expected to continue driving panel prices up throughout September.
The uptrend in panel prices drove TV vendors to increase order volumes in the late Q2. In June, global shipments of TV panels increased 0.6% month-on-month (MoM) to 20.95 million units.
WitsView forecasts global shipments of large-sized TFT-LCD panels to drop 4% to 6% MoM due to vendor's inventory adjustments; while the overall TV-panel shipments are expected to decline 4% to 5%. However, the overall panel shipments are expected to rebound 2% to 8% MoM in August, and stay on par or increase slightly in September, the research firm says.
Liu estimates TV-panel prices to continue rising in July, including US$1 for 23.6-, 32- and 40-inch panels, as well as US$1 to US$2 for 46- and 48-inch products; while those for 42-, 50- and 55-inch panels are expected to stay on par. Prices for 65-inch TV panels are forecast to stay on par or drop US$3.
Due to decreased production capacity resulting from increasing TV-panel demand, monitor-panel shipments in June declined 2.2% MoM to 13.37 million units, and are expected to continue falling 7% to 8% MoM in July and declining another 1% and 3% in August, but likely to rebound starting September, Liu says. The quotes for monitor panels are forecast to rise by US$0.2 for 18.5- and 27-inch panels, US$1 to US$1.5 for 19- and 9.5-inch products, US$0.2 to US$0.3 for 20-inch panels (due to order shifts to 20-inch products from 19.5-inch), and US$0.5 to US$1 for 23.6- and 24-inch monitor panels.
In June global notebook PC-panel shipments reached 16.29 million units, down 3% MoM, and a 10% MoM drop is projected in July; while those in August and September are expected to increase 3% to 4% and 0% to 2%, respectively, MoM. Liu says one should note Microsoft's new, 13.3-inch notebook PCs priced only US$199 to be launched in Q4, which should trigger another demand wave for IT panels.
The notebook PC-panel prices in July are expected to stay relatively stable, Liu says, including a US$1 to US$1.5 hike for 15.6-inch Wedge and Flat panels; US$0.4 to US$0.7 for 14.0-inch Wedge and Flat panels; and par for 17.3-, 11.6- and 13.3-inch panels.