Shipments of personal computers (PCs) in the Asia/Pacific (excluding Japan) PC market increased 2% quarter-on-quarter (QoQ), but declined 10% year-on-year (YoY) in Q2, 2014 to reach 24.3 million units, according to International Data Corp. (IDC).

In India, shipments to an ongoing, large educational project came in earlier than expected, adding about 100,000 units to the commercial PC segment. Thailand's coup d'état, on the other hand, resulted in a steep double-digit annual decline as channels were wary to take in shipments. Microsoft's Bing program is driving the region's emerging markets, with Malaysia being the first to come in strong this quarter.

"The ongoing economic slowness in the emerging markets sets the tone of the overall PC demand and inhibited the region's year-on-year growth," says Handoko Andi, Research Manager for Client Devices Research at IDC Asia/Pacific. "There are pockets of optimism coming from mature markets like Australia, New Zealand, Singapore, and Hong Kong, where the smartphones and tablets near saturation. However, the region's growth has been adversely impacted with the rise of large-screen smartphones in China and most ASEAN countries."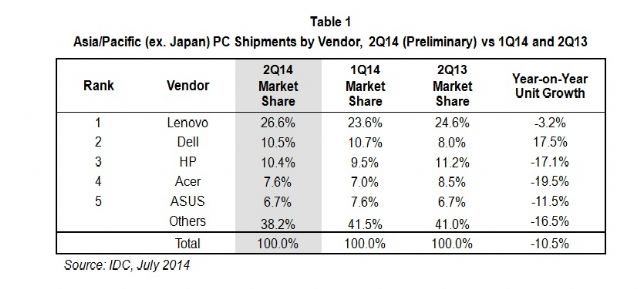 Asia/Pacific (excluding Japan) PC shipments by vendor (Q2, 2014 vs Q1, 2014 & Q2, 2013)
Lenovo retained the top spot with high sequential growth in China and India. In China, the vendor had a strong sell-in after a seasonally low in Q1 due to the Chinese New Year. In India, the back-to-school campaign added to the vendor's growth.
Dell retained the second spot backed by strong growth in key emerging markets like India and Thailand due to its increasing focus on the consumer segment and better relations with sales channels.
Taiwanese vendor Acer replaced major local counterpart ASUS at the fourth spot contributed by the vendor's growth in some key markets with attractive entry-level product line-ups, according to IDC's data. Acer won a 7.6% share in the Asia Pacific market in Q2, compared to 7.0% in Q1; while ASUS' declined to 6.7% from 7.6%. However, unit shipments of Acer dropped 19.5% YoY in Q2, compared to an 11.5% decrease of ASUS.