By STEVE CHUANG

Taiwan's makers of plastic and rubber machinery, including blown film machines, have generally experienced a business slump so far this year mainly because of increasing rivalry from emerging competitors as well as sluggish corporate investment in fixed assets over the past few years. Soon, however, things are expected to turn upward again.

According to the latest statistics compiled by the Taiwan Association of Machinery Industry, the island's plastic and rubber machinery sector saw exports drop 3.2% year-on-year during the first four months of the year, to US$406.85 million, while exports by the machinery industry as a whole rebounded by 8.6% to US$6.167 billion.

However, some of Taiwan's top-caliber suppliers of blown film and bag making equipment, a sector that has seen the number of its member companies shrink from hundreds during its heyday to only dozens now mostly because of competition from emerging rivals, have kept busy filling a constant influx of recently thanks to their persistent pursuit of excellence and innovation.

Kang Chyau
One of the best-known Taiwanese suppliers of whole-plant equipment for plastic bag production, and the island's third-largest exporter of its kind, is Kang Chyau Industry Co., Ltd. Founded in 1988 in New Taipei City, northern Taiwan, Kang Chyau maintained robust growth during the first half of this year, says its chairman, C.I. Kang.

In an exclusive interview with CENS in 2012, Kang predicted that his sector would likely continue declining through 2014--this after his company had chalked up a whopping growth of over 30% in 2010 despite the global financial tsunami. This forecast seems to have proven true, given the drop in Taiwan's plastic and rubber machinery exports in 2012 and 2013. "However," the chairman stresses, "Kang Chyau has remained in nice shape this year."

"Over the past years," Kang went on, "our company has effectively retained almost all of our old customers while receiving orders from new ones, even though we haven't slashed prices in a scramble for orders. The reason for this achievement, I believe, is primarily our dedication to making our machines better through quality, R&D, and innovation."


Plastic recycling machines for bag production are also among Kang Chyau's product lineup.
Kang, who has over 50 years of experience in plastic processing, emphasizes that his company has worked constantly to develop new machines with higher performance, better functions, and lower power consumption, improving their mechanical design to better handle different plastic compounds at lower cost. "Kang Chyau leads the sector with its unprecedentedly rich know-how of plastic formulas and mechanical design for a variety of  key components and parts, including screws and gearboxes," says Kang. "With those competitive advantages, our company has gained prestige among professionals all over the world."
More evidence of Kang Chyau's high status comes from its designation by the Taiwan External Trade Development Council, a semi-governmental export promoter and organizer of Taipei Plas, to grant exclusive interviews with an international delegation of reporters from the U.S., India, Germany, Turkey, Brazil, and Japan as a leading supplier in its line. "The common conclusion among those foreign reporters after the interviews is that Kang Chyau is a truly competent maker of plastic inflation equipment," claims the chairman.
Twin Head Blown Film Machine
One result of its continuous R&D efforts is the company's new twin head (A/B/A Layer) HDPE/LDPE/LLDPE plastic inflation machine, coded KMTL-4545T, which is designed to meet the growing demand for efficiency, diverse functions, and high productivity.
Built with twin die heads and two 3-horsepower cooling blowers, this innovative model can churn out two 10-32 kilogram rolls of film per hour, with a winding unit incorporating 1/2-horsepower DC motors that drive 760mm-wide rollers and a take-up unit that uses AC motors to achieve a take-up speed of 85 meters per minute. The extruder unit employs a 20-horsepower AC motor coupled with an inverter and two improved high-quality screws with a diameter of 45mm. The heating capacity is 18.8kw, and there are four barrel cooling fans to enhance energy efficiency and overall performance.
With an improved electric control system, this machine also features outstanding stability and safety. It is suitable for making HDPE, LDPE, and LLDPE film with a thickness and width of 0.01-0.15mm and up to 400mm, respectively.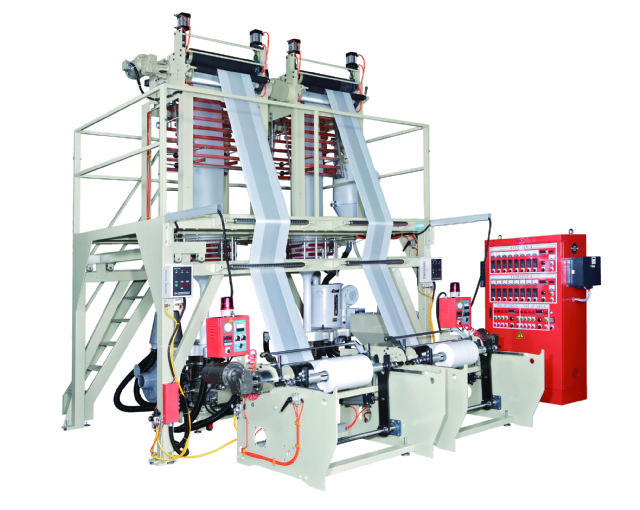 Kang Chyau's twin head (A/B/A Layer) HDPE/LDPE/LLDPE plastic inflation machine, coded KMTL-4545T, features great efficiency, diverse functionality, and high productivity.
Kang reveals that his company will unveil a beefed-up model of the twin head inflation machine at Taipei Plas 2014, scheduled for September 26-30, where the firm will share a 15-unit booth with the Formosa Plastics Corp., the flagship company of the globally known Formosa Plastics Group. "While joining hands with world's best-known plastics supplier to run the booth and further underline Kang Chyau's lead in the sector," Kang emphasizes, "we will also focus on demonstrating our best, newest machines to show off our technological prowess at the fair."
Han King
Despite fluctuating market demand, Han King Plastic Machinery Co., Ltd., a veteran plastic inflation equipment supplier headquartered in Chiayi County, central Taiwan, scored an amazing 50% jump in revenue in the first half of this year, reports its managing director, C.J. Wu.
Wu emphasizes that the continuous sharpening of his firm's competitive edge through the development of automatic, multi-layer blown film machines that can handle different materials and meet the market demand for high efficiency and performance is the key element of Han King's current success.
"Han King has decades of experiences in developing plastic inflation machines and related parts, as well as a rich store of known-how in metalworking processes, and this is how we have survived the growing rivalry from emerging competitors in the past decade," says Wu.
For instance, the chairman went on, the company's superior technological advantage can be seen in the screws which it designs and develops using advanced mechanical engineering technology, and then improves through several months of real-world use so that they have higher precision, better quality, and a longer lifespan than competing models. "Han King," Wu says, "is also well versed at developing gearboxes and other key components, an ability which is the mark of top-end machinery manufacturers."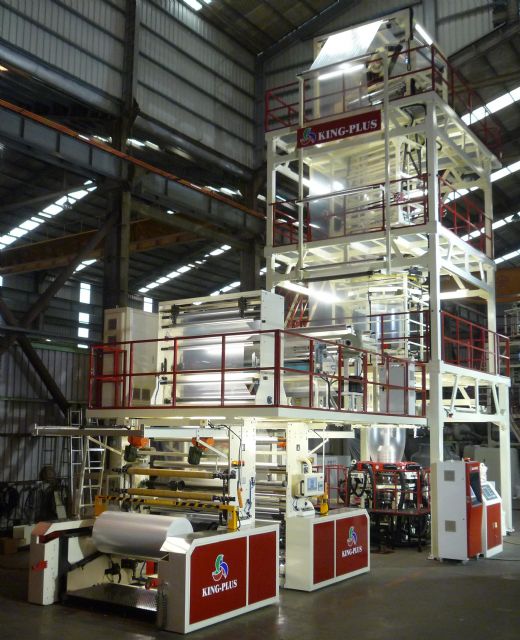 Han King is Taiwan's leading supplier of multilayer blown film machines
Over 95% of the company's machines are currently shipped overseas under its own "King Plus" brand, 30% going to China, 20% each to Southeast Asia and Latin America, and 10% each to Eastern Europe and the Middle East. The company's products are recognized as being cheaper on average than competing models made in Germany and Italy, while being comparable in quality.
Heavy-duty (FFS) Blown Film Machine
Among Han King's product lineup, which encompasses multi-layer co-extrusion blown film lines, slip-proof and bi-convex embossing devices for heavy-duty films, blown film lines connected with printing devices, high-speed resin inflation machines, LDPE/LLDPE blower film machines, LHE inflation machines, HDPE blown film lines for vest bags and garbage bags, and agricultural- and industrial-use large film production lines, Wu reckons that the Three-layer Heavy Duty (FFS) Blown Film Machine is a promising hot-seller, particularly at a time when global market demand for eco-friendly, innovative packaging is increasing.
Wu stresses that PE heavy-duty bags are increasingly used in industrial packaging to replace woven bags, partly because the material is recyclable and partly because conventional PP woven bag making machines generate more waste materials and call for more peripheral equipment and manpower to operate. Besides, PP woven bags are subject to laminating, and so are unfriendly to the environment.
The company's three-layer heavy-duty blown film machine is made with high-performance screws, gearbox and air rings, and other high-quality components, and comes with an in-line embossing/gusseting machine and printing machine, providing a 350-kilograms-per-hour productivity that matches competing models made in Germany and Italy. In addition, the machine adopts an improved electric control system and independently developed software which are seamlessly integrated with each mechanical component to ensure maximized performance, easy operation, and great safety.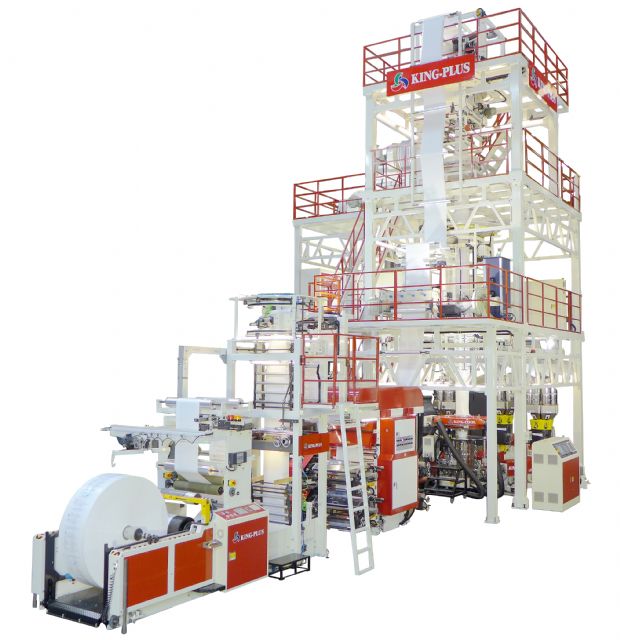 Han King's three-layer heavy-duty (FFS) blown film machine with an in-line embossing/gusseting machine and printing machine drew intense attention at ChinaPlas 2014.
"This machine drew intense attention from visitors at ChinaPlas 2014 and it demonstrated how strong Han King's R&D capability is," says Wu. "In fact, King Plus is regarded as a strong competitor to German suppliers in the Chinese market, where sales contributes around 30-35% to our annual turnover."
With its branded sales growing strongly, Wu reports, Han King will begin construction of a new plant in Taiwan, occupying five times the space of the current factory, within the next two years. "For decades," Wu comments, "Han King has constantly focused on R&D and the continuous improvement of quality and technical services in an effort to help customers make money with our high-performance machines and build trustworthy, long-term partnerships with them. And this is the strategy we will stick to for sustainable development in the increasingly challenging market."
Jenn Chong
Offering blown film machines, including mono- and multi-layer models, that are popular with customers in North, Central, and South Americas, mostly because of their high functional customization, Jenn Chong Plastics Machinery Works Co., Ltd. enjoyed double-digit growth in the first half of this year, according to its general manager, Tony Wang.
"In fact," he comments, "our capacity has already been fully booked through the end of this year." The young general manager attributes the company's performance to the use of R&D to achieve the functional customization that its machines need to maximize customers' profitability. "Thanks mostly to our strong R&D capability," Wang adds, "we even garnered on-site orders from buyers at ChinaPlas this year, even though we didn't display any physical exhibits there."
Wang mentions that nearly all of his staff, from R&D engineers and sales agents to operators and electricians, are involved in R&D aimed at improving performance. This kind of full participation enables the company to work out improved machines that meet market needs and are well fitted to the production lines of its customers.
To make sure its extruders can truly address the requirements of end-users and accommodate the market trend toward energy-saving and high-performance machinery, Wang says that his company builds improved servo motors and fully automatic control units into its machines, which also minimize the generation of waste throughout production.
The company constantly sharpens its R&D capability not just through feedback from customers but also through long-term partnerships with high-profile foreign companies. Wang says that his company is working in cooperation with one upstream supplier, the globally known Dow Chemical, in developing machines that can handle high transparent shrink films made of PE.
Beefed-up Multi-layer Co-extrusion Blown Film Extruder
A multilayer co-extrusion blown film extruder is among Jenn Chong's top-sellers, thanks to its high speed, stable quality, and the great profits it can generate for users. This machine will be beefed up even further by adding a brand-new transmission system.
"We're trying to build into the blown film machine an improved transmission system composed of four motor gears, so that it can be directly connected to the extruder," Wang reports. "This will provide higher performance and save space too." The general manager notes that such a transmission system has a lot of advantages over conventional models composed of belts, gearboxes, and motors: lower noise, 30-40% less power consumption, and, particularly, more stable operation, since the system can keep operating even if one of the four gear motors is malfunctioning.
Jenn Chong will launch a brand-new multilayer co-extrusion blown film extruder with a beefed-up transmission system incorporating advanced motor gear technology at Taipei Plas 2014.
"At present, few Taiwanese manufacturers use motor gears in their transmission systems, even though they are a growing trend in the global machinery industry, partly because they are costly," explains Wang. "Since Jenn Chong is committed to R&D, we decided to use gear motors and the related technology in our machines to boost added value for customers and start a trend among Taiwanese suppliers. Our finished model will be unveiled at Taipei Plas 2014."
To further promote the brand-new blown film extruder, Wang reports, his company will also take part in exhibitions in Japan, Mexico, and Burma during the second half of this year.
Taiwan's Exports of Machinery by Category, January-April 2014
Category

Jan.-Apr. Export Value, 2014

Jan.-Apr. Export Value, 2013

YoY Growth Rate

Value

% of Total

Machine Tools

US$1.134 Bn.

16.9%

US$1.095 Bn.

3.6%

Pumps, Compressors, Fans

US$442.987 M.

6.6%

US$381.217 M.

16.2%

Bearings, Gears, Ball Screws

US$424.698 M.

6.3%

US$363.251 M.

16.9%

Valves & Parts

US$394.519 M.

5.9%

US$354.686 M.

11.2%

Plastics & Rubber Machinery

US$393.893 M.

5.9%

US$406.857 M.

- 3.2%

Other Special Machinery

US$321.319 M.

4.8%

US$306.754 M.

- 10.9%

Paper Making Printing Machinery

US$298.603 M.

4.5%

US$252.915 M.

18.1%

Parts & Components for Machine Tools

US$291.767 M.

4.4%

US$238.261 M.

22.5%

Woodworking Machinery

US$191.445 M.

2.9%

US$145.566 M.

31.5%

Textile Machinery

US$181.430 M.

2.7%

US$182.444 M.

- 0.6%

Material Handling Equipment

US$173.353 M.

2.6%

US$156.672 M.

10.6%

Sewing Machines, Leather & Shoe Making Machines

US$164.738 M.

2.5%

US$153.574 M.

7.3%

Molds & Dies

US$162.426 M.

2.4%

US$143.741 M.

13.0%

Food & Packaging Machinery

US$157.067 M.

2.3%

US$164.398 M.

- 4.5%

Others

US$1.962 Bn.

29.3%

US$1.767 Bn.

11.1%

Total

US$6.695 Bn.

100.0%

US$6.166 Bn.

8.6%

Source: Taiwan Association of Machinery Industry