By STEVE CHUANG

According to insiders there is growing demand globally for high performance, energy-efficient, low labor input and compact machinery. And lots of Taiwanese extrusion machine makers are rising to such challenge to develop top-caliber models that help users to achieve high profit and cut cost.

Planetary Rolling Mixer
As an extrusion equipment supplier in Tainan City, southern Taiwan, Yean Horng Machinery Co., Ltd. has worked out a brand-new planetary rolling mixer to tap the above-mentioned trend.

Chi Lee, vice general manager, said that Yean Horng is Taiwan's first extrusion equipment maker to launch a homegrown planetary rolling mixer, one that has excellent performance and wide applications to match competing models from foreign countries.

According to Lee, the mixer, which can be connected directly to a pelletizer or an extruder to replace ordinary internal mixers and produce pellets or sheets, has great mixing capacity, mostly due to improved internal structure to ensure precise and smooth intermeshing of gears. Besides, compared to conventional 200-horsepower models, Yean Horng's mixer  produces 600 kilograms of mixed plastics hourly with 30-40% lower energy consumption primarily because of its air-cooled design, coupled with more consistent quality due largely to higher thermo-stability with deviation of plus and minus 2 Celsius.

With an advanced electro-control system fine-tuned by experienced engineers for the continuous production cycle from gripping and feeding to weighing, as well as high-quality twin screws, Lee says, Yean Horng's planetary rolling mixer has excellent electromechanical integration to attain higher safety, and ease of operation and maintenance to reduce labor input. So two operators can easily handle three mixing lines at once.

This mixer is only half as long as conventional models, 33% shorter in height, thus being more compact to enable operators to generate higher profitability. It is also more versatile, for it can be adjusted to handle soft and rigid PVC, transparent PTV, EVA-based compound, EVA, PP, PE, and most thermoplastics of master batch compound and engineering plastics.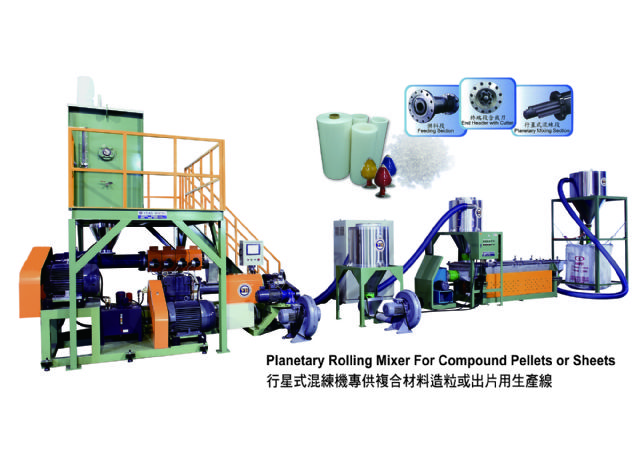 The Planetary Rolling Mixer is Yean Horng's newest product that meets trends for high performance, low labor cost and low energy consumption.
With more than 20 years of experience in machinery, Lee stresses that the in-house-manufacture content of the planetary rolling mixer has reached 80%, with most key components as die heads and air rings being designed by Yean Horng independently, which also achieves the highest qualitative consistency.
"With land and manpower shortages, electricity price and wage hikes increasingly hampering manufacturers' growth, I believe this mixer can decisively help to address those problems," Lee says proudly. The mixer has steadily been shipped to customers since it was launched early this year and proven sought-after due to outstanding performance, productivity and other features.
Rapidly Rising Force
To say Yean Horng is a rapidly rising force in Taiwan's extrusion machinery sector is not overstated. Under direction of its founder and general manager, Gerry Cheng, the maker has just started up its brand new factory spread over 1,650 square meters, where advanced equipment from CNC machining centers to overhead cranes are set up in compliance with international standards. Despite being only three years old, the supplier has two factories in Taiwan following years of brisk growth, and also enjoys high profile among foreign buyers, mostly due to well-honed technology.
Yean Horng's general manager, Gerry Chen (right), and vice general manager, Chi Lee, together usher the company's miracle development in the past few years.
The company works on developing and supplying extruders and extrusion lines and related peripherals for different purposes, including calendar turnkey equipment, raw material conveying and weighting systems, high-speed mixers, cooling mixers, PP stationery sheet extrusion line, PP/PS sheet extrusion lines, PEVA embossing machine, EVA film making machines specifically for the photovoltaic industry, extrusion lamination machines, shredders, vertical cooling blenders, recycled Plastics pelletizing machines. Backed by an affiliate, Zhong Kai Mold Industrial Co., Ltd., this company also supplies blow film dies (3-layer, 5-layer, 7-layer, 9-layer) and air rings.
With strong technological advantages and ample know-how, the company can develop most key components independently, even including PLCs, to achieve integrated production. "We position ourselves as a solution provider in the line, and are especially proud of our industry-leading technology for developing weighing systems and die heads," says Chen.
Heralding a new stage of Yean Horng's growth in the next decade, Chen confirms that the second-phase of the new factory's construction will start in September, after the first phase was completed this February. The new project will expand the total factory area there to nearly 3,000 square meters after completion.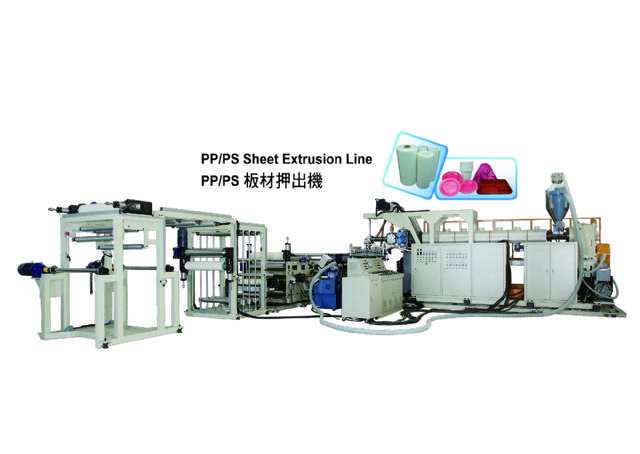 Yean Horng supplies a variety of extrusion equipment as a blooming supplier.
An experimental model of the abovementioned planetary rolling mixer will be unveiled at Taipei Plas 2014, an international exhibition for plastic and rubber machinery and scheduled for September 26-30, to further underscore Yean Horng's technological advantages in developing extrusion equipment, says Chen.
High-performance Extruders
To satisfy increasingly demanding customers worldwide, Fu Yu Shan Machinery Works & Co., Ltd. has released a slate of high-performance, high-efficiency extrusion equipment.
S.H. Chiu, vice general manager, says that the company offers a variety of extrusion equipment, including extrusion dyeing reproduction machines, PP baling strap making machines, crushers, breaker crushers, hydraulic cutting machines, aluminum die casting machines, one/two-stage co-extrusion recycling & pelletizing machines, side-feed extrusion pelletizing machines etc.
These machines share sought-after features as,  Chiu stresses, high performance, easy operation and low power consumption, mainly achieved through different means. The co-extrusion recycling & pelletizing machine (FYS100EX-150EX), for, instance has an inverter coupled with an AC motor for easier and economical maintenance than competing models with DC motors, and an improved electro-control system along with an LCD monitor to enable operators to monitor running status of the machine more easily and avoid overloading.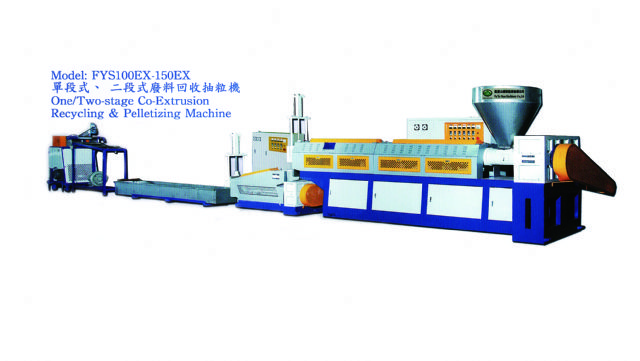 The One/Two-stage Co-extrusion Recycling & Pelletizing Machine is among Fu Yu Shan's hot-sellers.
All the designs, including a filter alert, are based on user-friendliness to ensure easy operation and safety.
A seasoned supplier in the line, Fu Yu Shan also emphasizes screw designs. Chiu notes that the company draws on its nearly 40 years of experience in improving performance of extrusion equipment to independently design and develop screws that are more power-efficient. "By designing screws on our own, we can better meet customers' requirements for customized machines that enable higher profitability for customers," Chiu stresses.
Another striking example of Fu Yu Shan's time-tested technological advantages is the Automatic Extruding Injection Last Making Machine, Taiwan's first injection molding machine incorporated with extrusion screws to turn out plastic lasts up to four kilograms, compared to ordinary models that generally roll out lasts of only 300 grams. Such features  helps the veteran supplier build an industry-leading status.
Seasoned Troubleshooter
Established in 1976 in Tainan, Fu Yu Shan is well-recognized by customers at home and abroad as a seasoned troubleshooter more than a machinery supplier, all thanks to its dedication to R&D, integrity and, especially, esprit de corps with customers.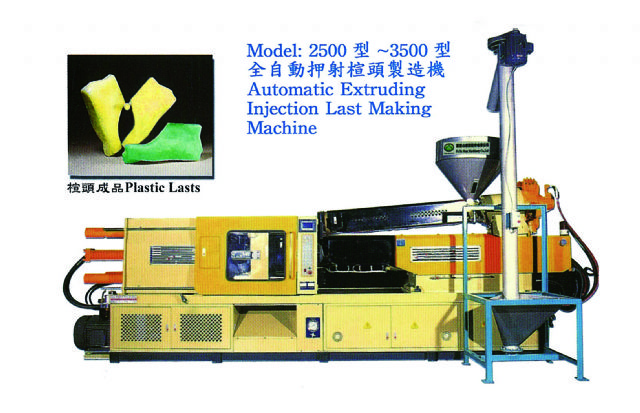 Fu Yu Shan's Automatic Extruding Injection Last Making Machine is Taiwan's first extrusion-injection molding machine.
To make sure its machines can truly help customers' profitability, Chiu says that her company periodically sends engineers abroad to help with maintenance and solve problems for customers, which achieves delivery of all-around service while acquiring real-world feedback to improve its machines. Fu Yu Shan started up by making injection molding machines, and then branched into extrusion equipment. "So we take pride in  our technological advantages, which is our basis to compete globally on various troubleshooting and technical support services," Chiu notes.
This maker also differs among rivals with its time-tested skills in developing screws and gearboxes in-house. "We are proud that our  machines are developed with parts and components that are designed and improved independently that enhance performance according to customers requirements. Compared to rivals that build with outsourced parts and components to roll out mostly reassembled products, ours actually help users make money," says Chiu.
With more than 60% of its turnover generated by exports, largely to Brazil and Southeast Asia, Chiu says that Fu Yu Shan's current success is built on passion for establishing positive partnerships with customers by offering timely service and troubleshooting, which has proven effective for sustainable growth over the past four decades.
Poly Machinery
As Taiwan's first developer of foam sheeting making machines, Poly Machinery Works Co., Ltd., founded in 1969 in Taipei, northern Taiwan, focuses on providing the most efficient turnkey solutions with EPS (expandable polystyrene) and EPE (expandable polyethylene) product manufacturing machines.

Poly Machinery is noted for strong capability in developing XPS plank making machines.
The company supplies a wide range of plastic extrusion machines, including EPS and LDPE (low density polyethylene) sheet extrusion lines, EPE foam sheet extrusion lines, EPE tube and rod making machines, EPE foam net machines, EPS disposable container machines, laminating machines for food packaging materials, laminating machines for cement bags, heavy-duty laminators and other peripheral equipment, all of which are well-received in Japan, Canada, the U.S., Australia, New Zealand, Poland, Ukraine, Russia, the  Middle East and Latin America.
Backed by consummate manufacturing capability and customer satisfaction awareness, J.C. Chang, the president, says that his company aims to design and develop different plastic extrusion machines well tailored for different customers. Besides, the company also concentrates on customer service to differentiate itself as a turnkey solution provider among rivals.
Poly Machinery has also redesigned and developed fully automatic rewinders that feature easier thermo- control and higher stability, which are sought-after by customers to enable the company to set itself apart from Asian competitors. To better help customers keep competitive in the increasingly challenging market, the company provides various machine upgrading services and troubleshooting as part of its product customization strategy, according to Chang.
The company has also worked with Japanese customers to enhance performance of its machines over the past years. Chang says that improving die heads in cooperation with the partners has helped to develop several beefed-up foam sheet making machines that better secure flat, neat surface of sheets without lumps and other defects, which are suitable for packaging electronic products. This technological achievement sets our company apart from peers and will give us a boost when the market turns around in the future.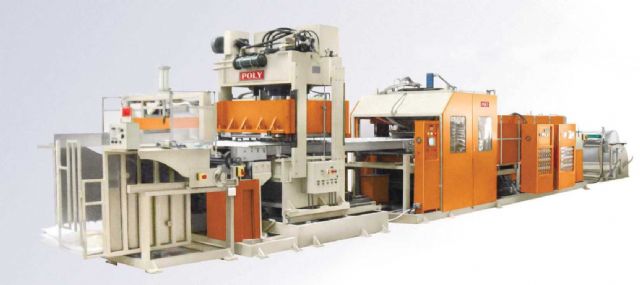 Poly Machinery's laminating machine for flexible food packing materials.