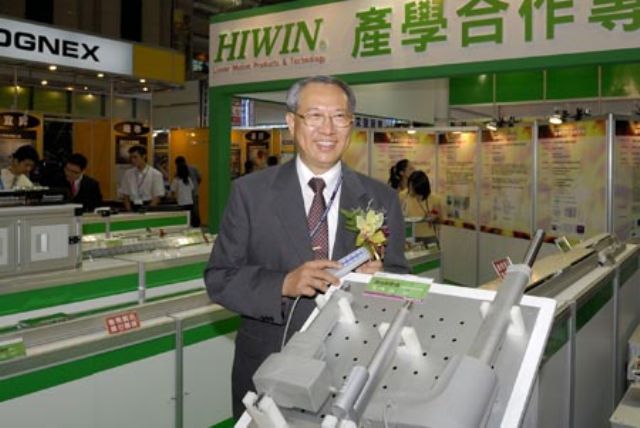 Hiwin's Chuo is bright about market outlook for the second half of the year. (Photo courtesy of Hiwin)
Regardless of the lower-than-expected earnings for the second quarter (Q2) of 2014, Hiwin Technology Co., Ltd. Chairman Eric Chuo remains sanguine about corporate sales in the second half (H2) of the year.
The company, a major Taiwanese maker of precision components for machines and a global maker of ballscrews, saw after-tax net income for Q2 drop 38.5% sequentially, to NT$328 million (US$10.9 million), or NT$1.29 per share.
In the same quarter, it had consolidated revenue of NT$3.5 billion (US$118 million), up 17.4% from the previous quarter, and consolidated operating profit of NT$640 million (US$21.3 million), with gross margin rate of 39.24%, compared with 39.8% for the previous quarter.
Chuo ascribed the net income recession mostly to the recent fluctuations of the New Taiwan dollar against the U.S. dollar, which led to the company's loss of NT$79 million (US$2.6 million) in foreign exchange. Also the taxation of NT$120 million (US$4 million) on undistributed retained earnings contributed to the net income reduction.
Throughout H1 of this year, the company had consolidated revenue of NT$6.5 billion (US$218.3 million), surging 26.5% from NT$5.1 billion (US$172.5 million) YoY. Consolidated gross margin rate was 39.5%, up around 3% year on year; consolidated operating profit was NT$1.1 billion (US$39.7 million); and after-tax net income was NT$862 million (US$28.7 million), or NT$3.4 per share, up 36% from NT$634 million (US$21.1 million) YoY.
Chuo remains upbeat about the market outlook for H2 based on the increasing demand for intelligent automation and robots as well as machine tools worldwide. Also, the recent fluctuations of NT-dollar against greenback will help increase Taiwan's shipments of machine tools and components.
The company's production lines have been  strained by orders to have Chuo believe sales to keep rising in Q3 and Q4. He predicts sales in Japan to increase in H2 of this year from H1, with the company vigorously developing presence in Brazil by having acquired a local dealer.
Chuo projects business to pick up at overseas subsidiaries, with the South Korean subsidiary likely to break even by the end of this year and be profitable in 2015, and the Singaporean subsidiary predicted to break even next year. (KL)