After enjoying high growth rates in the past five years in a row, worldwide shipments of tablet PCs are expected to fall annually the first time in 2014, while those of notebook PCs are forecast to rebound from the bottom, according to WitsView Technology Corp., a LCD market research firm.

Some institutional investors deem that tablet PCs have been encroaching on market share of notebook PCs over the past several years, leading to shipment decline of the latter. However, expanding smartphone screen sizes is pressuring tablet shipments, forcing tablet makers to find new ways for product differentiation.

WitsView's latest research report says that this year an intersection of shipment curves is expected  between, with global tablet PC shipments forecast to drop 1.8% year-on-year (YoY) to some 153 million units, and notebook PC shipments expected to rise 1% YoY to about 171 million units.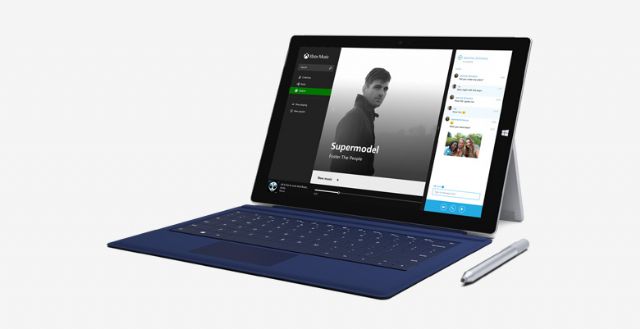 Increasing notebook PC shipments are encroaching on tablet PC's market share, driving tablet vendors to develop larger-screen models for market differentiation. (photo: Microsoft Surface Pro 3 from company website)
The company's forecast, however, differs from a recent one announced by International Data Corporation's (IDC), which says that worldwide tablet shipments grew 11.0% YoY in Q2, 2014, with shipments reaching 49.3 million units. Although Q2 shipments declined sequentially from Q1 by -1.5%, IDC believes the market will experience positive but slower growth in 2014 compared to the previous year.
WitsView says that global tablet shipments grew explosively starting in 2011, with about 250% annually, but the growth is expected to turn negative for the first time this year due to consumer fatigue. Nevertheless, the research firm says that falling notebook PC prices are motivating consumers to again purchase such portable device, which come with stronger computing capability but increasingly compactness.
Chen Hong-yen, an analyst at WitsView, says that notebook PCs have proven to be timelessly popular, thanks mainly to larger screen size, and convenience of peripherals as keyboard and mouse, compared to tablet's major functions in multimedia playback and Internet access. For consumers who rely on notebook PCs for work, tablet PC is often an auxiliary device providing entertainment. In conjunction with  returning demand from consumers, Chen forecasts that global notebook PC shipments will continue to grow 4% to 7% YoY in H2.
In addition to the irreplaceable functionality offered by notebook PCs, some industry experts say that increasing popularity of larger-screen smartphones are also winning market share from tablet PCs, and that more and more consumers have begun or are beginning to choose more convenient portable devices; and the most obvious example is that over-five-inch smartphones are rapidly winning market share from seven- to 10-inch tablets. As a result, the sources says, major vendors as Apple and Microsoft have been aggressively developing 12-inch and larger tablet models for effectively differentiating the smartphone and tablet markets.
Thanks to recovering demand for notebook PCs, major contract notebook assemblers in Taiwan, including Quanta Computer Inc., Compal Electronics Inc., Wistron Corp., Inventec Corp. and Pegatron Corp., have been receiving increasing orders from global customers.
Top-5 Tablet Vendors, Shipments and Market Share (Q2 2014 Preliminary Results) Shipment in millions

Vendor
2Q14 Unit Shipments
2Q14 Market Share
2Q13 Unit Shipments
2Q13 Market Share
Year-over-Year Growth
1. Apple

13.3

26.9%

14.6

33.0%

-9.3%

2. Samsung

8.5

17.2%

8.4

18.8%

1.6%

3. Lenovo

2.4

4.9%

1.5

3.3%

64.7%

4. ASUS

2.3

4.6%

2.0

4.5%

13.1%

5. Acer Group

1.0

2.0%

1.5

3.4%

-36.3%

Others

21.9

44.4%

16.4

37.0%

33.4%

Total
49.3
100.0%
44.4
100.0%
11.0%
Source: IDC Worldwide Quarterly Tablet Tracker, July 24, 2014