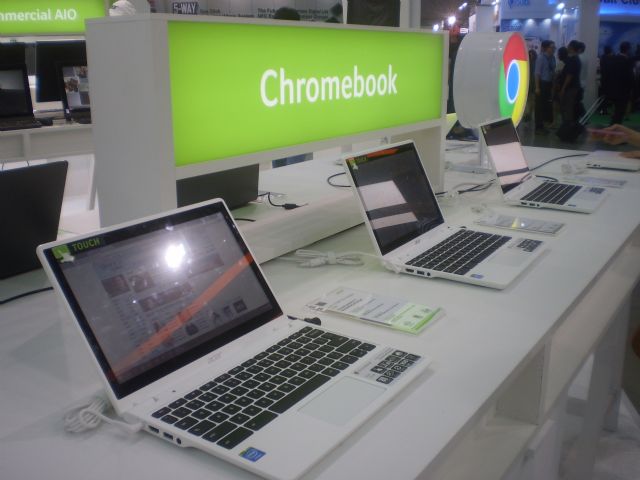 Acer showcased a slate of new Chromebook laptops at this year's Computex Taipei held June 3-7.
As part of its strategy to sustain business recovery, Acer Inc., a Taiwan-based supplier of PCs, is  focusing more on the promising potential of the segment for Chrome-powered PCs by launching its newest Chromebox desktop and Chromebook laptop.
With Intel's fourth-generation Haswell processor, the Chromebox is Acer's first desktop PC model running on Chrome OS, and features startup time of only 8 seconds, high-speed network connection and ports for connecting two monitors and projectors.
The firm emphasizes that in addition to boasting excellent hardware performance, Acer Chromebox (CXI), is also a great cost-efficient, space-saving solution for schools and enterprises, as the device can be easily operated and maintained with less manpower and technological support.
Also an addition to its Chrome-powered PC business, Acer's newest Chromebook C730 laptop employs Intel's Celeron Bay Trail processor, onboard DDR SDRAM and an 11.6-inch screen, mainly targeting the commercial and educational segments, as well as consumers.
Acer's growing penetration in the segment for Chrome-powered PC makes sense, as Gartner Inc., a British market research firm, forecasts global sales of Chromebook laptops, for instance, to reach 5.2 million units for 79% yearly growth, and then triple to 14.4 million units in 2017. In the coming years, the Chromebooks will remain niche products.
After turning profitable in Q2, 2014 by reporting net profits and EPS (earnings per share) of NT$485 million (US$16.16 million) and NT$0.18, respectively, Acer is expected by institutional investors to further push its EPS to NT$0.35-0.38 in Q3 to keep on track. (SC)