By QUINCY LIANG

Taiwan's flat panel display (FPD) industry has a long history and enjoyed close attention and investment from both the government and private sectors. But in recent years, local FPD makers have been facing increasingly high pressure from South Korean and Chinese counterparts in both production capacity and product prices. The most effective way to break such pressure, which is expected to increase also in the future, is to find market niches by product and technology innovation.

The 2014 International Touch Panel & Optical Film Expo (Touch Taiwan), the world's largest annual trade fair for the touch-panel industry, was held from August 27-29 in Taipei, attracting 430 exhibitors at some 1,300 booths. Major local thin film transistor-liquid crystal display (TFT-LCD) manufacturers and research institutes showcased their latest R&D achievements: technology advancements that are anticipated to help the island's FPD industry confront the fierce competition ahead.

AUO
AU Optronics Corp. (AUO), the second-largest maker of TFT-LCD panels in Taiwan, exhibited many ultra high resolution display technologies and applications for mobile devices at the show, including 5-inch Full HD and 8-inch WQXGA (1600x2560) LCD panels adopting a-Si (amorphous silicon) display technology, AHVA (Advanced Hyper-Viewing Angle) high resolution car and medical displays, and a full series of oTP (On-cell Touch Panel) integrated touch solutions for 5- to 15.6-inch smartphones, tablets and notebook PCs.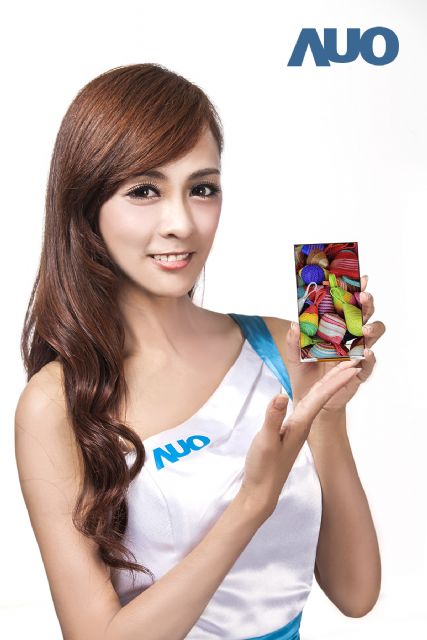 AUO debuts its 5-inch Full HD smartphone panel with a-Si technology.
With demand for high picture quality on large screens growing in the 4G era, AUO has nimbly applied a-Si and low temperature poly-silicon (LTPS) TFT manufacturing technologies to create high resolution displays.
AUO's a-Si TFT LCDs for mobile devices have a high resolution, high brightness, slim, light and power-saving design. The 5-inch Full HD high resolution smartphone panel to be debuted has an ultra narrow border of 1 mm, which is currently the leading specification achieved with a-Si technology. The 8-inch WQXGA a-Si TFT-LCD for tablets improves the transmittance to enhance image resolution, color saturation and sharpness. It is slimmer and lighter, and easy to carry. AUO has also developed a 5.5-inch Full HD smartphone panel utilizing oxide TFT technology. Its narrow border and lower power consumption design make mobile devices even lighter and more energy-saving.
Displays for Intelligent Vehicle Systems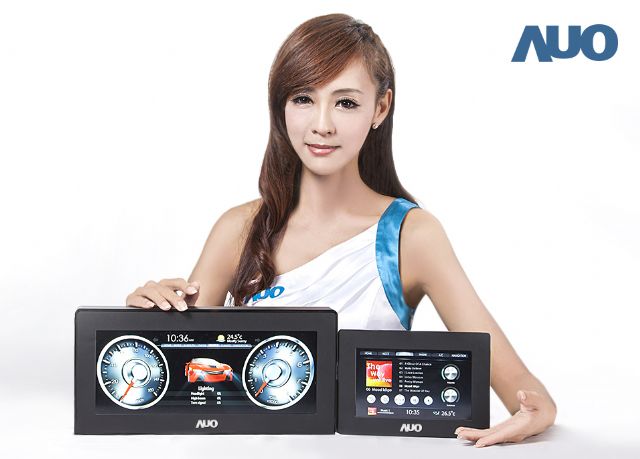 AUO's 7-inch capacitive touch panel for center consoles and 12.3-inch high resolution cluster display feature wide viewing angle, low reflection, high color sat uration, and fast response time.
The growth of intelligent vehicles has spurred the demand for car displays. AUO has developed a full lineup of car displays with high resolution, wide viewing angle and ultra high brightness for audio-visual entertainment, communications and safety purposes in diverse vehicle telematics systems. They include a 1.8-inch head-up display (HUD), 7-inch capacitive touch display for center consoles, 9-inch portrait car display for center consoles, and 12.3-inch high resolution cluster display. The 1.8-inch head-up display adopts LTPS production and features high resolution, wide viewing angle and ultra high brightness. Driving information can be projected directly onto the windshield and images can be viewed clearly even under direct sunlight, so that the driver can navigate more safely while retrieving the information. The 7-inch capacitive touch panel for center consoles has AHVA wide viewing angle, low reflection, high color saturation, and fast response time even under drastic temperature conditions.
AUO has designed various mobile device applications with high color saturation, high contrast, slimness, flexibility and low power consumption. The company's 5.5-inch Full HD in-cell touch AMOLED panel integrates touch functions. Glass thinning technology has reduced the panel thickness to 0.45 mm. The panel resolution has also been raised to 403 PPI. The 1.6-inch in-cell touch AMOLED panel for smart watches is suitable for sport, healthcare and medical purposes and provides an extremely comfortable wearing experience.
Next-generation UHD 4K Curved LCD TV Displays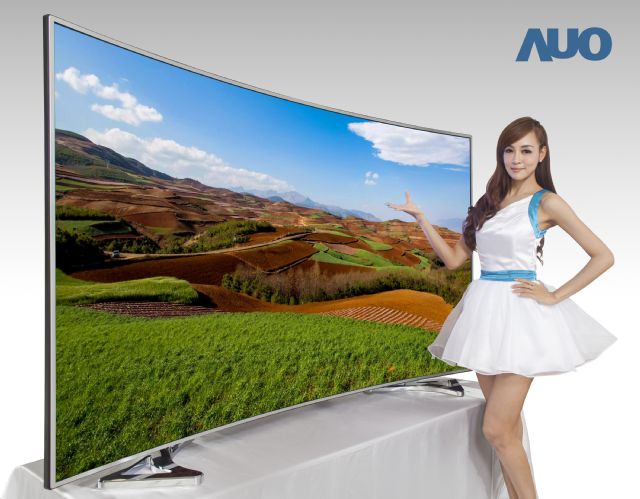 AUO's 85-inch next generation UHD 4K wide color gamut curved LCD TV display has a world-leading 4000R golden curvature.
AUO also showcased its full array of UHD 4K (3840x2160) curved LCD TV displays, including 65-, 75- and 85-inch models with wide color gamut and 4000R golden curvature. The concave screen's optimal visual design presents vivid and undistorted images across viewing angles. The panoramic view and surround sound system create an immersive experience for exceptional audio visual entertainment.
Innolux
Innolux Display Corp., the largest TFT-LCD maker in Taiwan, showcased advanced vehicle display panels and a complete range of industrial display panels at this year's event.
According to Display Search statistics for in-vehicle panel shipments in Q1 2014, Innolux Corporation, with a market share of 24.5%, surpassed Japan's JDI and Sharp for the first time to become the world's largest supplier of vehicle panels. Innolux president Wang Jyh-Chau said his company has concentrated its efforts on the vehicle display panel market for many years and is a leading supplier to major European car makers. Products shipped include dashboard and center information display (CID) panels, with sizes reaching up to 10 inches.
Innolux exhibited the 6.5-inch vehicle panel, which uses specialized color filters and backlight to produce wide viewing angle and images with high saturated colors and no chromatic aberration. Also on show was an 8-inch vehicle panel, featuring super high color saturation, ultra-wide viewing angle and high contrast.
Industrial LCD panels are widely used in factory equipment, POS (point of services) systems and automatic teller machines (ATMs). To meet customers' requirements, Innolux has developed a complete range of widescreen products for industrial use, providing customers with more diverse choices. INX industrial panels are highly reliable for use in harsh environments and long-term product supply is guaranteed. Its 15.4-inch panel features wide viewing angle, wide operating temperature range, and a creative 16:10 wide screen. The 17-inch high-specification vehicle panel provides high contrast, high brightness and high reliability. The 23.6-inch and 26-inch panels are large-size industrial panels that feature wide viewing angles, low color shift and high contrast.
As the world's largest avionics panel supplier, Innolux also exhibited a 9.5-inch avionics panel. The high weather-resistant and high performance avionics LCD display utilizes remarkable technology for visibility under the sun, and features wide viewing angle, wide operating temperature range, high resolution and high shock-resistance. Designed for specialized applications under any environment, the product's performance is highly recognized by major avionics system makers worldwide.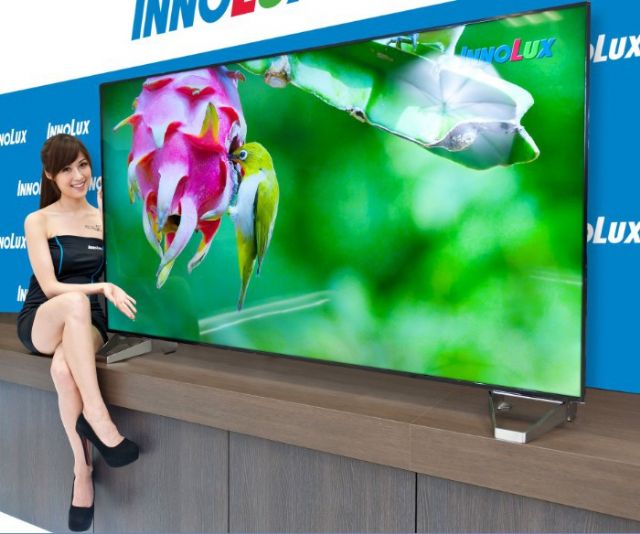 Innolux exhibited an 85-inch 3D 4K2K ultra-high-resolution, high-color-saturation TV Panel
Innolux led the industry with the launch of 4K2K TV panels in 2012. The company exhibited a range of large-size 3D high-resolution 4K2K TV panels that incorporates high color gamut technology, including 85-inch, 75-inch, 65-inch, 58-inch and 50-inch models. Innolux's large-size 4K2K panels solve the problem of roughness in dynamic images and improve color vibrancy, refining TV image quality, and providing more realistic colors and smoother dynamic images.
ITRI
With the rise of the wearable smart devices, the Industrial Technology Research Institute (ITRI), the largest industrial technology R&D hub in Taiwan, showcased many futuristic, wearable devices with interactive touch control functions at Touch Taiwan 2014 with the theme of "Smart Living, Keep in Touch."
Among different exhibits, ITRI's devices include a wearable and foldable AMOLED wrist band with interactive touch control and display functions. Another highlight product was a gesture-controllable Smart Glass which can be used as a smart phone and camera. In addition, ITRI displayed 30 materials, display panels, and manufacturing processes along with touch control devices, aiming to enable smarter living through instinct-driven devices.
Foldable AMOLED with On-cell Touch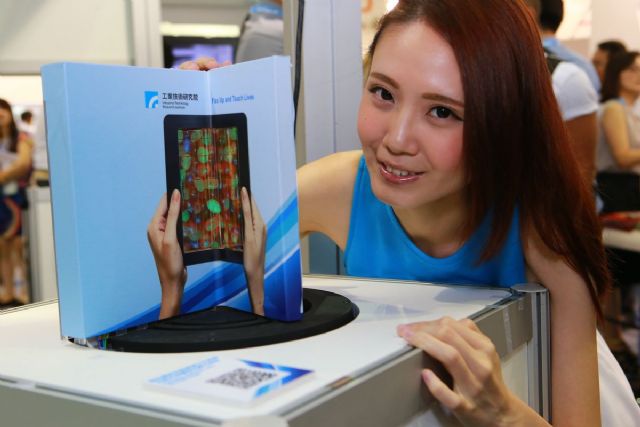 ITRI describes its foldable AMOLED module as "a tablet when unfolded, a smartphone when folded."
The 6-inch foldable smartphone display ITRI announced is: "a tablet when unfolded, a smart phone when folded". It integrates active organic LED modules and touch control software. When the display is unfolded, a user can select a play list and watch a video. The display will continue playing the video when folded, and touch control functions have been tested to endure 10,000 folds. The device is a breakthrough compared to traditional display panels that cannot be folded. ITRI has integrated a touch control panel and display panel into a semi-finished element that can be used by whole-system smartphone makers.
Wearable AMOLED with Touch
ITRI developed a 6-inch lightweight conformal, at a radius of 50mm, impact-resistant interactive flexible AMOLED integrated with projective capacitive touch and user interface technology. As opposed to traditional glass display device, its conformal and unbreakable properties made it ideal for wearable and next generation applications such as law enforcement and military use.
Air Gesture Smart Glasses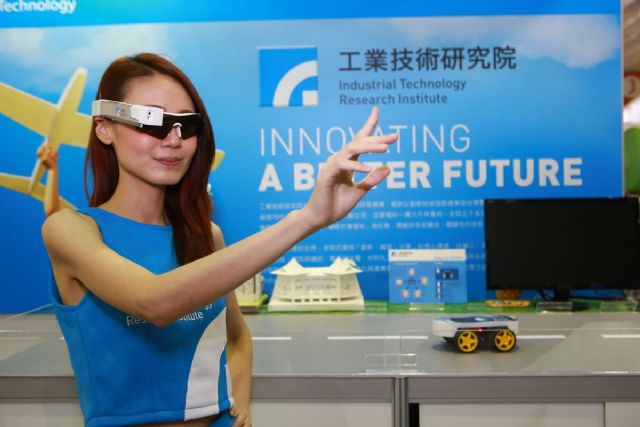 Gesture commands can extend the applications and convenience of ITRI's Smart Glass. The technology could be used for real-time video sharing, gesture recognition, and object recognition.
ITRI Smart Glass with Air Gesture can provide an intuitive user interface. This wearable device contains miniaturized display component with 20 degree viewing angle, which looks like a 35-inch virtual screen 250 cm in front of the eye. The resolution of the screen is 854x480 with the image interface. Users will be able to read and share information while moving without real touch. Gesture commands could further increase the applications and convenience of ITRI's Smart Glass. The technology could be used for real-time video sharing, gesture recognition, and object recognition.
ITRI also showcased many other key display and touch control technologies at Touch Taiwan 2014, including: flexible OLED film, cover glass hydrophobic surface treatment, fine-line printing technology for touch modules, AMOLED fine metal masks, 300-degree colorless hybrid substrate, silver nanowire-based transparent conductive materials, flexible transparent thin-film encapsulation adhesive, ultra-thin circular polarizers, anti-scratch layer materials for foldable displays, non-contact resistance measurement modules, and a multilayer film delaminating defect detection system.