Hiwin Technology Co., Ltd., a major, Taiwan-based maker of precision components for machines, reported consolidated revenue of NT$1.4 billion (US$47.6 million) for August, up 5% from the previous month and 33.6% year on year to hit a 33-month high.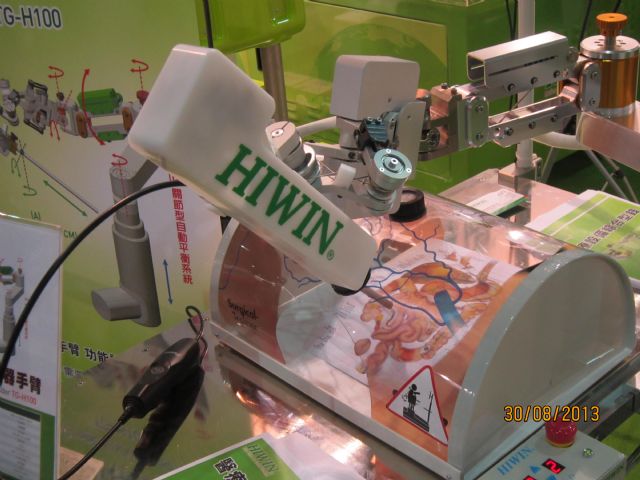 Robots are paying off for Hiwin.
Industry executives ascribe the striking growth mostly to rising demand worldwide for linear guide ways, ball screws and industrial robots. Company chairman and chief executive officer (CEO) Eric Chuo predicts the company's sales in the second half (H2) of the year to grow quarter on quarter.
The sources say after years of vigorous investments in industrial robots the company had begun seeing payoff this year. Hiwin executives predict the company to ship over 100 robots a month in H2, turning its robotic business profitable, with robot output to be raised starting September.
The August result has restored investor confidence in the company after the company announced lower-than-expected sales for the second quarter (Q2) of the year.
In H1 this year, the company had consolidated revenue of NT$6.5 billion (US$218.3 million), surging 26.5% YoY, with after-tax net income rising 36% to NT$862 million (US$28.7 million), or NT$3.4 per diluted share.
In Jan.-Aug., the company had total revenue of NT$9.3 billion (US$311 million), increasing 27.3% YoY.
Hiwin has branched out into machine tools for making semiconductors, vehicles, aircrafts, railways, robots, medical equipment, and solar products. Industry executives say product diversification has begun rewarding the company because of recovering global economy and arrival of high season, expecting the company's revenue to improve quarterly in H2.
Taiwan's machine-tool and components makers are upbeat about market outlook in H2 based on increasing demand for intelligent automation and robotics and steadily rising New Taiwan dollar and Chinese yuan against greenback. (KL)