The Executive Yuan (Cabinet) recently issued a green light to a new subsidy program to encourage adoption of eco-friendly electric scooters (e-scooters) in Taiwan.

The program will be effective from October 1, 2014, to the end of 2018. Small/light e-scooters purchased during that time will be eligible for an NT$7,200 (US$240) subsidy, while light models can receive an NT$10,000 (US$333) subsidy. All scooters must meet criteria under the Taiwan E-Scooter Standard (TES).

The Environmental Protection Administration (EPA) will provide additional subsidies of NT$9,000 (US$300) for small/light-type and NT$20,000 (US$666.7) for light-type e-scooters purchased on offshore islands to boost sales of e-scooters on offshore islands as part of the government's "green offshore island" plan. However, the offshore-island subsidy amounts will be lowered to NT$8,000 (US$267) and NT$18,000 (US$600), respectively, in 2017; and to NT$7,000 (US$233) and NT$16,000 (US$533) in 2018. That means, the subsidy for each e-scooter (light-type) can be up to NT$30,000 (US$1,000) on offshore islands, creating a very attractive incentive for offshore inhabitants to ride e-scooters.


Taiwan's government plans to boost subsidies for e-scooters, especially in offshore island areas. (Photo from UDN)
The Ministry of Transportation and Communications (MOTC) will also provide tourists with NT$100 (US$3.3) per day to rent an e-scooter during visits to offshore islands. The measure is expected to benefit the environment, tourists, and e-scooter leasers. However, the daily subsidy amount will be lowered to NT$70 (US$2.3) in 2016, NT$50 (US$1.7) in 2017, and zero in 2018.
Industry sources pointed out that Premier Jiang Yi-huah listened to the policy report presented by the MOEA at a cabinet meeting concerning promotion of e-scooters on offshore islands. Different government authorities have used their resources to help promote the e-scooter adoption on offshore islands before, but in the latest plan, the government integrates all related units to jointly carry out an e-scooter promotion plan designed to replace at least 85% of internal combustion engine (ICE) scooters on offshore islands over the next four years.
 Currently, there are about 6,100 gasoline-powered ICE scooters available for leasing on Taiwan's offshore islands. The government expects that 5,200 of these units will be replaced by e-scooters by 2018. The policy also aims to encourage offshore-island inhabitants to purchase a 2,600 e-scooters over the next four years. Total e-scooter adoption on different offshore islands, according to the government's goal, will be 7,800 units by 2018.
In the future, Premier Jiang said, the government would focus on subsidizing e-scooters for mainly tourism purpose on offshore islands so as to develop more feasible business models in these areas. The success of the e-scooter demonstration projects on offshore islands is expected to encourage local makers of e-scooters to more effectively promote their products in both the domestic and overseas markets, he said.
Shen We-cheng, section chief at the Industrial Development Bureau (IDB) under the MOEA, pointed out that between 2015 and 2018, the government is scheduled to spend NT$230 million (US$7.7 million) for e-scooter subsidies on offshore islands. The subsidy amount nationwide is expected to be NT$310 million (US$10.3 million).
Optimism
The MOEA is optimistic that it can achieve its goal of getting 37,000 new e-scooters onto domestic roads over the next four years. The ministry said that the targeted volume might climb higher to some 55,000 units with the launch of several new e-scooter models with similar horsepower performance to 125cc gasoline-engine scooters. Some industry experts attributed stagnant e-scooter sales in Taiwan to lack of powerful e-scooter models. In Taiwan, scooters are a major mode of transportation in both urban and rural areas, as well as an important vehicle for commercial uses. About 600,000 new scooters are sold in Taiwan every year, with gas-powered models accounting for over 95% of the total. The biggest segment of the gas-powered scooter market in Taiwan is 100cc-125cc models.
To more effectively promote not only sales of e-scooters, but also practical business models for increasing the adoption of e-scooters, the MOEA is also supporting the establishment of e-scooter leasing operators in different regions, from offshore islands to the main island of Taiwan.
The MOEA plans to find interested e-scooter leasing operators first in major tourism sites in Taiwan main-island, including those in eastern, central and southern parts of the island. Through these leasers, the ministry hopes to further expand the e-scooter lessee groups to students and commuting office workers, home delivery companies, and postal services.
The IDB also will mediate between different parties, including e-scooter makers, battery makers, e-scooter leasers, and perhaps used-vehicle vendors to set up strategic alliances in the e-scooter business. The plan aims to set up one e-scooter operator in each city providing a comprehensive range of e-scooter leasing and related services.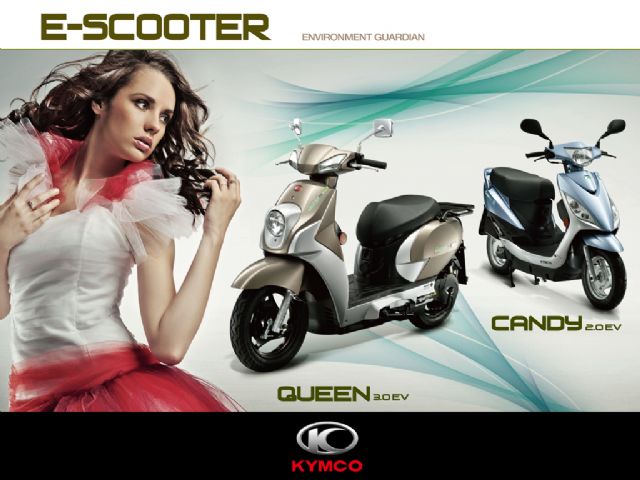 Some e-scooter makers in Taiwan will soon launch higher-performance models to woo customers. (Photo from KYMCO)
The IDB's Shen explained that big operators are expected to play a mediator role in purchasing assembled e-scooters and battery packs in lower prices thanks to bigger purchase volumes. The operators can then provide the e-scooters and battery packs to motor-scooter leasers, buy used gasoline-powered motor scooters from the scooter leasers, and transfer the used gasoline scooters to used-vehicle vendors. The business model, Shen said, aims to swap one e-scooter for one used gasoline scooter, effectively cutting operating costs.
Some such e-scooter operators have kicked off operations with the mentioned business model on different offshore islands. They are expected to copy their successful experience to operations on the main island of Taiwan.
Regarding the establishment of e-scooter battery-swapping stations, Shen said that IDB is considering setting up more stations at 7-Eleven convenience stores and gas stations throughout the island. Currently, an e-scooter with similar horsepower to a 50cc gasoline scooter is priced at more than NT$50,000 (US$1,667), including the vehicle itself about NT$40,000 (US$1,333) and the lithium-ion battery pack (US$433). If the vehicle and battery can be bought or leased separately, it could reduce the cost for general consumers and leasers.
Some local e-scooter makers are scheduled to push larger models (equal to 125cc gasoline-engine motor scooters) in the second quarter of 2015. The new models are expected to be priced at NT$100,000 to NT$110,000 (US$3,333 to US$3,666) each. The MOEA might consider raising the subsidy amount for the bigger e-scooters, industry sources said.
Taiwan's E-scooter Subsidy Program (2015-2018)







2015

2016

2017

2018

National

Small/Light

NT$7,200

NT$7,200

NT$7,200

NT$7,200



Light

NT$10,000

NT$10,000

NT$10,000

NT$10,000

Offshore Island

Leaser (Light-type only)

NT$20,000

NT$20,000

NT$18,000

NT$16,000

Local resident

Small/Light

NT$9,000

NT$9,000

NT$8,000

NT$7,000

Light

NT$20,000

NT$20,000

NT$18,000

NT$16,000

Tourist (daily)

NT$100

NT$70

NT$50

--