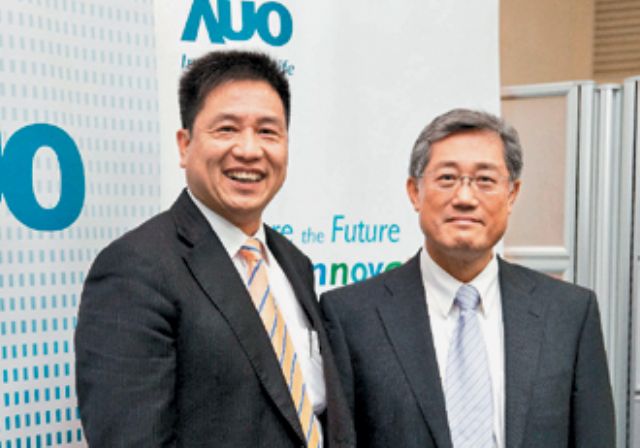 Paul Peng (left), president of, and K.Y. Lee, chairman of major Taiwanese TV-panel supplier AU Optronics Corp. (Photo from UDN)
Increasing demand from South Korean and Chinese TV vendors are expected to greatly benefit Taiwanese TV-panel suppliers to raise their revenues and profits.
A senior manager of WitsView Technology Corp., a LCD market research firm, said strong demand comes from Chinese LCD TV vendors, who have been expanding TV-panel purchases from Taiwanese suppliers for making TVs sold both in China and overseas markets. South Korean TV vendors, especially Samsung and LG, are also showing strong demand for TV panels, to maintain global lead and evade losing market-share to Chinese rivals.
The manager added that Samsung's smartphone business is threatened by Apple of the U.S. in the high-end segment, as well as Chinese rivals in the lower-end, forcing management to mobilize available resources to boost LCD TV sales in the year-end peak season to maintain profitability. According to NPD DisplaySearch's statistics, Samsung is the world's No. 1 LCD TV brand with market share of about 30%, and as high as 46.5% if including LG's.
However, Chinese TV makers' global shares are rising rapidly, especially major brands such as Hisense and TCL. After the Chinese government canceled subsidies to home appliance buys in rural areas, major Chinese vendors have been aggressively developing overseas markets. To avoid a similar nightmare in the smartphone segment, in which Chinese makers have caught up with Korean players and won even higher global share, Korean TV brands, as well as Chinese nameplates, have decided to lock horns to undersell each other in year-end sales peak. The greatest beneficiaries, industry insiders said, will be Taiwanese TV-panel suppliers who will continue to expand shipments to such customers.
WitsView's executives said that in the first half of 2014, Chinese TV vendors achieved annual sales goals of only 38% to 40%, and all companies are betting on the peak season sales in both domestic and overseas markets.
Prices for TV panels, especially mainstream sizes, have been rising. In September, average hikes between US$1 and NT$3 for 32-, 39-, 39.5-, 40-, 48-, 49- and 55-inch panels were seen.
Demand for information technology (IT) panels is also strong. Back-to-school demand and smooth sales of business notebook PCs have been driving up notebook PC shipments. In China and Europe, however, demand for notebook PC panels are relatively weaker.