Both Giant Manufacturing Co., Ltd. and Merida Industry Co., Ltd., the top-two bicycle manufacturers in Taiwan, reported 8%-plus year-on-year (YoY) revenue increases in the first eight months.

Giant had revenue of NT$5.3 billion (US$176.7 million) in August, up about 7% YoY, with cumulative revenue of NT$40.26 billion (US$1.34 billion) for the first eight months, an 8.24% YoY increase.

Merida registered August revenue of NT$2.4 billion (US$80.13 million), down 4.2% YoY, and cumulative January-August revenue of NT$17.79 billion (US$593 million), an 8.45% YoY increase.

Merida says some 10,000 high-end bikes were stuck in customs in late August due to holidays, but flooding orders have filled  production capacity throughout 2014, for which the company has been working overtime.

In China Merida sold 106,000 own-brand bikes in August, being normal in the peak season, and is confident about increasing sales of high-end models for the rest of 2014 there.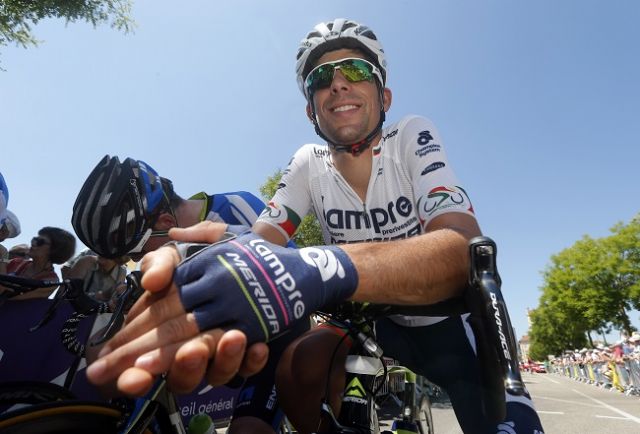 Team Lampre-Merida cyclist on a Merida high-end bike in this year's Vuelta a España. (photo from Team Lampre-Merida)
Merida launched its 2015 models in August in Taiwan and China, to have immediately won high praise among distributors and consumers at major bicycle shows. At the same time, Team Lampre-Merida, a Merida-sponsored Italian road  racing team, took two stage wins in the 2014 Vuelta a España (Tour of Spain, August 23-September 14), to help boost sales of its high-end road racers, says the company.
KMC Chain Industrial Co., a major global supplier of bicycle chains, registered August revenue of NT$245 million (US$8.2 million), up 37% from a year earlier, to which it attributes smooth sales in the peak season with revenues from KMC Tianjin, and three overseas distributors acquired recently.