On its 40th anniversary, the annual Taipei International Electronics Show (Taitronics) 2014, held October 6-10 at the TWTC Nangang Exhibition Hall in Taipei, is set to attract more than 500 international exhibitors using some 1,200 booths, according to show organizers Taiwan External Trade Development Council (TAITRA the semi-official trade promoter) and Taiwan Electrical and Electronic Manufacturers' Association (TEEMA).

Many local electronics companies will be on-hand to show innovations to international buyers, including Kai Suh Suh Enterprise Co., Ltd. (KSS), Shihlin Electric & Engineering Corp., Chroma ATE Inc., Universal Scientific Industrial Co., Ltd. (USI), Chunghwa Telecom Co., Ltd., SerComm Corp. and many others.

In line with the major themes "Green Electronics, Smart Living" of Tatronics 2014, show organizers plans four thematic pavilions, and hold the "Circular Economy of Electronics International Forum" focusing on issues such as green electronics and sustainable industry development etc., with more than 40 seminars and meetings to be held during the event.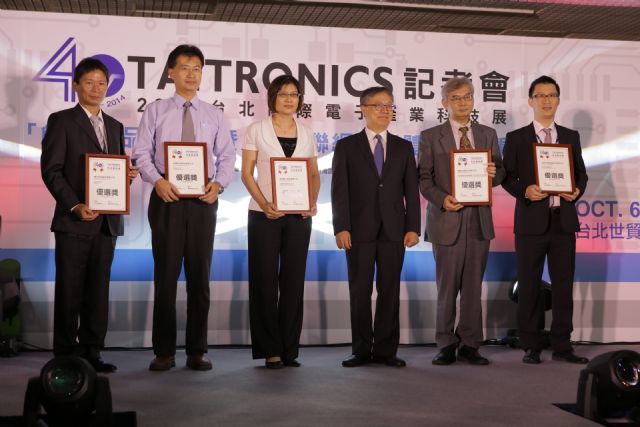 The winners of the 2014 Technology Innovation Awards (photo from TAITRA)
TAITRA has also invited purchasers of 55 heavyweight international enterprises and 40 global winners of government tenders, coupled with hundreds of in-person talks between buyers and suppliers.
Another focus of the show will be the 3rd Technology Innovation Awards, whose winners show future market trends and fruitful results of the industry.
Invited by TAITRA's overseas offices and branches, 55 heavyweight buyers from 24 nations, including 9 enterprises with annual revenue exceeding  US$100 million, will attend the show to find suitable suppliers, including CDI Computers Dealers Inc., Future Electronics Inc., Indigo Music & Books Inc., and Canada Computers & Electronics of Canada; Wintec Industries, Inc. of the U.S.; Motorola Solutions Singapore PTE Ltd. of Singapore; Sonet Invest of Russia; Teracom Telematica S.A. of Brazil; Turkcell Iletisim A.S. of Turkey etc.
Over 30 new-product demonstrations will be held to offer vast potential  opportunities for exhibitors and global buyers.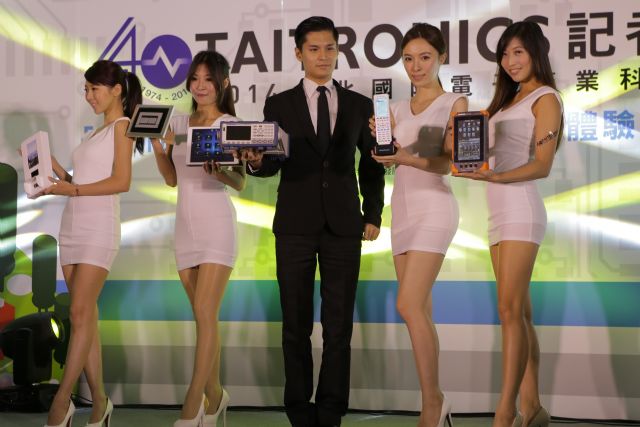 Winning items displayed by models at the pre-show press conference (photo from TAITRA)
Dedicated Pavilions
The four dedicated pavilions at  the show include: Broadband Services Pavilion, Internet-of- Things--Innovations and Experience Pavilion, MIT (Made-in-Taiwan) Household Electrical Appliance Pavilion 2014, and Taiwan Cloud & Big Data Pavilion.
The Broadband Services Pavilion brings together innovative technologies and applications based around wired and wireless broadband Internet access in three themed exhibits–"High-Speed Internet Standards", "e-Home Transmedia Integration Solutions" and "Smart Living and Broadband Internet Application Services."
The "High-Speed Internet Standards" booth will exhibit "G.fast", the newest in broadband technology, which utilizes micro-DSLAM nodes on existing telephones, underground cables, and telephone wires of high-rise buildings to provide 8 to 16 subscribers with fiber-grade high-speed broadband service. It is the emerging star for the next-generation broadband technology. "e-Home Transmedia Integrated Solutions" display a seamless networking environment across multi-household platforms that enable delivery of a wide range of home applications. G.hn is a new technology certified by ITU-T that integrates the existing transmissions interfaces found in homes—power lines, co-axial cables and telephone lines— through Wi-Fi Home Gateway and IP-Cam terminal products to create a hi-speed home networking, security surveillance and multimedia entertainment system. "Smart Living and Broadband Internet Application Services"  present a network environment using mobile web technology framework that combines G.fast and G.hn technologies together with 4G LTE, as well as all kinds of smart terminal applications and services that can be developed in this environment, such as security surveillance and healthcare for the smart family.
At the Internet-of-Things--Innovations and Experience Pavilion, visitors will witness the latest technology in smart architecture, smart home, smart healthcare, smart shopping, and smart transportation! Just to name a few: The world's first singing lightbulb lets you listen to music in shower, security system that allows remote opening of doors and turning on lights, an infrared and non-intrusive instrument that detects blood sugar levels, a system that rectifies exercise postures, and an assistant driver system equipped with a 360° camera. Also the "Technology Innovation Awards" will showcases the highlights of Taiwan's most innovative products!
The MIT Household Electrical Appliance Pavilion features Taiwan's best electrical appliance collections, which have passed place-of-origin and quality inspections to obtain the MIT Smile Logo, with wide-ranging products to represent Taiwanese excellence in user-safety and reliability.
Circular Economy of Electronics Forum
The show organizers have invited many internationally reputed forum speakers to attend a series of seminars and discussions, including Andreas Bohnhoff, European Recycling Platform (ERP) Business Development Manager, to share knowledge in applying for Electronic Product Environmental Assessment Tool (EPEAT) approval; Chang Juu-en, professor at Taiwan's National Cheng Kung University and director of Taiwan's Sustainable Environment Research Center, talk about the current status and future development of electronics waste disposal; and Tzershin Wu, marketing manager of Sabic Innovative Plastic, a top-100 among Forbes Global 2000 companies, to introduce green-electronics design and supply-chain management.
2014 Technology Innovation Awards
The jury of the 3rd Technology Innovation Awards has selected 22 products as winners, including three gold-award winners, with all the winners to be displayed at the "Technology Innovation Awards Special Zone" on the first floor of the Nangan Exhibition Hall.
Taiwan's Electronics Production to Grow 4.4% in 2014: ITRI
According to Taiwan's Industrial Technology Research Institute (ITRI), the consumer electronics markets in developed countries have slowly recovered. High specification and popularly-priced smart handheld devices are hitting the market. Meanwhile, the markets of Internet-of-Things, wearable devices and applications are growing. All these factors are expected to generate steady growth in production value of Taiwan's electronic components. The annual growth is estimated to reach 4.4% in 2014, with production value of NT$910.67 billion (US$30.36 billion).
Taiwan Electronic Parts and Components Production Value (2012 - 2014) Unit: NT$million


2012
2013
2014
(Estimated)
2013~2014
Growth Rate
Optoelectronic Component

86,313

97,692

110,010

12.6%

Passive Component

101,760

105,173

114,972

9.3%

Printed Circuit Board

399,560

407,160

415,820

2.1%

Connecting Components

147,886

150,361

158,247

5.2%

Energy Component

113,083

111,760

111,622

-0.1%

Electronic Component

848,602

872,146

910,671

4.4%

Source: ITRI, May 2014