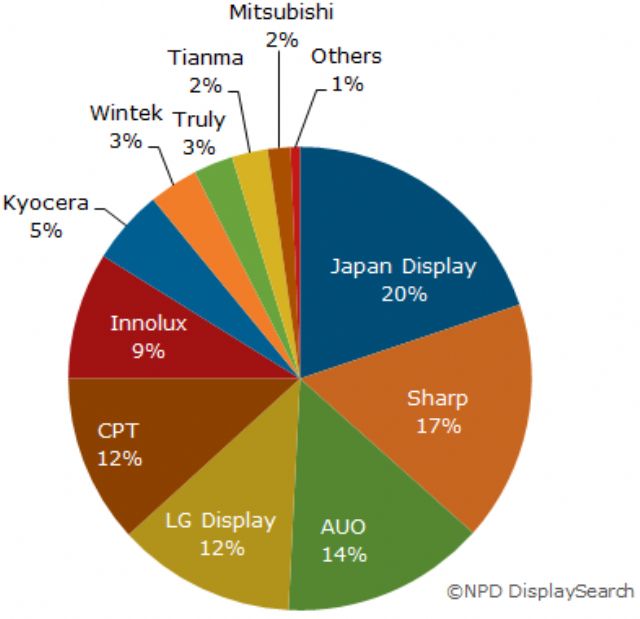 Automotive Monitor TFT-LCD Makers' Shipment Shares in 2014 (Source: NPD DisplaySearch Quarterly Small/Medium Shipment and Forecast Report)
Global shipments of thin film transistor-liquid crystal display (TFT-LCD) panels for automotive monitors, on both the original equipment (OE) and aftermarket basis, are forecast to increase 30% year-on-year (YoY), reaching 85 million units in 2014, according to NPD DisplaySearch.
Demand for automotive TFT-LCD monitors is growing rapidly, as automakers add multiple monitors to the driver's console. This trend is now expected to drive automotive TFT-LCD monitor shipments to exceed 100 million by 2016, rather than in 2017 as previously forecast, the research firm said.
"Automotive monitors are increasingly becoming standard equipment in a wide variety of vehicles," said Hiroshi Hayase, vice president of small/medium displays for NPD DisplaySearch. "With more consumers focused on saving energy and driving safely, automotive TFT LCD monitors will continue to enjoy steady growth."
Major Suppliers
Japan Display Inc. (JDI), a joint venture formed in 2012 between electronics companies in Japan, is expected to lead the market this year with a 20% share, NPD DisplaySearch said, followed by Sharp of Japan at 17%.
Taiwanese suppliers AU Optronics Corp. (AUO) will likely be the third-largest automotive-panel supplier in 2014 by winning 14% global share. Innolux Display Corp., a major TFT-LCD panel maker in Taiwan and globally in the 2013 automotive display market, however, has decreased low-priced display shipments to the Chinese market in 2014 to improve profitability. The company is instead focusing on the high-end automotive monitor market in Europe and the United States to enhance profitability. NPD DisplaySearch forecasts Innolux to take the No. 6 global ranking in automotive-panel shipment this year, with a market share of about 9%.
Another Taiwanese panel supplier, Chunghwa Picture Tubes, Ltd. (CPT), has refocused on small- and medium-sized panels in recent years, in addition to developing sales in automotive applications. The company is expected to win a global market share of 12% to share the No. 4 spot with LG Display of South Korea.
Industry sources say that following  years of development in the automotive display business and backed by domestic automakers, Japanese companies are expected to win global market share of 44% in 2014.
Four Taiwanese companies engaged in automotive applications including AUO, Innolux, CPT, and Wintek Corp. are expected to win market share of 38%. South Korean makers now account for about 12% of global shipments, compared to about 5% of Chinese counterparts.