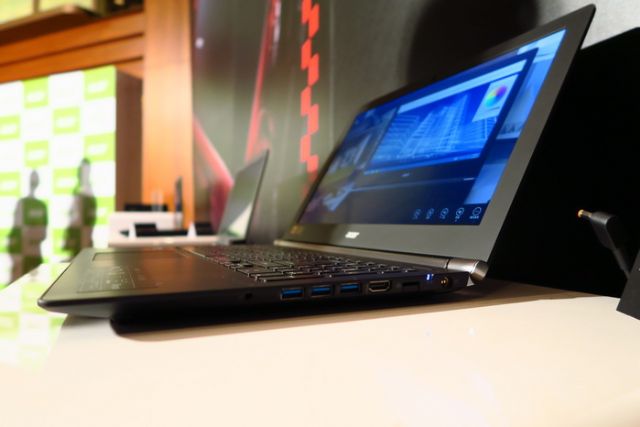 Acer's latest Aspire V Nitro series large-screen notebook PC. (photo from UDN)
Targeting double-digit sales growth in Taiwan's domestic notebook PC market, Acer Inc., a major personal computer (PC) vendor in Taiwan, recently launched 13 notebook PC models with screen sizes larger than 15.6-inches.
C.F Huang, president of Acer's Taiwan operations, says 15-plus-inch notebook PCs are gradually becoming mainstream, and the recently launched models aim to raise Acer's Q4 sales revenue. Institutional investors forecast Acer's Q4 revenue to increase more than 20% quarter-on-quarter (QoQ) driven by such new launches.
Acer's new Aspire V Nitro  notebook PCs (13 models) come with 15.6- or 17.3-inch screens and Intel's i5 or i7 central processors, with retail prices in Taiwan ranging from NT$29,900 to NT$49,900 (US$997 to US$1,664).
In the past year or so, Huang says, sales of 15- to 16-inch notebook PCs in Taiwan accounted for about 50% of the overall volume, while 17-inch models are also gradually becoming a dominant  size. Acer's in-house consumer analysis shows several factors led to hot sales of larger-screen notebook PCs on the island, including thinner and lighter designs, upgraded computing and graphics, more affordable prices and increasingly popular cloud-based services to enable users to do various work anywhere to drive preference for larger-screen, portable devices.
Smooth sales of major product categories including smartphones, tablet PCs, desktop PCs, and notebook PCs enabled Acer to achieve domestic Q3 sales meeting originally targeted QoQ growth of 40%. Acer is partnering with major, local distributors Synnex and Weblink to develop new sales channels to further build business.
Industry sources say domestic sales accounted for a tiny percentage in Acer Group's overall income in H1, which is likely to rise past 5% in H2, 2014 driven by the new sales chain distribution.
Acer believes consumers access the Net and watch videos via mobile devices, so better mobility and performance of notebook PCs are expected to further enhance such product's importance, says Huang.
Acer chose not to undersell to win in the over-15-inch notebook PC market to maintain profitability. However, the sub-14-inch market is undergoing ruthless underselling  triggered by world-class international vendors, says Huang. In H2, industry experts forecast  average selling prices (ASP) of notebook PCs to fall more than 3% year on year.




Major Products

15.6-inch Aspire V15 Nitro, 17.3-inch Aspire V17 Nitro

Europe

1. Suggested retail price starting at 699 euro.
2. Acer kicked off vending these new models from August, and faces excess demand.

Taiwan

Launched 13 models of the two series; with prices ranging from US$997 to US$1,664 on the island.

U.S.

Acer plans to launch the new large-screen models in the U.S. in October, with retail prices starting at  US$1,099.