Driven by Samsung Electronics' expanding procurements of LCD TV panels, the two major Taiwanese thin film transistor-liquid crystal display (TFT-LCD) panel makers, Innolux Display Corp. and AU Optronics (AUO), are likely to see peak shipments in Q4 and challenge record highs.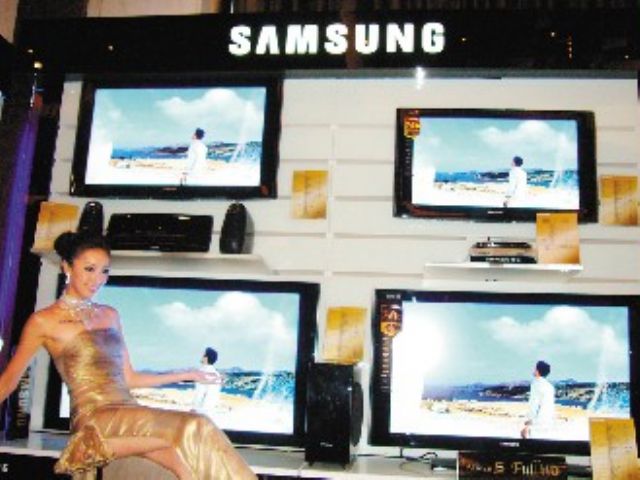 Latest large-screen LCD TVs from Samsung of South Korea. (photo from UDN)
South Korea's Samsung Electronics Co., Ltd., a major TV maker, announced recently that it will invest US$560 million to build a consumer appliances plant in the Saigon Hi-Tech Park, Vietnam, marking the firm's latest move to build manufacturing capacity in the country. Samsung said the 700,000- square-meter complex will mainly produce televisions. The maker has been investing heavily in production across various sectors in Vietnam, including smartphones, to lower production costs. Its subsidiary Samsung Display has just been approved by the Vietnamese government to invest in setting up a US$1 billion display assembly plant in the nation.
Industry sources say Samsung has been aggressively trying to further expand market share in the global LCD TV market to consolidate its lead, with more TV panels being outsourced to increase TV production volume.
David Hsieh, president of NPD DisplaySearch Taiwan and vice president of NPD DisplaySearch Greater China, says many international LCD TV vendors look to win higher market share by cutting product prices, with Samsung being the most aggressive, a tactic that makes it formidable to global rivals alongside its TV production capacity expansion.
Samsung's aggressive procurement expansion has led to global supply shortage of TV panels, Hsieh says, which is to surface in Q4, 2014 and through Q1, 2015. Innolux and AUO of Taiwan, he says, will  benefit from increasing orders from Samsung.
Deborah Yang, senior researcher of NPD DisplaySearch, says  currently both AUO and Innolux's TV-panel shipments are quite smooth, and are ready for the demand peak in Q4 and Q1, 2015, and that in 2014 Samsung and LG are expected to ship some 48 million and 34 million LCD TVs, respectively, to win global share of about 48%.
According to NPD DisplaySearch, the world's top-15 LCD TV vendors' shipments totaled 15.5 million units in August, a record monthly high this year, and the volume is expected to further climb to some 18.7 million units in September, up 9% year on year. Thanks to strong demand in the Q4 peak, the research firm forecasts global LCD TV demand to top 21.2 million units in October, a 15% year-on-year (YoY) increase, another new monthly record.