Industrial Technology Research Institute (ITRI), an industrial technology R&D body in Taiwan, recently signed an exclusive licensing agreement with Taiwan Mitsui Chemicals, Inc., a wholly-owned subsidiary of Mitsui Chemicals Inc. of Japan, allowing it to manufacture and distribute ITRI's STOBA (Self Terminated Oligomers with hyper-Branched Architecture) technology, the world's only technology to prevent hazardous lithium-ion (Li-ion) battery leakage which can cause  explosions and fires.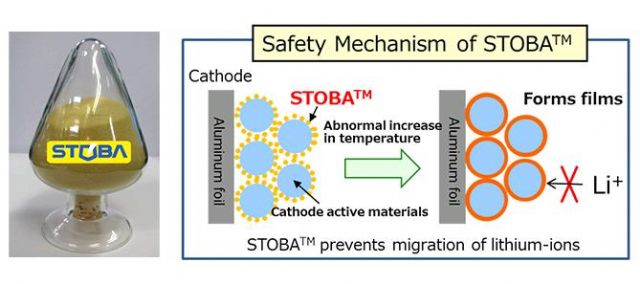 Workings of ITRI's patented STOBA technology for lithium-ion cells. (photo from ITRI)
Taiwan Mitsui plans to construct a factory in Taiwan and kick off production of STOBA-integrated Li-ion batteries in 2017 for electric vehicles (EV). Mitsui Chemicals targets combining its proprietary polymer and composite technologies to further enhance STOBA by improving manageability and usability, also planning to develop proprietary Li-ion battery materials using STOBA technology. The  Japanese company estimates annual global sales of STOBA-integrated Li-ion batteries to reach some NT$1.4 billion (US$46.7 million) by 2020.
ITRI developed the STOBA with support from the Taiwan government and in 2009 the technology was awarded by R&D Magazine the "2009 R&D 100 Award in Energy Devices", then in 2012 began collaboration with Mitsui Chemicals in development and feasibility studies for the patented technology.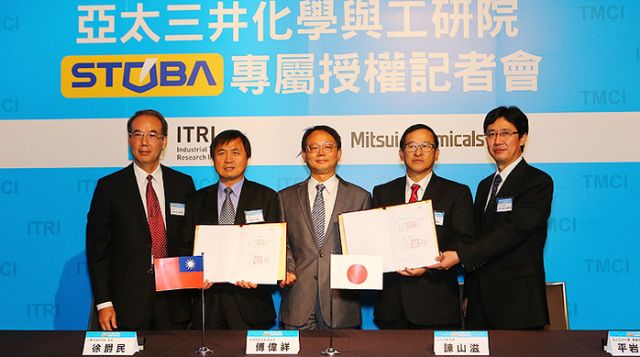 Representatives of ITRI and Mitsui Chemicals at signing ceremony for ITRI's STOBA technology licensing. (photo from ITRI)
According to ITRI, STOBA is a functional polymer with dendritic (hyper branch) nano-sized structures which forms film when internal temperature of Li-ion batteries increase abnormally, thereby preventing migration of lithium ions to stop further temperature increase and allow safe battery shutdown. This technology is applied in Taiwan in electronic instruments as smartphones and light electric vehicle (LEVs) requiring high-safety standards.
With applications as EVs calling for larger-scale, higher output and higher electrical capacity, Li-ion batteries with stricter safety standards is top-priority. In addition, with market growth of high-risk, high-energy-based cathode materials, the need for safe batteries will grow significantly and STOBA-integrated batteries will significantly contribute to safety and reliability of batteries and bolster market expansion, says ITRI.
ITRI's president Shyu Jyuo-min said at the signing ceremony: "Mitsui Chemicals is one of Japan's leading chemical companies, having engaged in the development of chemical materials and products along with extensive experience in mass production. Mitsui Chemicals also maintains close relationships with a number of international automakers. I expect licensing STOBA technology to Mitsui Chemicals Group to help promote the image of STOBA-integrated batteries globally through the relationship between Mitsui Chemicals Group and the automotive industry. This  enables the STOBA to be known under an international brand and throughout the supply chain, underpinning the development of the battery industry in Taiwan."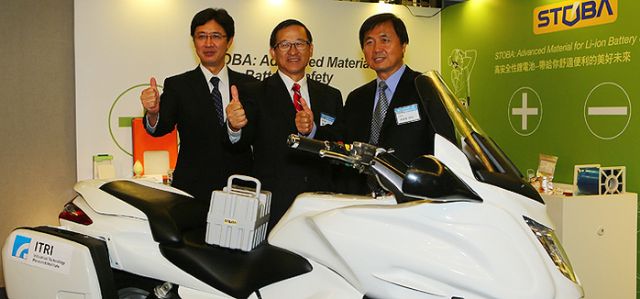 Shigeru Isayama (center), managing executive officer of Mitsui Chemicals, and Shyu Jyuo-Min (right), president of ITRI, thumbs up with e-motorcycle prototype developed by ITRI using STOBA-integrated batteries. (photo from ITRI)
Industry sources say ITRI's STOBA technology has drawn  international attention since 2009, and four Li-ion battery makers in Taiwan have been applying the  patented technology in battery mass production, including E-One Moli Energy Corp., Amita Technologies Inc., SYNergy ScienTech Corp., and Lion Tech Co., Ltd., who have won international orders for uninterrupted power supply systems (UPS), mobile power supply, and electric vehicles.
Shigeru Isayama, managing executive officer of Mitsui Chemicals said: "Mitsui Chemicals targets the three business domains of mobility, healthcare, and food and packaging as high growth areas. ITRI's STOBA will bolster Mitsui Chemicals' strength in the mobility domain through its characteristic mechanisms and their potential to respond to wide market demands for safety. Through this exclusive license for STOBA technology, we target bolstering performance through our state-of-the-art polymer science technology and the creation of a new global safety standard for lithium-ion batteries."
"High-safety STOBA-integrated batteries have attracted considerable interest among Li-ion battery producers around the world since 2009, said Fuh Wea-shyang, Deputy Director General of Department of Industrial Technology in Taiwan, who looks to the licensing of the technology to boost international visibility of Taiwan's battery makers and enable STOBA-integrated technology to help local makers build global competitiveness and high-safety, high-quality lithium-ion battery industry in Taiwan.
C.M. Liu, ITRI's vice president, said the ITRI-Mitsui tie-up is a result of a 10-year talent-cultivation program by ITRI. The STOBA technology was developed by an eight-people team directed by a division chief of the Material and Chemical Research Laboratories under ITRI, whose division chief  mediated the partnership between ITRI and Mitsui STOBA development team.
ITRI's 10-year talent-cultivation program kicked off in 2010 and basically involved sending 15 to 20 chiefs of its divisions overseas  yearly for advanced training, as well as sending 40 ITRI researchers yearly for overseas training.