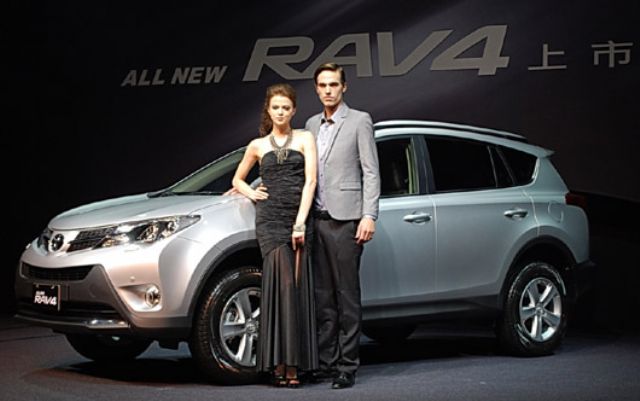 Hot sales of imported Toyota RAV4 SUVs have encouraged local agent Hotai to introduce more such models to the Taiwan market. (photo courtesy UDN)
With an eye on the continued depreciation of the Japanese Yen against U.S. greenback, all major Japanese-car vendors in Taiwan plan to introduce more Japanese models to the domestic market to expand their product lines and enhance their profits.
Hotai Motor Co., Ltd. (local agent of Toyota and Lexus), Yulon Nissan Motor Co. (Nissan and Infiniti), Honda Taiwan Motor Co., and Mazda Taiwan Motor Co. have all said that they will increase their sales ratio of imports and try to win more market share by taking advantage of the price advantage resulting from lower import costs.
The greatest majority of auto assemblers in Taiwan are in partnerships with Japanese brands, but the high local-content rate of Taiwan-made cars leaves little room for further cost cutting, industry sources said. In fact, the sources went on, the local content ratio of local-assembled passenger cars ranges from 40% to 70%, and fierce competition among dozens of brands in the small local market (the total number of new-car sales in Taiwan has averaged about 400,000 units annually in recent years) has forced auto vendors to cut prices to a very low level. There is little room left for further price reductions.
By contrast, the sources added, cars imported from Japan are now much more competitive than before; and since the cost of mold and die development for local assembly does not have to be factored in, their pricing is more flexible. In the future, the sources continued, imported cars are expected to win a higher share of the Taiwan automobile market. In the first eight months of 2014, the share of imported cars sold in Taiwan market hit 35%, a record for recent years.
Hotai has been the No. 1 auto vendor in Taiwan for more than 10 years, with monthly sales volumes of each popular model assembled by its affiliated Kuozui Motors, including the Toyota Altis, Yaris, and Wish, running at more than 1,000 units. However, monthly sales of the imported Toyota RAV4 sport utility vehicle (SUV) has also been topping 1,000 units, thanks to the model's competitive price compared with other imported models of the same class. The successful experience of the RAV4 is driving Hotai to more aggressively introduce light SUV models into the Taiwanese market, a move which is expected to further intensify the competition between different imported models.
Honda Taiwan has stopped local production of its Accord medium sedan and has turned instead to importing it, and the higher prices of imported Accords has not affected their sales volume. As a result, Honda Taiwan plans to introduce an imported seven-seat multi-purpose van (MPV) to the local market in 2015.
Yulon Nissan also plans to enrich its product line by importing more models from Nissan Japan next year.