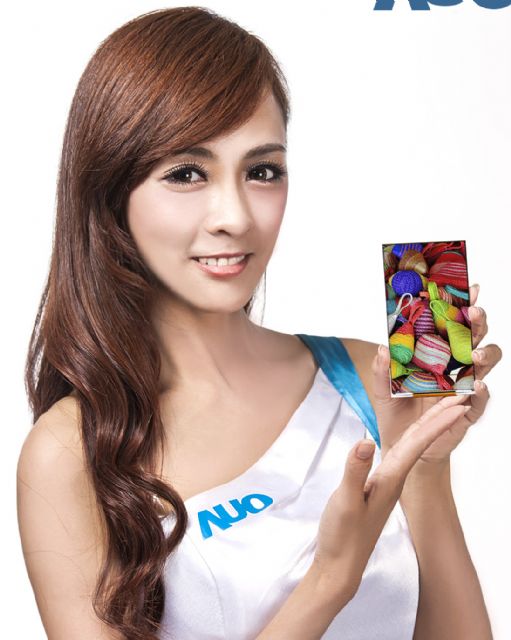 A high-end smartphone panel by AUO of Taiwan. (photo from AUO)
AU Optronics Corp. (AUO), a major maker of thin film transistor-liquid crystal display (TFT-LCD) panels in Taiwan, just announced September consolidated revenue of NT$35.62 billion (US$1.19 billion), up 0.3% month-on-month (MoM), but down 3.5% year-on-year (YoY).
The firm reported cumulative Q3 revenue of NT$106.89 billion (US$3.56 billion), up 4.8% quarter-on-quarter (QoQ) but down 0.2% YoY.
Industry sources say AUO has been trying to improve product mixture for higher unit prices and profits, resulting in flat shipments but rising revenues. Institutional investors forecast AUO's Q3 profits to remain high to exceed  NT$4 billion (US$133.3 million), with annual earnings to break NT$10 billion (US$333.3 million) this year.
In September, AUO shipped 9.86 million large-sized (larger than 10-inch) panels, down 1.3% MoM, and 15.06 million small- and medium-sized panels, a 9.5% MoM decrease. The company delivered in Q3 29.48 million large-sized panels, up 2.2% QoQ and 0.5% YoY; as well as 48.23 million small- and medium-sized panels, up 4.2% QoQ and 9.4% YoY. The firm's strategy to focus more on high value-added products is fruitful: AUO is the world's largest supplier (in market share) of 65-inch TV and 5-inch smartphone panels.
Thanks to rising panel prices, AUO reported Q2 net earnings of NT$4.02 billion (US$134.1 million), with institutional investors predicting Q3 earnings to hit a 16-quarter high, thanks to continuously rising panel prices and depreciation of NT dollar-versus-greenback, and annual earnings to also hit a new record since 2010.
Qisda Corp., affiliate of the BenQ-AUO Group, recently also announced September revenue from DMS (design and manufacturing service) of  NT$9.03 billion (US$301.1 million), up 1% MoM and 20.9% YoY, a record monthly high since November 2008. The firm's monthly shipments of projectors exceeded 200,000 units, a record high in company history and up  42.25% YoY in September.
AUO's Performance in Last 6 Quarters



Q2, 2013

Q3, 2013

Q4, 2013

Q1, 2014

Q2, 2014

Q3, 2014

Revenue

NT$112.3 billion

NT$107.1 billion

NT$102.7 billion

NT$93.8 billion

NT$102.0 billion

NT$106.9 billion

Net Earnings

NT$3.98 billion

NT$2.51 billion

NT$1.08 billion

NT$166 million

NT$4.02 billion

--

Source: AUO