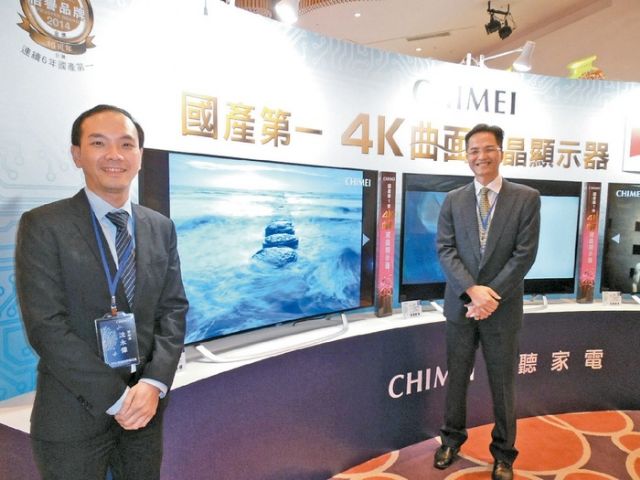 Yu Ming-le (right), CEO of Nexgen, and Shen Yung-wei, chief branding officer, jointly introduce the Chimei 65-inch 4K2K curved TV in Taiwan. (photo from UDN)
Nexgen Mediatech Inc. of Taiwan, a display product vendor in Taiwan, recently launched the island's first locally produced 65-inch TV with 4K2K (UHD or Ultra High Definition) curved display.
Globally marketing TVs with its own Chimei brand, the vendor is an affiliate of Taiwan's Chimei Group, the original owner of Innolux Display Corp. (formerly  Chimei Innolux Corp.), a major  thin film transistor-liquid crystal display (TFT-LCD) panel manufacturer in Taiwan. Nexgen's 65-inch curved TV has the advanced display supplied by Innolux's major local counterpart AU Optronics Corp. (AUO).
Nexgen targets to sell 200,000 TVs this year, including the 65-inch curved model, to try to lead the sector in Taiwan, also aiming to expand into other home appliances such as refrigerator, washer etc.
Yu Ming-le, CEO of Nexgen, and Shen Yung-wei, chief branding officer, jointly attended the product launch, where Shen said  his company led other local counterparts to launch the large curved TV, as well as the 55-inch and 65-inch 4K2K models in Taiwan.
The Chimei brand will celebrate its 10th anniversary in 2015, Shen said, and the 65-inch 4K2K TV is a milestone for the brand in the past decade. Nexgen sold about 3,000 50-inch and 65-inch 4K2K TVs in Taiwan last year, and aims to double the volume in 2014.
The 65-inch 4K2K curved TV has Wide Color Gamut (WCG) technology with 100%-plus NTSC, Ultra HD resolution of 3840x2160 with 120Hz frame rate, life-like colors with 3D effect for fine images, Nexgen said.