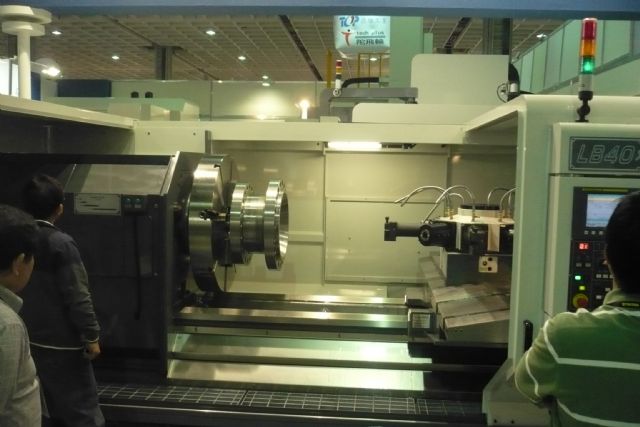 Bright Q4 outlook projected for Taiwan's machine tool makers amid strong Q3 sales.
Taiwan's leading machine-tool makers reported strong sales in Q3 this year mostly thanks to increasing demand from China, the United States and European Union.
Goodway Machine Corp. had consolidated revenue of NT$1.9 billion (US$64.9 million) in Q3, roughly equal to that of Q2, with  NT$2.3 billion (US$76.6 million) of booked orders. Industry executives predict its Q4 revenue  to grow from Q3.
Hiwin Technologies Corp., a major ballscrew supplier in Taiwan, posted consolidated revenue of NT$4.2 billion (US$141.7 million) in Q3, up 20.1% from the previous quarter to hit seven-year high, to which industry executives ascribe mostly to its brisk shipments of ballscrews, linear guideways, and robots, and predict the company's Q4 revenue to continue staying high.
Roundtop Machinery Industries Co., Ltd. generated consolidated revenue of NT$287 million (US$9.5 million) in Q3, rising 15.2% from a quarter earlier. Industry executives project the company's growth momentum to continue into Q4 thanks to steady markets in America and Europe.
Tongtai Machine & Tool Co., Ltd. had revenue of NT$2.45 billion (US$81.9 million) in Q3, slightly down 1.2% from NT$2.48 billion (US$82.9 million) in the previous quarter, with NT$2.3-2.5 billion (US$76.6-83.3 million) of undelivered orders. Industry executives predict its consolidated revenue at NT$8.5 billion (US$283.3 million) for this year and NT$10 billion (US$333.3 million) for next year.
According to Taiwan's customs, in the Jan.-Sept. the island exported US$2.8 billion of machine tools, up 6.6% year on year, with  September shipments being  US$319 million, increasing 14.5% YoY mostly thanks to the 22% growth in shipments to China,  20% increase for shipments to America, and 128% rise to Italy.
Chairman S.C. Hsu of the Taiwan Association of Machinery Industry (TAMI) predicts the island's machine-tool industry to continue brisk exports into Q1, 2015 after traditional Q4 peak, but worries that Taiwan exports may be impacted by the steep devaluationsof Japanese yen and South Korea won in recent months and the Free Trade Agreement expected to be signed between  China and South Korea at the end of this year. (KL)
Q3 Revenue at Taiwan's Leading Machine Tool Makers
| | | | | | |
| --- | --- | --- | --- | --- | --- |
| Stock code | Company | Q3 revenue | QoQ change (%) | Jan.-Sept. revenue | YoY change (%) |
| 1583 | Goodway | NT$1.9bn | 0.0 | NT$5.5bn | +29.5 |
| 1540 | Roundtop | NT$287M | +15.2 | NT$792M | +18.9 |
| 4510 | Kao Fong | NT$511M | +6.6 | NT$1.5bn | +6.1 |
| 4526 | Tongtai | NT$2.4bn | -1.2 | NT$6.7bn | +22.8 |
| 2049 | Hiwin | NT$4.2bn | +20.1 | NT$10.8bn | +26.2 |
Source: Market Observation Post System, Taiwan Stock Exchange.