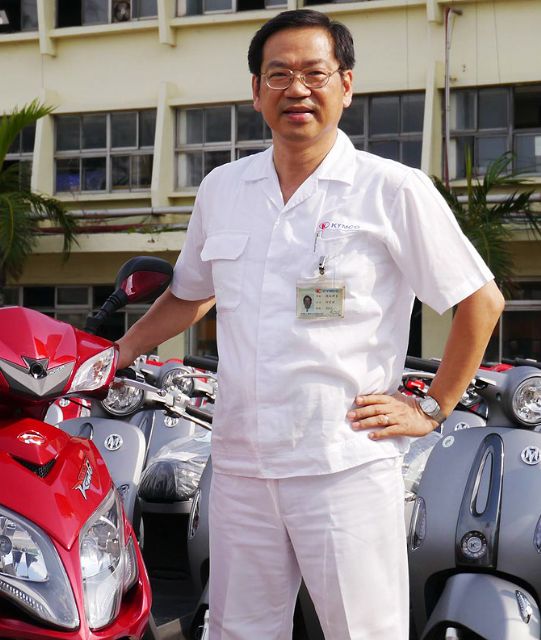 J.B. Ke, the new president of Kwang Yang Motor Co., Ltd. (KYMCO), the largest powered two-wheeler (PTW) manufacturer and exporter in Taiwan. (Photo provided by KYMCO)
J.B. Ke, the new president of Kwang Yang Motor Co., Ltd. (KYMCO brand), the largest powered two-wheeler (PTW) manufacturer and exporter in Taiwan, recently claimed that KYMCO aims to produce and sell 1.2 million PTWs globally in 2014, including about 280,000 units in Taiwan. The group also hopes to end the year with consolidated revenue of more than NT$40 billion (US$1.33 billion).
With stable sales in Taiwan, KYMCO is on track to maintain top position in the domestic PTW market in 2014, marking its 15th consecutive year in holding the industry crown. Recovering exports to Europe, appreciation of the euro, and increasing production of big-displacement, higher-price models are expected to push up profits in KYMCO's core business to record highs in five years, Ke said.
Since taking the helm of Taiwan's largest PTW company, Ke has forecast that new PTW sales in Taiwan will hit a 10-year high of 680,000 to 700,000 units in 2014. KYMCO aims to account for 280,000 units of the total, giving it a 40%-plus market share.
Contract production for big international customers has been a major business at KYMCO for years, and this year, Ke said, major customers, such as BMW and Kawasaki, have been placing bigger orders. Workers at KYMCO's assembly factory in Kaohsiung, southern Taiwan are working overtime, including on weekends, to meet strong demand, Ke says. The heavy workload has even forced KYMCO to temporarily postpone its 50th anniversary celebration. However, the much-stronger-than-expected demand from the domestic market and KYMCO's supply tension has led to very low inventory levels of less than one month at its domestic PTW distributors. Some popular colors of KYMCO's hot-sales models have been in short supply. KYMCO's Kaohsiung factory can produce about 1,5000 PTWs on a normal, one-shift day.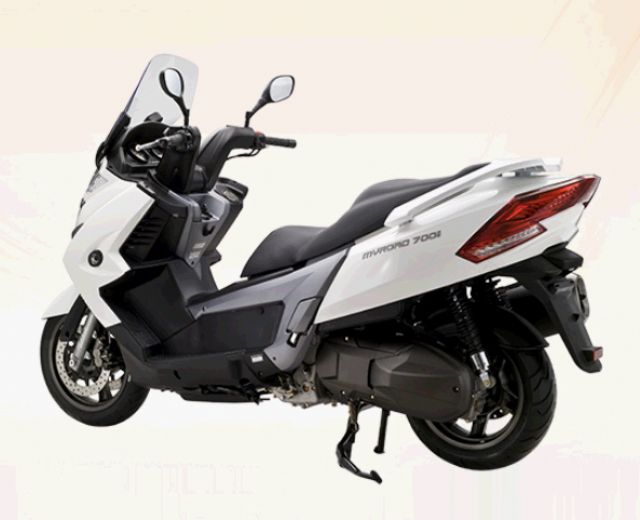 A high-level maxi scooter by KYMCO. (Photo from KYMCO's website)
To meet the strong demand, KYMCO is adjusting its production capacity and upgrading production-line automation, Ke says.
On the export front, Ke said that KYMCO has increased sales to some Latin American nations and emerging markets. The recovering economy in major European PTW markets, including Italy, Spain and France, has been driving up PTW purchases to the normal level, Ke added, leading to strong export-revenue growth this year. The appreciation of the euro, as well as growing contract production work for BMW Motorrad, have also fueled sales of large-displacement, high priced models, powering KYMCO's export revenue and profitability higher this year.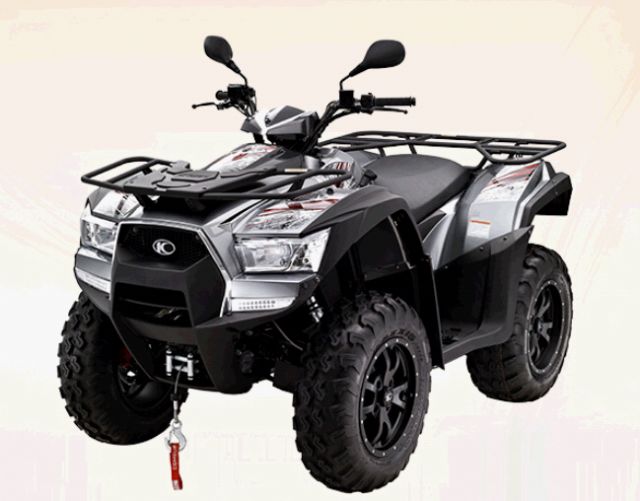 A 700cc all terrain vehicle (ATV) model made by the company. (Photo provided by KYMCO)
International Majors
Thanks to its strong manufacturing capability and cost-control ability, KYMCO has been supplying the engines for BMW Motorrad's G450X and G650S enduro bikes for a couple of years. The Taiwanese company also develops and produces the new J300 scooter for Kawasaki on an original design manufacturing (ODM) basis. The J300 300cc maxi scooter was launched in late 2013. Industry sources say that Kawasaki Japan originally estimated the annual sales volume of the J300 scooter at about 5,000 units in the first three years after demonstration, but the scooter has been selling at a monthly pace of 500 units. Strong demand for the new model will further contribute to KYMCO's revenue in 2014.
KYMCO and Kawasaki have set up a joint venture in China to make universal engines. Industry sources say that the successful debut of the Kawasaki J300 is expected to help KYMCO win more ODM orders from the Japanese partner.
With its expertise in smaller engines and trustworthy quality level, KYMCO also won an order from German luxury-car maker BMW to supply 650cc gasoline engines for the new BMW i3 extended range electric vehicle (EREV).
KYMCO's product competitiveness and quality has turned the heads of other global majors. In 2009, BMW Motorrad began contracting the Taiwanese partner to produce the engines for its GS450X off-road bikes and later began ordering 650cc scooter engines. BMW Motorrad has based engineers and managers at KYMCO's factory in Kaohsiung, southern Taiwan, to assure technical and quality level.
The i3 electric citycar is part of BMW's "Project i" and is planned as the new brand, BMW i. The BMW i3 entered mass production in 2013 and has sold well in several markets. The EREV is BMW's first mass-produced zero-emission vehicle with an electric powertrain. The German automaker also expects to be the first company to market a volume production vehicle with carbon-fiber reinforced plastic to reduce energy consumption.
Industry sources comment that the BMW-KYMCO cooperation on EV products is a sign of the increasingly close partnership between the two players. The i3 project positions KYMCO to potentially supply more parts to BMW, further raising its technical level and corporate image. The BMW group is expected to purchase 50,000 to 60,000 engines from KYMCO in 2014.
Another major foreign customer of KYMCO is Arctic Cat, one of the top-three snowmobile and all terrain vehicle (ATV) brands in the United States, who also hopes to take advantage KYMCO's strong capabilities. The American company has contracted KYMCO to custom-develop and make a snowmobile model based on KYMCO's Myroad 700cc high-end scooter. The Arctic Cat 700cc snowmobile will be sold in the U.S
PTW Biz Veteran
After working 30 years for KYMCO, Ke was promoted to president of the company this year from his previous position as executive vice president. Industry insiders say that Ke's promotion shows KYMCO's respect for professional managers rather than reliance on family members. Ke is the son of a major shareholder in the company.
Ke entered KYMCO and started his career as a basic-level employee 30 years ago, and was assigned to be responsible for the worst-sales region in Taiwan when he was promoted to a regional sales director. In the past three decades, he recalls, promotions have been hard won and the the work always challenging.
After becoming vice president in 2006, Ke traveled tirelessly to meet with distributors throughout Taiwan and in other markets worldwide. In the past eight years since then, KYMCO's share of the domestic PTW market has climbed to a record high of more than 40% from 30% or so before. Though his title has changed, Ke has maintained the same tireless work ethic, arriving earlier than other employees and leaving later.
KYMCO's Domestic PTW Sales Volumes & Market Shares (2011-2014)

Year

2011

2012

2013

2014 (f)

Domestic Sales

262,839

262,107

271,867

280,000

Market Share

41%

41.8%

40.7%

40%


Source: Ministry of Transportation and Communications, KYMCO