TPV Technology Ltd., a major contract LCD TV assembler headquartered in Taiwan, is expected to ship some 16 million LCD TVs in 2014, while the firm's annual TV-panel procurement from Taiwanese suppliers is estimated to hit about NT$100 billion (US$3.33 billion).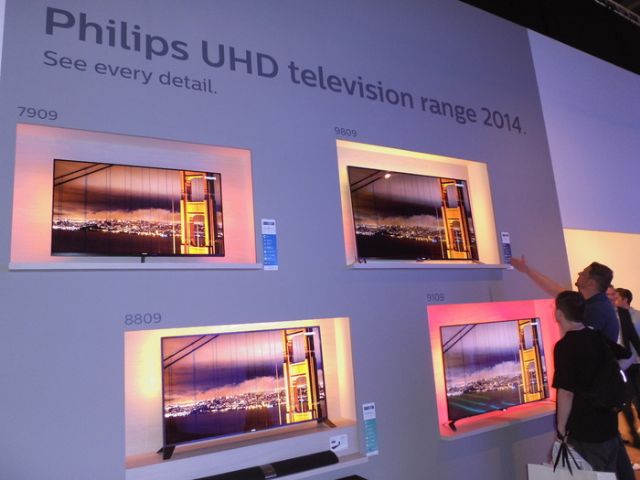 TPV is scheduled to launch the Philips 65-inch 4K TV models in Taiwan soon. (photo from UDN)
In H1, 2014, TPV shipped 7.4 million LCD TVs, up 20.8% year-on-year (YoY). Some institutional investors forecast that the firm's annual shipments will surpass last year's (about 15 million units) to reach some 16 million.
TPV currently operates two own-brands: AOC and Philips (monitor). The company is also a major contract assembler for international, first-class customers as Sony, Sharp and many others.
TPV says its global operational headquarters in New Taipei City, northern Taiwan, handles business operation, international procurement, R&D etc., while its major production base is in China. TPV purchases thin film transistor-liquid crystal display (TFT-LCD) panels, digital chips, semiconductors, and monitor components from Taiwanese suppliers. The company's major local suppliers of TV and monitor key-parts include panel makers Innolux Display Corp., AU Optronics Corp. (AUO); IC design company MediaTek Inc., LED maker Everlight Electronics Co., Ltd. etc., which are expected to benefit from TPV's expanding shipment volume.
For overseas business deployment, TPV has tied up with AUO in setting up LCD module (LCM) factories in Poland and Brazil. The firm's backlighting modules are supplied in-house and Evertop (Fujian) optoelectronics Co., Ltd., a joint venture between TPV and Everlight in China. Currently, TPV claims to be the world's largest producer of LCD monitors with a global share of about 30%.
Early this year, Royal Philips announced having signed an agreement to transfer its remaining 30% stake in TP Vision, the TV joint venture with TPV, to a fully-owned subsidiary of TPV. After the acquisition, TPV has been more aggressively marketing Philips-branded TVs globally. In Taiwan, TPV is scheduled to soon launch a Philips 65-inch 4K2K, or UHD (Ultra High Definition) TV.
TPV says its own AOC and Envision have won the sole distributorship for Philips TVs and monitors, respectively, in 2009 and 2011. In 2012, TPV set up the TP Vision with Philips to handle Philips' global TV business including product design and production.