Hwa Fong Rubber Ind., Ltd., a major tire manufacturer with plants worldwide, recently announced its Thai subsidiary, Hwa Fong Rubber (Thailand) PLC, has purchased 35,640 sq.m. of land in Thailand for 160 million baht and plans to construct its third factory there.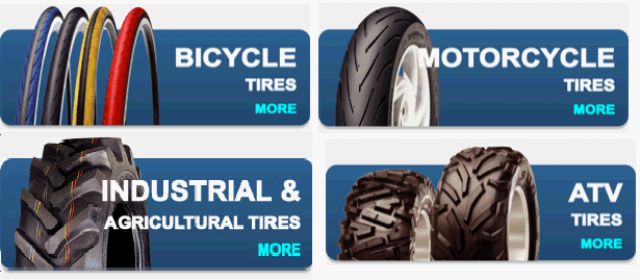 Hwa Fong Thailand's major product categories. (photo from Hwa Fong Thailand)
The Thai subsidiary reportedly plans to invest additional 500 million to 600 million baht to construct the new factory, which will start mass production as early as 2016.
Hwa Fong Thailand has just completed a capacity expansion project at its second Thai facility in Q3 by elevating daily motorcycle-tire production volume to 25,000 units from 15,000 at a cost of US$6 million. Its first factory mainly produces bicycle tires and inner tubes, where Hwa Fong Thailand has purchased new tire-molding equipment, and plans to upgrade daily bicycle-tire production capacity to 35,000 units by Q1, 2015, from 25,000 units.
Tiffany Su, chairwoman, says that the third Thai factory will take over all the inner-tube production lines from the first Thai factory upon completion, bringing the third Thai factory's daily inner-tube capacity to 150,000 units, and that packaged sales of tires and inner tubes meet one-stop-shopping requirement to be more attractive to buyers for added convenience.
Hwa Fong Thailand is listed on the Thai exchange and a moneymaker for the Taiwanese tire-making group, being a contract supplier of bicycle tires to many international brands including Michelin, Vittoria (Spain), Decathlon (France), Best Well etc.
The Thai subsidiary delivers about two million bicycle tires to Decathlon, accounting for about 27% of overall production in Thailand, with the major French customer recently asking Hwa Fong Thailand to raise supply to 2.5 million units yearly. Vittoria  places annul orders for some 700,000 bicycle tires with Hwa Fong Thailand.
Hwa Fong Thailand is also a major original equipment (OE) supplier of motorcycle tires to Japanese motorcycle brands including Honda, Yamaha and Kawasaki.