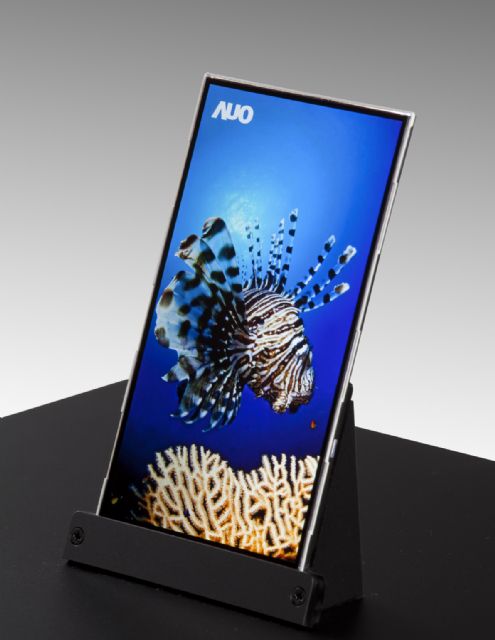 A high-end smartphone panel produced by AUO, the second-largest maker of TFT-LCDs in Taiwan (Photo from AUO)
Taiwan's annual flat panel display (FPD) production is expected to grow by 1.6% to 3.1% in 2015, helped by shipments of larger sized panel and efforts by local FPD makers to boost sales of higher-priced and higher-margin products, according to the Industrial Economics & Knowledge Center (IEK) under domestic Industrial Technology Research Institute.
The FPD industry in Taiwan face two major headwinds in the second half of 2013, including the end of the Chinese government's subsidy program for home appliances in rural areas and a rapid increase of panel production capacity by rivals in South Korea and China.
The market improved for FPD makers in the first half of 2014 thanks to recovery in industrially advanced nations and rising demand for smart handheld devices in emerging markets, stemming the fall of prices for large-sized (larger than 10-inch) thin film transistor-liquid crystal display (TFT-LCD) panels for mainly information technology (IT) and TV applications. Panel orders and profits also recovered to normal levels. The IEK forecasts that Taiwan's FPD production will grow strongly in the second half and close 2014 with a modest drop.
Strong demand from terminal products, especially large-size TVs and monitors (global shipments of tablet PCs have seen a growth slowdown); bigger smartphone screens and expanding demand volume; and Taiwanese panel suppliers' continued efforts to develop high-margin specialty application panels, such as automotive and medical panels, are expected to drive local FPD production between 1.6% to 3.1% higher in 2015, the IEK said.
A senior official at AU Optronics Corp. (AUO), the second-largest TFT-LCD panel maker in Taiwan, said that each year the newly added 8.5-generation (8.5G) panel production capacity in China account for about 5% to 7% of the global total. On the other hand, the global demand for panels has been increasing and average TV-panel size has been increasing by more than an inch each year. The added area demand is sufficient to fill the capacity of a 8.5G panel plant, the official said. With plasma display panel (PDP) and cathode-ray tube (CRT) TVs now history, the AUO official added, the global FPD industry is heading toward an optimistic future.
The official also noted that the governments of major FPD producing nations, including Japan, South Korea, and China, have been funneling government resources to spur development of their FPD industries. One recent example, he added, is the Japanese government's support for the establishment of Japan Display Inc. (JDI), a joint venture formed in 2012 between Innovation Network (70%), Sony (10%), Toshiba (10%), and Hitachi (10%) of Japan to focus on development and manufacturing of small- and medium-sized panels. The venture aims to attract FPD talent back to Japan. Another example in Japan is the syndicated bank loan granted to Sharp, which turned profitable this year after years of losses.
More than 200 companies are in the FPD supply chain in Taiwan, the AUO official said, jointly creating more than 200,000 jobs. He urged the Taiwanese government to provide support in areas such as talent supply, industrial infrastructure, and financing to create a better environment for the industry.