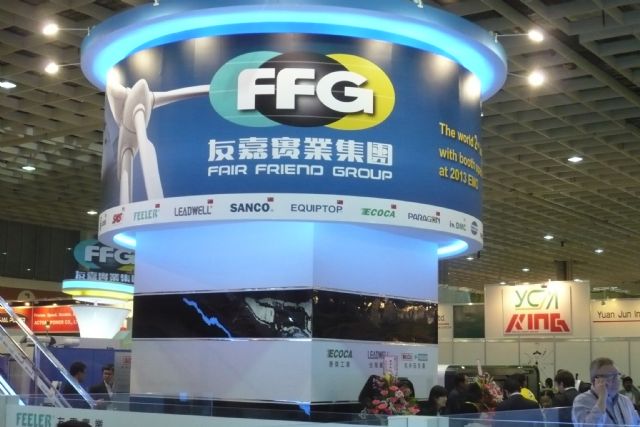 Major machine tool maker FFG to go public in Taiwan by 2017.
The Fair Friend Group (FFG) will launch initial public offering (IPO) in Taiwan in 2017, to be  Taiwan's largest listed machine-tool manufacturing conglomerate by market revenue.
With KGI Securities as the IPO underwriter, FFG will set up a holding company by the end of 2014 to operate all subsidiaries, which have been operating independently except collective procurement and new product development.
According to its chairman, Jimmy Chu, the group operates 38 manufacturing sites and 26 brands worldwide, will have post-IPO market revenue to exceed the combined revenue of the eight publicly held machine-tool makers on the island, including AWEA Mechantronic Co., Ltd., Goodway Machine Corp., Roundtop Machinery Industries Co., Ltd., Tongtain Machine & Tool Co., Ltd., Kao Fong Machinery Co., Ltd., Falcon Machine Tool Co., Ltd., Taiwan Takisawa Technology Co., Ltd. and Shieh Yih Machinery Industry Co., Ltd.
The group pledges to invest along with the IPO over US$100 million on the island, one third of which earmarked to build a  factory at the Taichung City Precision Machinery Innovation Technology Park to make high-end five-axis machining centers and heavy-duty horizontal machining centers with projected annual revenue of NT$3 billion (US$100 million).
The 1974-founded FFG now runs four businesses: machine tool, printed circuit board, industrial equipment and components, and green energy.
According to Chu, the group generates around 60%, or NT$50 billion (US$1.6 billion), of its revenue from sales of automation systems, including industrial robot, turnkey automation, automated warehouse and lifting system, and automated-production system for aircraft-building and energy industries, with its high-profile  customers of automation systems including BMW, Merced-Benz, Ferrari, Volkswagen, Fiat, Chrysler, Changan Automobile, Audi, Boeing, Airbus, Siemens and Mitsubishi Heavy Industries.
Chu projects FFG to generate consolidated revenue of NT$200 billion (US$6.6 billion) by 2020, with machine-tool business accounting for a half.
In 2013, the group had consolidated revenue of NT$72 billion (US$2.4 billion), including NT$41 billion (US$1.3 billion) by its machine-tool business, whose revenue it estimates to rise to NT$45 billion (US$1.5 billion) this year due to recovering global demand and the acquisition of the Japanese machine-tool maker, Ikegai Corp.
While accelerating expansion plans to meet its 2020 goal, the group  has recently acquired 80% stake in DMC, the No. 6 machine-tool maker in South Korea, for US$20 million, with the still scrutinized by the Korea Fair Trade Commission. In May the group formed a machine-tool joint venture with Cosmos Impex (India) Pvt. Ltd. to put out 40 grinding machines, machining centers, and lathes combined a month.
By the end of this year, Fair Friend will acquire a century-old German machine-tool maker, another of its acquisition in Germany after purchasing the DMG's six subsidiaries last year. The group also plans to acquire a mega maker reporting revenue of tens of billions of NT-dollar yearly and a midsize maker registering annual revenue of NT$6 billion (US$200 million) in China.
In 2015 and the following year, the group will set up plants in  Turkey, Russia and Brazil.
Fair Friend estimates sales in Germany, Italy, the United States, Taiwan, China, and Japan to rise 30%, 25%, 15%, 30%, 50% and 200%, respectively, in 2015. (KL)