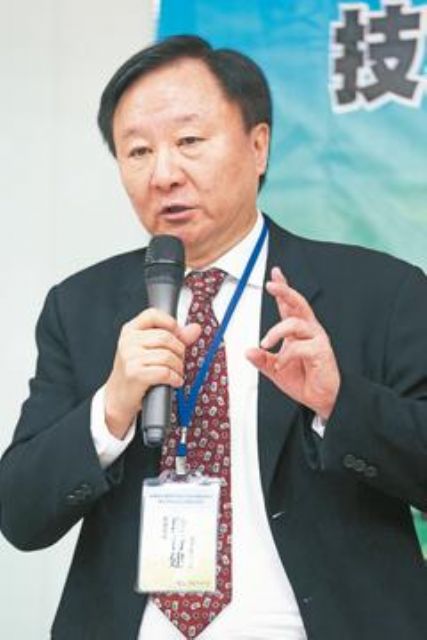 Duan Xing-jian, chairman of Innolux, the largest maker of TFT-LCD panels in Taiwan. (Photo from UDN)
Innolux Display Corp., the largest maker of thin film transistor-liquid crystal display (TFT-LCD) panels in Taiwan, reported that it had net earnings of NT$7.36 billion (US$245.3 million) for the third quarter, a 144% sequential, or quarter-on-quarter (QoQ), increase, and a 974% year-on-year (YoY) growth, a record high for the past 17 quarters.
The company said that its equipment utilization ratio in the fourth quarter will remain at a high level, while shipments of large-sized (larger than 10-inch) panels will be higher than deliveries of small- and medium-sized panels.
To solve panel supply shortages, Innolux chairman Duan Xing-jian announced that his company would double capital spending in 2015 to between NT$30 billion and NT$40 billion (US$1 billion to US$1.3 billion). Innolux beat its major local rival, AU Optronics Corp. (AUO), the No. 2 on the island, in announcing its capital spending plans for the next year.
Innolux invested about NT$19 billion (US$633.3 million) in 2014. The company will increase this amount in 2015 to increase production capacity and meet strong anticipated global demand in 2016. In addition to installing new production lines at existing panel plants, he added, Innolux will look for a new plant location in Taiwan.
The No. 1 Taiwanese panel supplier also announced its third-quarter profit margin of 12.8%, better than 10.4% in the second quarter and 10.2% a year earlier. The firm's third-quarter earnings per share (EPS) was NT$0.77 (US$0.03). In the first three quarters, Innolux had accumulated net earnings of NT$11.19 billion (US$372.9 million), up 13.5% YoY, translating into an EPS of NT$1.14 (US$0.04).
Wang Jyh-chau, president of Innolux, predicted that the panel market would remain strong through the fourth-quarter. Demand for tablet PC panels will remain strong and shipments of monitor panels should be stable, while demand for notebook PC and cellphone panels will be relatively weaker.
Innolux's production lines have been maintaining at a high utilization ratio in the fourth quarter, Wang continued, but the company's shipments of small- and medium-sized panels will see a two-digit QoQ drop. However, he added, prices for small- and medium-size panels are expected grow at a double-digit pace.
According to Duan, Innolux has been improving its financial structure since a merger in 2010. In the first quarter of 2010, the firm's net debt ratio was 77.6%, which soared to 153% in the second quarter of 2012 (when Duan took the helm as company chairman). By the third quarter of 2014, the company had lowered its debt ratio to just 44.2%.
The chairman stressed that his company has been strictly controlling its capital spending in recent years by investing only in new technologies, new products and production restructuring. In conjunction with the improved financial strength, Innolux has decided to double its capital spending in 2015.
AUO
The No. 2 panel supplier in Taiwan AUO also announced its operation results for the third quarter. The firm achieved a 17-quarter high net profit of NT$7.3 billion (US$243.3 million).
The company's board recently resolved to increase capital spending in 2014 to NT$21.36 billion (US$712 million). The funds will be used to tune new technologies and production capacity, as well as install new production lines.
In the first three quarters, AUO said, its capital spending totaled NT$14 billion (US$466.7 million), and the year-end total is expected to outstrip NT$20 billion (US$666.7 million). The firm said that it is still evaluating capital spending plans for 2015.