Quanta Computer Inc., major contract assembler of notebook PCs based in Taiwan, recently confirmed plans to launch  healthcare solutions based on the advanced healthcare platform,  QOCA, jointly developed with Massachusetts Institute of Technology (MIT), in Q1, 2015, also targeting sales to both big  hospitals, clinics and medical-system integrators.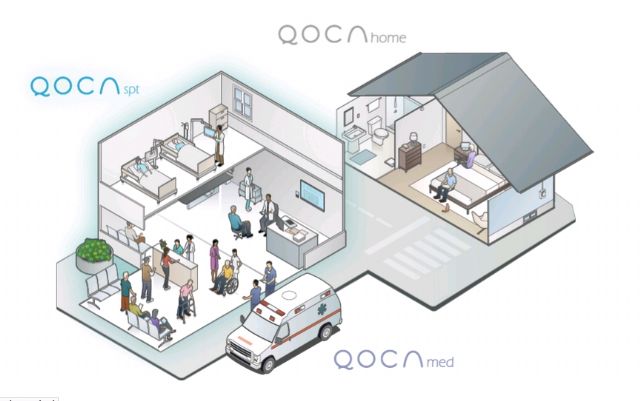 QOCA SPT smart patient terminal and QOCA HOME home telehealth solution illustrated. (photo from Quanta Research Institute, Quanta Computer's R&D arm)
With shrinking margins and fierce rivalry in the global information technology (IT) market, an increasing number of Taiwanese EMS (electronics manufacturing services) providers are diversifying into non-IT fields. Inventec Corp., a leading EMS providers on the island, just won an order from smart home solution provider Nest Lab; Lite-On Technology Corp. recently began production of biochemical analyzers jointly developed with Taiwan's  Industrial Technology Research Institute (ITRI); while Compal Electronics Inc. has invested in Taiwan's Avalue Technology Inc. to leverage the affiliate's expertise in healthcare system R&D and customer base.
After years of partnerships with major general hospitals in Taiwan, such as National Taiwan University Hospital (NTUH) and National Cheng Kung University Hospital (NCKUH), Quanta decided to promote its QOCA SPT smart patient terminal, and  QOCA HOME telehealth solution to develop business in the lucrative healthcare market.
According to Quanta, the QOCA SPT integrates its own QMULUS private cloud, smart patient terminal and app to provide instant communication, information and entertainment to patients and medical staff. While the QOCA HOME is a cloud-based solution designed to enable remote home care services primarily for seniors, who can be empowered to be better connected with care providers and families. Quanta Computer has begun trial production and installation at  general hospitals in Taiwan, as well as having delivered the first-generation QOCA HOME to local Chang Gung Memorial Hospital in Keelung. The hardware of the first-generation QOCA HOME was developed and made according to specifications of the Canadian Telehealth Association, and the second-generation products will be promoted in Taiwan and Canada, Quanta Computer said.
Ted Chang, Chief Technology Officer (CTO) and Vice President of Quanta Computer, said the so-called intelligent hospitals are based on cloud computing and related services to make up a human-oriented, patient-connected open platform.