More than 20 million on-cell thin film transistor-liquid crystal display (TFT-LCD) touch panels shipped globally in H1, 2014, after only 4.7 million were shipped in all of 2013, as the technology has been adopted in the expanding entry-level and mid-range smartphones market, according to NPD DisplaySearch. By 2018, shipments of on-cell TFT-LCD panels are expected to reach 129 million.

Embedded touch panels of all types, including in-cell and on-cell TFT-LCDs, as well as on-cell active matrix organic light-emitting diode (AMOLED) panels, accounted for 20% of all mobile phone displays in 2012, 29% in 2013, and an expected 32% in 2014. "Overall the total embedded touch panel display market is expected to grow. However, individual manufacturer shipment shares still depend on Apple and Samsung, since they are the biggest customers for in-cell TFT-LCDs and on-cell AMOLED panels," said Calvin Hsieh, research director at NPD DisplaySearch. Other brands tend to use on-cell TFT-LCDs.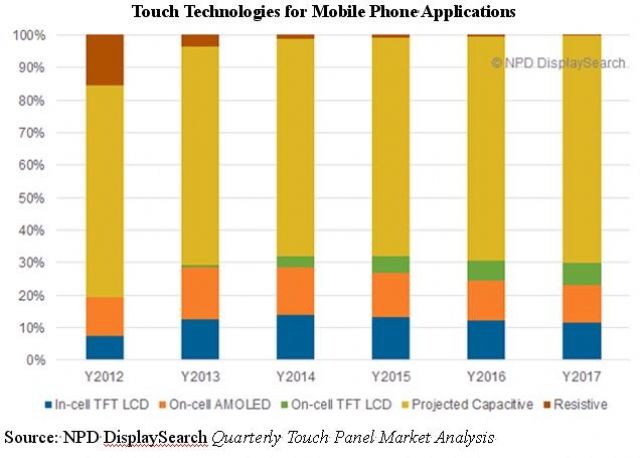 Touch technologies for mobile phone applications. (Source: NPD DisplaySearch)
As the smartphone market matures, NPD DisplaySearch analyzes, consumers have grown to expect more features and functions at lower prices, pushing Motorola, Huawei, and other brands to adjust product strategies. "These brands are now cultivating the supply chain for additional touch-embedded panel sources as they adopt on-cell TFT-LCD solutions to focus on entry-level and mid-range smartphone segments," Hsieh noted.
On-cell TFT-LCDs with single-layer patterning are now being used to increase share in the entry-level and mid-range smartphone segments. Single-layer patterning has been adopted in the GF1 sensor structure (i.e., only one indium-tin-oxide, or ITO, film), and it is also now used for on-cell TFT-LCD panels. "Innolux, CPT, HannStar, Tianma, and other panel makers that shipped on-cell TFT-LCD panels in the first half of 2014 used single-layer patterning in order to save on photomask fees and to raise yield rates," Hsieh said.
"The initial success of on-cell TFT-LCD brings great hope to panel makers that are looking to compete with touch module makers," according to Hsieh. "On-cell TFT-LCD certainly helps embedded types increase their share of shipments. However, add-on types still possess sufficient supplier sources, affordable prices, and flexibility."